The Making of a Mountain: How Hafthor Julius Bjornsson Built his Awe-Inspiring Brute Strength!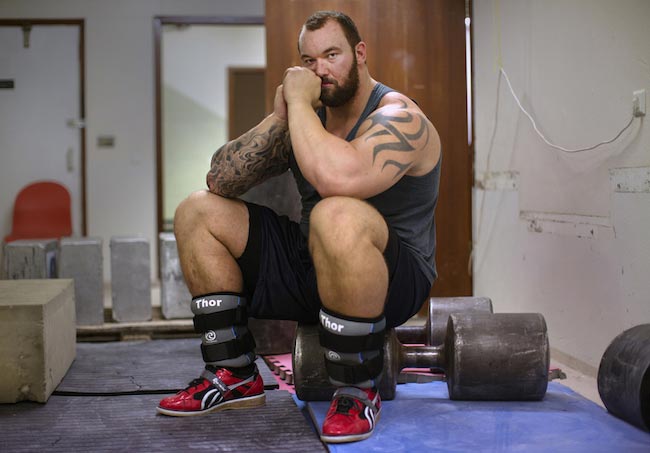 A 20kg Olympic barbell is just not heavy enough for him. He trains with enormous strongman logs. Hafthor Julius Bjornsson has been a strongman competitor for six years now and currently is the third strongest man in the world. Contrary to years of training that most people have to put in to build serious strength, this 6'9" guy transformed from a lanky basketball player to a hulk within a couple of years of heavy, compound lifting!
Weighing 185 kg in body weight, Hafthor can deadlift – 450 kg, squat – 385 kg and bench – 230 kg raw!
His tremendous strength is what got him the audition to play Ser Gregor Clegane in worldwide popular TV series Game of Thrones in 2014. Despite being extremely nervous about acting, he knew he aced his audition when he was the only one who could lift a broadsword the size of a person with one hand and effortlessly lifted a man overhead. The fact that he could also move with considerable agility for a man of his size sealed a side career in acting.
He plays the lead in Swedish action-horror, Zon 261 (2016), is presently filming for the US production Kickboxer Retaliation (2017) and also slated to be a part of British horror-thriller, Devilish Deeds (2017).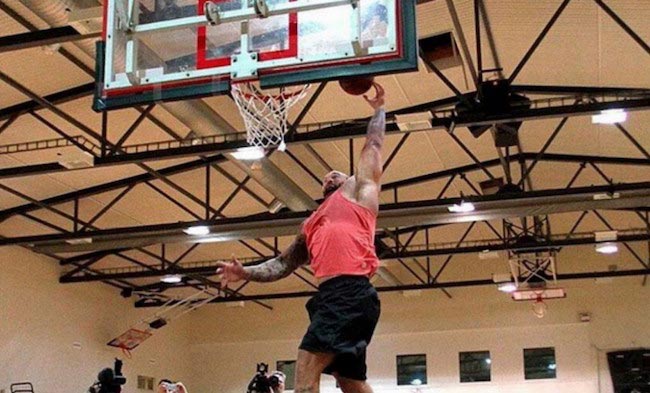 Training
Abilities that stand out are never acquired by chance. Hafthor is addicted to training and particularly lifting weights. Being a little too overzealous, in fact, he ended his dream of turning into a pro-basketball player. He confessed he often trained up to three times a day. He practiced before school, right after school and lifted weights at night! A knee injury, coupled with ankle surgery put an end to playing basketball at the age of 20.
Looking for alternatives, Hafthor stopped running, started eating more and began lifting heavy in the gym. The progress, as a result encouraged him to keep going and he managed to double his bodyweight in two years.
He decided to give strongman a try in 2010 while accompanying two of his friends who were competing. Without prior preparation, he not only won an event but set a national record for stone carrying. His interest ignited his eagerness to harness his potential and he has never looked back ever since.
Being strong does not mean losing agility
Bjornsson trains at a powerlifting gym in Reykjavik, Iceland and insists lifting as heavy as possible with great form should be a priority over gaining size. Since, he never lets his weight go out of hand and often reserves early mornings for cardio and stretching, he can still dunk effortlessly despite his bulky frame.
A set routine hits plateaus more than highs
The 27 year old owes a lot of his success to goal-oriented training done by instinct and physical awareness. For that reason alone, he never had to subscribe to a routine or repeat a workout. A sample workout might include 8-10 exercises that might incorporate two power lifts performed for 2 repetitions across 4-5 sets, compound lifts performed for 5 repetitions, hypertrophy work with dumbbells in the 10-15 repetition range or testing max repetitions to reach failure in a 30 second window followed by accessory work with resistance bands to strengthen the smaller stabilizer muscles in the body.
All his workouts conform to building functional strength with free weights and may last anywhere from one to three hours. There is no scope for using any machines. The following video provides a glimpse into his training.
Strongman Mindset: If you are not born with it then inculcate it
It is convenient to attribute his strength as a legacy of his Viking warrior background since athletes from Iceland often find huge success in Strongman competitions and CrossFit games. Bjornsson admits that both his father and grandfather are very tall and strong, but, beyond the genetic gift of physicality, the early settlers of Iceland had a very strong instinct for survival that they passed down the generations.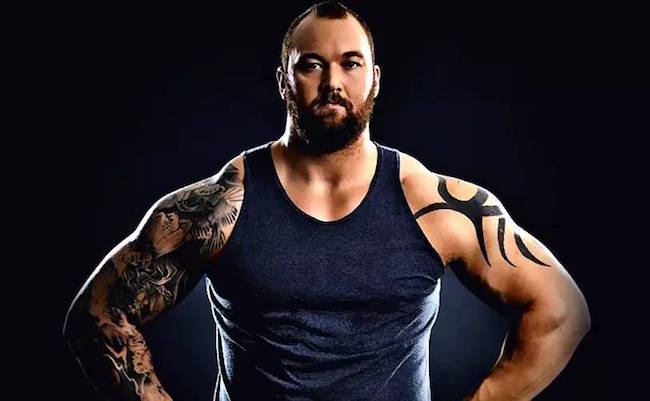 To put it simply, when Hafthor wants to be successful at something, he works passionately hard for it. His biggest achievement so far that he is most proud of is when on January 31, 2015, he beat a 1000-year-old record set by fabled Viking Orm Storolfsson at the World's Strongest Viking competition in Norway. He put his back on the line to carry a 10 meter (33 ft) long 650 kg (1,430 lb) log for five steps!
Diet
Preparing for the Strongman competition 2016, Hafthor has a daily calorie intake of 10,000-12,000 split into 7-8 meals throughout the day. Staple elements include oats, fruits, sweet potato and broccoli along with eggs, chicken, fish and similar lean meats. He supplements his diet with whey protein, Glutamine, and Creatine.