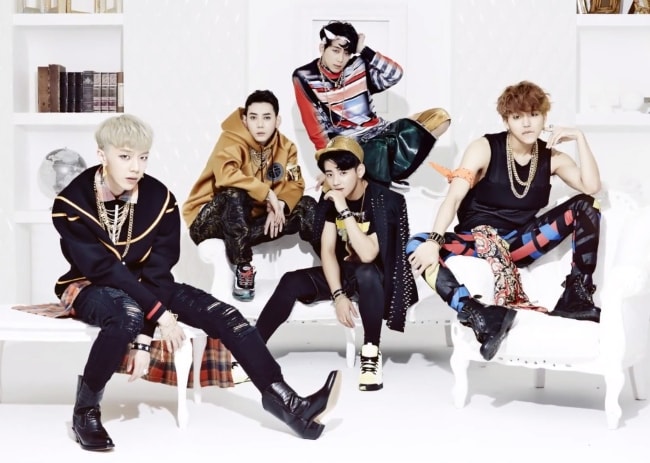 MYNAME is a South Korean boy group formed by duo Fly to the Sky's Hwanhee in collaboration with H2 Media. As of 2018, the group consists of 5 members namely  Gunwoo, Insoo, Seyong, JunQ, and Chaejin. They all have appeared as a group on several of MYNAME's own television reality shows such as Myname W Kitchen and Ta-Dah! It's Myname Real Story and an online show named Myname Is Myname.
Members
Past Members
None
Origin
South Korea
Genres
K-Pop, J-Pop
Labels
H2 Media
YM3D
Universal Music Japan
Formation Year
2011
Tours
The group has done several tours such as –
Myname Live Tour ~ The Departure (2013)
Myname Live House Tour 2014 ~WOW!~ (2014)
Myname Japan 2nd Hall Tour 2014 ~Five Stars~ (2014)
Myname Live House Tour 2015 ~WOW!~ Vol.3 (2015)
Singing Portfolio
MYNAME released their first album, We Are Myname, on March 27, 2013. The album peaked at number 3 on the Oricon Albums Chart (Japan).
Some of the group's well-known singles include Baby I'm Sorry, Day by Day, Too Very So Much, Just Tell Me, Message, We Are the Night, Your Answer, Alive or Fallen, and Shirayuki.
MYNAME Facts
MYNAME was formed by South Korean singer, actor, and one half of R&B duo Fly to the Sky's Hwang Yoon-Seok, also known as Hwanhee.
The announcement of the group's debut was made on July 30, 2011, and Hwanhee revealed that he had trained all the 5 members for 2 years.
The group made its official debut on October 27, 2011, by releasing a digital single, Message, which had 24,942 downloads in its first week.
Their studio albums such as I.M.G.: Without You and Alive: Always in Your Heart peaked at number 2 spot on the South Korean Music charts.
One of the members of the group, Insoo, was enlisted in the military on October 26, 2017. The group, however, went on as a 4-member band in his absence and went on to release their 6th Japanese album, Kiseki. The album peaked at number 3 on the Japanese music charts.
Visit the band's official website @ myname-jp.com.
Featured Image by 1theK / YouTube / CC BY 3.0