Natalya Sergeyevna Polevshchikova. This is what her real name is. But she is more popularly known as Natasha Poly. Natasha is a Russian model who is best known for her razor-sharp cheekbones and ubiquitous presence on international runways. She began her modeling back in 2000. This 5 ft 10 inch model was born on July 12, 1985. She is one of the top models in the world and has measurements as 33-24-34 inches. This means she must be working out nicely as she has just 24-inch waist. So, let's see Natasha's workout life.
Natasha Poly Workout Routine
Natasha has a lean figure and her body is in good shape. This fact can be supported by the long list of her brand endorsements. Some of which are Victoria's Secret, Gucci, Prada, Louis Vuitton, Calvin Klein, Chanel, L'Oreal Paris, H&M, MaxMara, Nine West and the list goes on. These brands require models who are in good shape and so she is.
Her workout session is of 75 minutes, during which she is supposed to focus on her legs, arms, core muscles and must do some stretching and balance exercises. Before that raise your body temperature by slow running or jogging for 10-15 minutes. This is called warm-up exercise.
Legs Exercises – Legs are very important part of your body which must not be ignored. The following is a sample leg workout, which you can do easily and without any instructor. Do 30 minutes of leg workout.

Step Up – 8-10 reps on each leg.
Side to Side Leg Swing – 

12-20 reps on each leg. This can be done by holding a strong object in both the hands in the front of you. Then, swing out your right leg out to the right as high as you can. Then return it back down and across your left leg. This is 1 repetition. Do these for at least 12 times on each leg.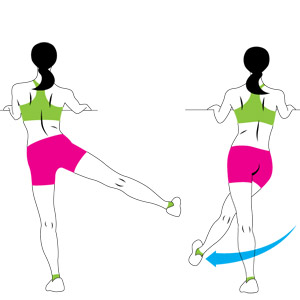 Arms, Core and Balance – Spend another 30 minutes on your arms, core muscles and balance. Arms exercises will help you develop your biceps, triceps, shoulders. Push-ups are great as well as simple exercise to develop your arm muscle strength. Core exercises aim at improving all the muscles of the trunk both front and back, inner and outer, that help with stabilizing and moving the spine and pelvis. Some of the core exercises include Abdominal Crunches on balance board, Back Extension, Bridge-Ups, Crunches, Crunches with balls, Dumbbell Side Bends and so on. See an example of how to improve your core strength.
Natasha Poly does some balance exercise as well which helps her to maintain the body balance when she walks the ramp. Loss of balance is common in certain medical conditions and elderly, which can contribute to difficulty in walking.
Stretching Exercises – Natasha also spends some of her time (generally 15 minutes) in stretching her body. You must have heard "Stretch before exercise". The goal of stretching exercises is to prevent musculoskeletal injuries by making tissues, ligaments more soft, flexible and thus preventing them from damage or tear. You may do any kind of stretching called static stretching (Stretching of body parts done with one's own force), passive stretching (Stretching done with a force provided with the help of an instructor or partner), dynamic stretching, isometric stretching, ballistic stretching, etc.
Natasha Poly Diet Plan
Natasha Poly's diet chart made by her dietitian is as follows –
Breakfast
Oatmeal
2 Egg Whites
1 Orange Juice
Lunch
Evening Snacks
Dinner
Sashimi (Japanese dish, consisting of raw meat or fish)
Brown Rice
Yoghurt
Her dietitian even suggests eating a little bit of dark chocolate or ice-cream twice a week to keep the splurge away.