Many people think that models have got great genetic gifts that help them look great. They barely notice the efforts a model puts in her diet and exercises to sport the look that enchants people. Today, we'll let you go through the fitness journey of popular Danish model, Nina Agdal who has admitted the reason behind her great looks and almost perfect body is her dedication to workouts and healthy diet plans.
Workout Routine
The workout routine of the stunner includes equal proportions of cardio and strength training exercises that she does for 4 times in a week. She is trained by expert trainer Andy Speer who, in her opinion, is amazing. She also does SLT for Pilates and attends Barry's Bootcamp on Thursday to strengthen her abs.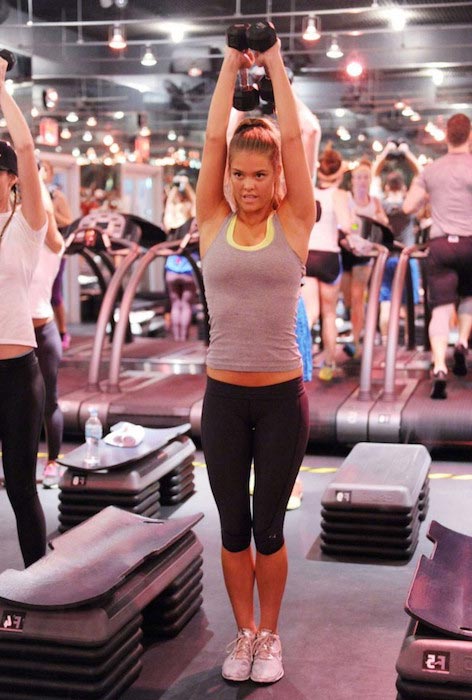 Intense Workouts
While talking to Health.com, the gorgeous said that Tone House is the most intense workout she does.
Mixing Up the Workouts
For this lady, changing workouts is a must. She used to do the same type of workouts in the past, but now she never makes that mistake. She also likes to switch up the type of workouts, one day she'll do only fun workouts. Next day, she'll switch to the intense ones. The workouts are always aimed at challenging her body. (Which is an excellent strategy, we think)
Workout Motivation
The workout motivation of the star is very unique. She looks good doing workouts and it motivates her to do more. She tries to work out in front of a mirror and while wearing active wear brand Vimmia as it tightens her up and makes her believe that she can do it.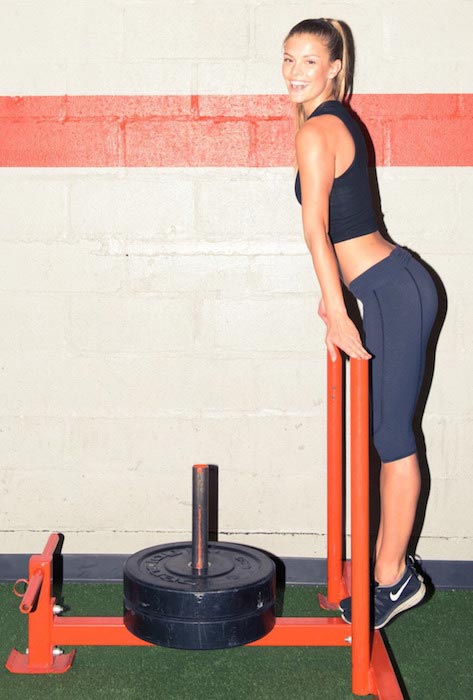 New Fitness Trend
Rowing is the upcoming fitness trend as per the blonde. She thinks that many people have started to do it these days and it's easy on knees and joints too.
Preferred Workout
The beauty doesn't have a preferred workout. She likes to mix them up. Her preferred exercise is a mix between her personal trainer Andy Speer at Soho Strength Lab, SLT, Y7, and Tone House.
Hates the Exercise, But Still Does it
One exercise that the model hates is squats. But, they help her burn the most number of calories in legs so she has to do them regularly. Squats also help her have a nicely shaped butt, which is vital for every woman, she thinks.
Thoughts on Revenge Body
When asked about her thoughts on revenge body, Nina recently suggested that everyone should have a revenge body even if they are in a relationship.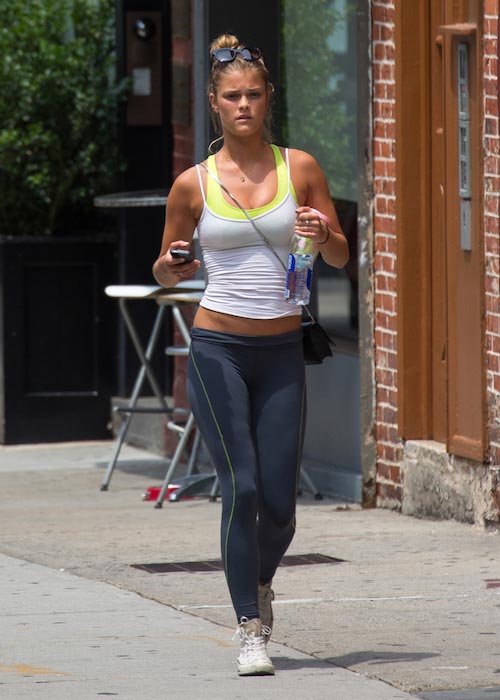 Hardest Place to Work Out
The long-time girlfriend of Reid Heidenry thinks that New York is the hardest place to work out. (We wonder why)
Healthy Diet Plan
The face of Vimmia activewear has a healthy diet plan set up which she tries to follow at regular intervals. The diet includes lean proteins like chicken or fish, raw vegetables and salads without anything added to them. She follows this diet only when she is on an "eat clean" spree.
Beauty Boosts
The sexy woman feels the most beautiful after a good workout, shaving her legs, using a facemask, taking a long shower and whenever she looks at her flat stomach. (Well, who wouldn't? especially if they look like her)
Diet Plan
She begins her day with some black coffee and follows it up with a Quest bar. On some occasions, she eats half bagel too. For lunch, she usually heads to Sweetgreen restaurant and the dinner includes some Greek yogurt with honey. (We must add that the dinner was so less because she ate a lot before the day she was interviewed). The preferred snack of the curvaceous model is Greek yogurt with honey as she eats them 4 times a day.
Diet Limits
Many people presume that a model will eat anything to look great but Agdal is a bit different. She is willing to eat a lot of things to look great and stay fit but she puts a stop at eating worms. She will prefer to starve herself rather than eating worms.
Diet Indulgence
The diet indulgence of the hot model is pretty simple. She likes to indulge in a burger with cheese and follows it up with a beer.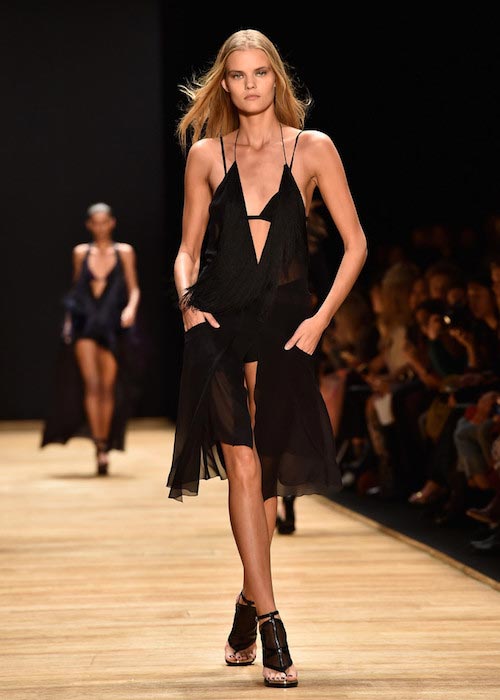 Preferred Healthy Restaurant
The preferred healthy restaurant of the green-eyed model is Sweetgreen.
Health Tips for Fans
For Travelers
The Denmark-born model advises travelers to stay fit by not considering a vacation a break from the gym. You should sweat in the gym for one hour, no matter on what part of the world you are. (Like she does)
For Winters
The 2014 Sports Illustrated Cover girl wants people to get some sun in the winters rather than staying in New York. We think that she means that it will help you stay relaxed and protect you from the monotony of cold.
Healthy App
The Victoria's Secret model stays healthy by using fitness apps like MyFitnessPal and googling up the calories of the foods she eats. (That's simple..)
Want more details on the Workout Routine and Diet Plan of Nina Agdal? Check out this detailed article.