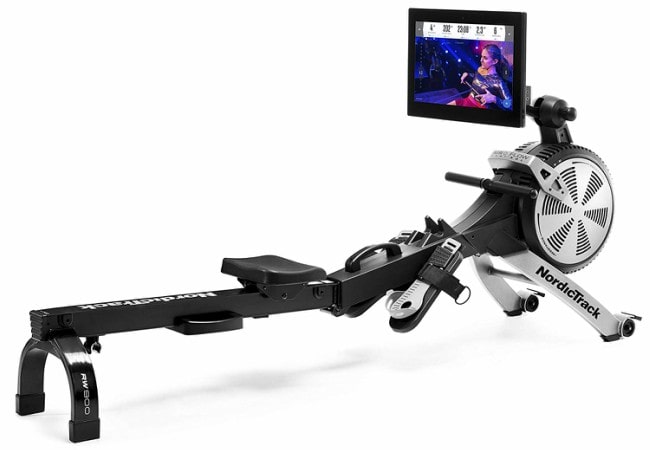 There is nothing more important than maintaining good health and the only way to do so is by exercising and having a balanced diet. You should go to the gym or exercise at home every day for at least half an hour. That way your muscles will be active and you will find a lot of energy to work. Exercising will also tone your body and keep you in shape. Among the different fitness equipment available in the market, the rowing machine is good for a total body workout. Here, we are going to review the Nordic Track RW900 Rower and find out about its unique features.
Design
It has a SpaceSaver design, so you can fold it up after workout to save storage space. This makes it ideal for small apartments. It has front-mounted transport wheels that allow you to move it from one room to the other comfortably. It has an HD SMART touchscreen display that shows different stats like distance, calories burned, and others. This will help you to keep track of your progress. The seat is ergonomically designed which makes it comfortable. The handles feel soft and comfortable. The pedals are large and will fit any user. There are straps to keep the feet secured during high-intensity workouts.
Build Quality
This machine is heavy and stable due to the high-quality materials it is made of. So, you don't have any risk of tipping over. You can change the resistance to 26 different levels and you will get the same feeling of rowing in the water. You can personalize your workout to your desired fitness level. The SMR silent magnetic resistance makes the machine quiet, so you can watch TV or listen to music while working out. It has an ergonomic handle that is soft and you will feel comfortable to workout. The seat is also comfortable, allowing you to exercise for long hours without causing any back pain. The pedals are oversized to provide balance and security during workouts.
Size
It has a compact size, so you can work out in a small space. It is easy to store as well. There are wheels to move it from one room to the other. The size of this machine is perfect for heavy users as well.
Comfort
The seat and handles are ergonomically designed and so you will feel very comfortable to work for long hours. The pedals are large and have straps to keep your feet secured. You can change the resistances smoothly and get the feeling of rowing in actual water.
Ease of Use
The rowing machine is easy to assemble. Detailed instructions are included, so you will need very little time to assemble it. You can change the resistances easily by using a knob. You can adjust the seat and handle it according to your preference.
Effectiveness
The 26 couch-controlled resistance levels will give you a wide range of exercising options. You will be able to target your different muscle groups effectively to get a toned body. You also get 10 air resistance options to intensify your workouts and burn more calories.
This can be your trainer at home. It is powered by iFit, so you will get one year of free membership with it. This gives you the chance to do exercise by interacting with popular trainers. There are different studio workout programs that you can do. You will be able to build tone your legs, arms, and core in just one workout session. You can improve your strength and stamina with it and do a high-intensity and fast-paced workout. The SMR silent magnetic resistance allows you to change the resistance smoothly and quickly.
You will be able to engage 84% of your muscles by rowing with this machine. It will give you a full-body workout and build your muscles and improve cardiovascular function. It is a low impact exercise, so it won't hurt your joints.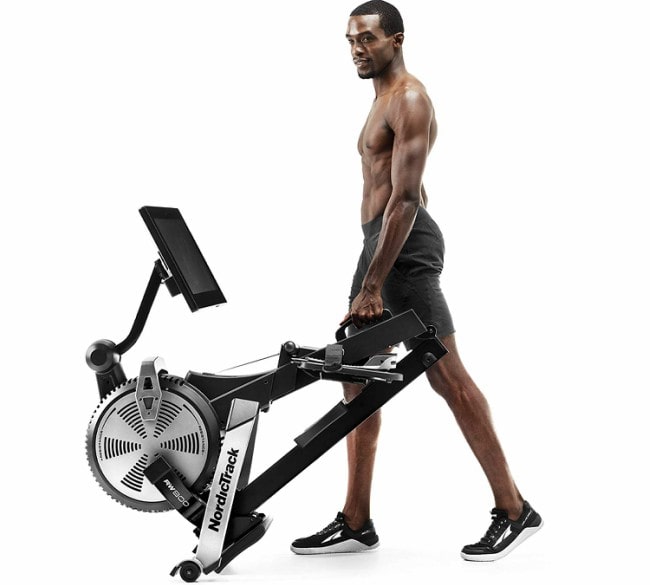 Pros
You get a free iFit subscription for one year.
It has a wide HD touchscreen that will monitor your stats and iFit workout sessions.
26 resistance levels will challenge different groups of muscles.
The silent magnetic resistance makes it noiseless.
It will give smooth operation.
It has dual resistance control that will help you to experience the intensity of the air resistance with the quietness of the magnetic resistance.
30 onboard workouts will help to improve your strength and endurance.
It has oversized pedals that fit all users.
The ergonomic seat and handles make workouts comfortable.
It is compact so you will need less space to store it.
Two speakers produce loud and clear noise, so you can hear the iFit instructors properly.
There is an auxiliary music port to play music during workouts.
Cons
It has a maximum capacity of 250 lbs which is low compared to the other rowing machines in the market.
Heart rate monitor is not included.
Final Verdict
Rowing is a great exercise for home. It can help you to build strong muscles and improve your cardiovascular health. You will have more stamina to work hard all day. Using this rowing machine, you will be able to perform low-impact exercises that will be easy on your joints.
This rowing machine is compact that makes it perfect for home use. Its strong ergonomic design makes the users feel comfortable even during long exercising sessions. The silent magnetic resistance gives smooth operation and it won't produce any noise as well. The wide pedals offer flexible motion and you can do exercises at different resistance levels targeting your different muscle groups. You can connect this machine to the iFit app that lets you choose hundreds of rowing destinations from Google Maps. So, you can watch beautiful scenery on-screen while rowing. It has a music port as well so that you can listen to music while rowing. This machine offers you great value for money and you will get great results with it.