She is known as one of the most dominant women's soccer players in the world and yet she manages to stay humble most of the times. We are talking about renowned American soccer player, Carli Lloyd who participated in 2016 Olympics and won a bronze medal. Apart from being quick and agile on the field, the sports celebrity is super fit too. Here we are trying to explore what she actually eats in a day as a part of her diet plan to stay so fit along with knowing some of her diet advice.
Diet Philosophy
The diet philosophy followed by Lloyd is to eat often but healthy. She adds that focusing on a clean diet has changed her outlook on overall health and well-being. She knows that when she eats better, she feel better so she tries to eat clean at all times.
No Junk Food
The renowned player has given a perfect example of why you must avoid junk food. She says that her body is like a Ferrari and junk food is like regular gas. You don't put a regular fuel in a super expensive car and ruin the performance levels, do you? Then, why do you put junk food in your body and ruin your health and well-being?
Eat Fruits Often
The Center Midfielder thinks that eating fruits is a good idea, reports Hollywood Life. She says that the sugar present in a fruit is natural so you must stock up on your favorite foods without bothering about the sugar content. Strawberries, mangoes, blueberries, pineapples, blackberries, and raspberries are some of the fruits she loves the most and has them with granola. If you don't have much time, you can buy pre-cut watermelon and mangoes offered by Whole Foods.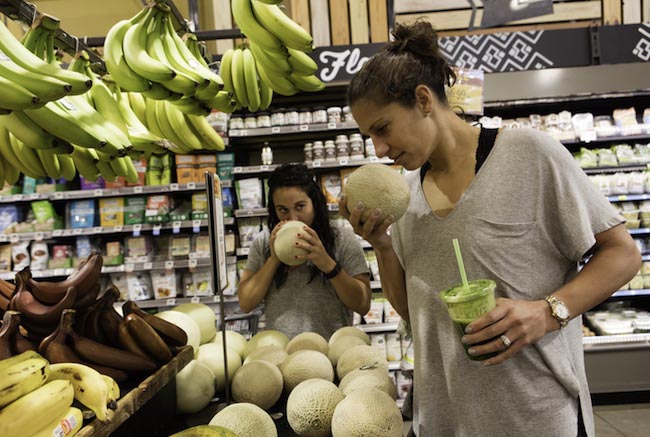 Eating Before a Game
The stunning sports personality eats about 90 minutes before every game. She says it's a good plan because it gives her stomach something to tide her over. It also provides her with much-needed energy without making her feel tired or too full.
Limit the Carbs
The Delran native says that some people make the mistake of having too many carbs. You must not make this mistake because carbs will actually make you feel tired. She likes to have 365 Everyday Value Berry Bounty Trail Mix as it consists of a lot of antioxidants and protein.
Rely on Protein
The sports star loves to have protein filled meals. She says that protein plays a key role in replenishing your muscles so that they can heal and recover. Her preferred protein source is organic chicken that is shredded over a large amount of salad.
Sip on Water
Some people make the mistake of drinking too much water in one go and then don't drink it for many hours. You must not make this mistake. Carli wants you to sip on water all day long as it will keep you hydrated without making you feel too full. She prefers to drink 365 Everyday Value 100% Pulp Free Coconut Water at least for a week before a game as it helps her to avoid feeling parched when she is playing.
Garlic Lover
The FIFA World Player of the Year (2015) loves to use garlic in her meals. She uses garlic to sauté the vegetable she is cooking. She loves to use it when cooking mushrooms and broccoli. If you don't want to spend a lot of time in the kitchen, you can buy a garlic press to make it easy.
Diet Plan
The diet plan of the soccer champ is mentioned over here.
Mornings
The breakfast meals of Carli include 3 egg whites with avocado, a single cup of strawberries and a banana. The morning snack consists of Kind Healthy Grains Oats & Honey Clusters and blueberries mixed in with Fat-free Fage Total 0% Greek yogurt. It also includes a green smoothie prepared by using apple, strawberry, and kale.
Afternoons
In lunch, she has a mixed green salad with red onion, dried cranberries, strawberries and walnuts that are topped with wild-caught salmon which is grilled and sprinkled with pepper and salt.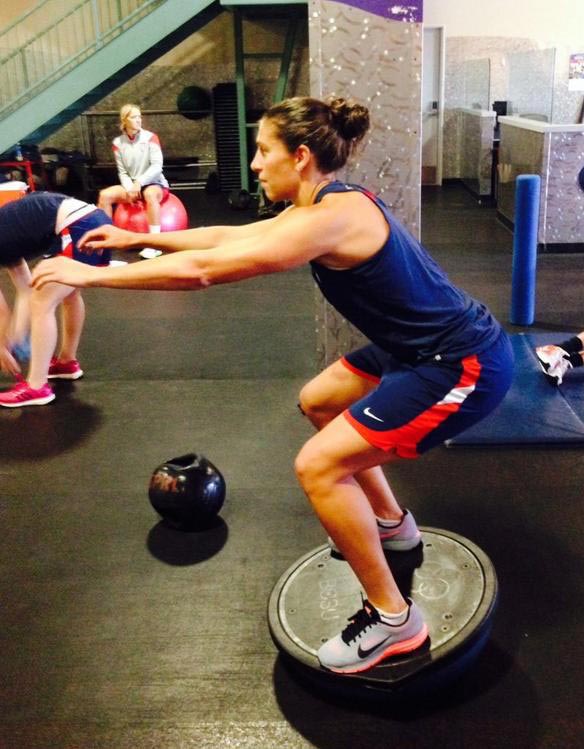 The afternoon snack of the sports enthusiast includes a bowl full of watermelon and Kind Blueberry Pecan as well as a Fiber bar.
Nights
At nighttime, the U.S. Soccer Player of the Year (2015) likes to have steamed broccoli, Grilled organic grass-fed beef filet that is topped with some salt and pepper, sautéed onions and mushrooms as well as some grilled pineapple.
The total calories in this diet plan are 2214, which is over the daily limit of 1,200 calories for women, reports People.
Liked the diet ideas and eating plan of Lloyd? If yes, then you might want to follow her on Twitter or Instagram. You can also know her better by visiting her official website.