Pull-ups are one of those exercises that you can do anywhere. You don't need to go to the gym for it. All you need to do is buy a pullup bar and start exercising at home. Pull-ups can be challenging, however, if you can do it, then it will build up your muscles and improve your strength fast. With a pullup bar, you will be able to vary your grip to target different muscle groups. When you decide to buy a pullup bar, you must make sure that it is compact and foldable so that you can easily store it. You should make sure that it comes with multiple grips so that you can change your positions and target different muscle groups. You will find different types of pullup bars in the market which include doorway, freestanding, station, and more. Doorway pullup bars are popular as they are easy to install on the door, making it convenient to exercise. Perfect Fitness Multi-Gym Doorway Bar can be a good choice if you are looking for a quality product within a reasonable price range. Here, we are going to review this pullup bar in detail.
Design
It is black with some metal parts showing. You will find some red accents that make it more attractive. It is found in 3 variations – Elite, Pro, and Sport. The Elite has ergonomic wide grip and the bar is coated to make your grip more comfortable. It securely fits doorways that are up to 33 inches wide. The Pro has wide grip handles that provide more comfort and variation in exercises. It has a unique door protection system that distributes the pressure evenly. The Sport version is compact and it has special doorway contact points so that there is no damage to the door frame. Though the grips are not that wide, you will still manage to fit your hand and perform the different exercises. It is designed in such a way that it is very easy to set-up. It has an adjustable design and a unique patented guard that securely locks the bar into place. It is a complete upper body workout equipment.
Build Quality
It has a sleek and compact frame that will fit any doorway. It has wide door pads that create a wide contact surface between the door and the pullup bar which ensures that no metal is exposed to damage the door. It will securely attach to the door frame with widths 27'' to 33''. It is made of heavy-duty steel and can withstand the weight of up to 300 lbs. It has the door frame protection pad which ensures that your door remains in good condition. You get a wide grip due to the placement of the pads. You will be able to adjust the height of the installation in the doorway and get more legroom for doing exercises comfortably. 
Size
It fits doorways that are 27'' to 35'' wide and 6 inches deep. It has dimensions 15 X 38 X 14 inches which are quite compact and can be stored easily. With only 6.2 pounds weight it is very lightweight and portable.
Comfort
It has padded handles that provide comfort for dips, push-ups, and sit-ups. The foam padding improves your grip and it won't hurt your hands even after doing intense workouts. It provides various grip positions including the neutral grip position. This position alleviates pain during exercise. It provides excellent stability, making it very convenient to work out. 
Effectiveness
This pullup bar will provide upper body workout for your back, chest, arms, shoulders, and abs using only the bodyweight for resistance. You get 3 different grip options, so you can vary your exercise. One of the grips is angled for more intensity in your workout. You can use these grips with overhand and underhand grips so that you can focus on your chest, shoulders, back, and arms. 
With the perpendicular grips, you will be able to perform hammer grip pull-ups. To add more variations to your workout, you can take the pullup bar from the wall and use it for different types of bodyweight exercises. It will provide extra support for dips and pushups. The padding will help to put the bar against the doorframe so that you can do sit-ups and crunches with ease. You can also put the bar to the floor for push-ups and dips. You can perform chin-ups by placing the pullup bar at the top of the door frame.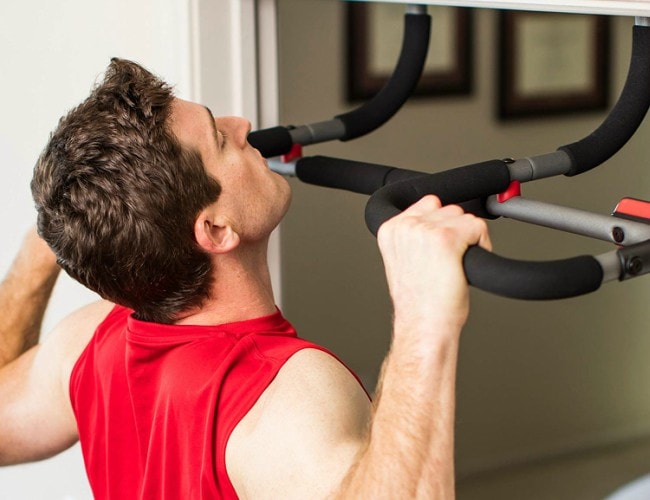 Price
As it is found in the Elite, Pro, and Sports versions, the price varies. The Sports Version will cost $30, the Pro version about $40, and the Elite version will cost just under $50. With so many features, this equipment has an unbeatable price tag. So, you can buy this pullup bar without any hesitation as it will give you great value for money.
Pros
It has a simple and sleek design.

It is lightweight and portable.

It has extended padding that protects your doorframe.

It fits door frames up to 6 inches deep and 27 to 35 inches wide. 

It provides close, wide, and perpendicular grips.

It can withstand up to 300 lbs of user weight. 

You can adjust the height to ensure a secure fit in the doorway.

It is easy to assemble and the required tools are provided.

With this pullup bar, you will be able to do push-ups, dips, and sit-ups.

You get a one-year manufacturer's warranty for the product.
Cons
You need to give some effort and time to assemble it.

The pullup bar must be set up close to the doorframe which can be inconvenient sometimes. 

It is not suitable for doorframes that are more than 6 inches wide.

Final Verdict
You won't need to go to the gym to get access to pullup bars. The Perfect Fitness Multi-Gym Doorway Bar is affordable and you can buy it for your home. It will fit most standard doorways and you can assemble it easily. This pullup bar provides multiple grip positions that let you perform chin-ups, push-ups, neutral grip pull-ups, wide grip pull-ups, and more. You can do a variety of abdominal exercises as well. If you exercise consistently with this pullup bar and maintain a healthy diet, then you will be able to achieve your fitness goals much quicker.