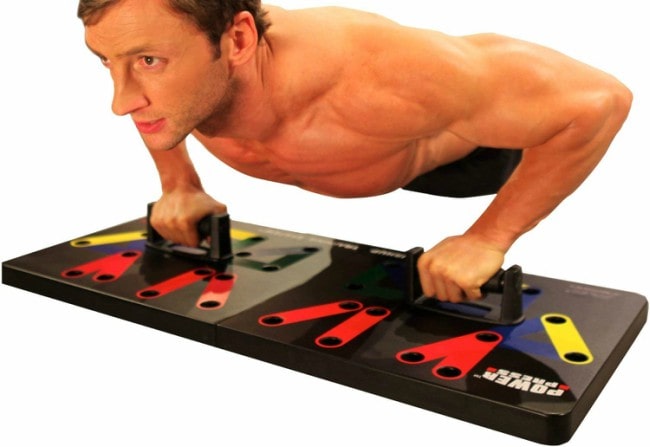 It is a misconception that you should visit a gym to get into shape. You can do some amazing exercises at home to get the desired body you want. Push-ups are one of the best exercises you can perform at home to work your upper body and core. Most people tend to do push-ups on the floor. However, a push-up bar can give you better results as having the right push-up bar can allow a wide range of motion with extra difficulty if needed. It can also reduce your wrist pain and also help you to get closer to the floor to increase muscle works and get quick results.
When buying a push-up bar you need to consider several factors. You should make sure that it's portable as you would like to carry it wherever you go so that you don't miss your workouts. You also need to consider weight capacity. Comfort, stability, and price are also important factors to consider. We are going to review the Power Press Push Up Board System here. This is a popular push-up tool and has received a lot of positive reviews.
Design
It is a complete push-up training system. It has a color-coded push-up board that can help you to target different muscles. The plug and press design look very impressive. It has multiple positions and angles that can help to focus on muscles that need work and help to sculpt your upper body. The board is stable and so you will be able to do push-ups without causing any injury. It has color-coded holes and a pair of comfortable handles. When you change the position, you will be targeting a specific muscle group. It has holes where pins of the handles are inserted. The holes are marked in different colors and the handles are black. This makes it easier to use the different positions on the board to target different muscles. This board is compact and has a two-part design that makes it easy to carry and store.
Build Quality
This heavy-duty Plug and Press push up board system is durable. The handles are oversized which helps to reduce the pressure on the wrists and make you feel comfortable during push-ups. They are also well-cushioned. This push-up board is unique as you can do push-ups from different angles to target as many muscles as possible in the upper body region. It will not only target your chest and triceps but also your back as well. With this board, you will be able to get 14 different variations to push-ups. As the board is color-coded, you will know exactly which muscles are targeted. This push-up board has a weight capacity of up to 300 pounds. This board is reinforced across the bottom which makes it stable. The handles are solidly built and are made of metal. This makes the handles durable and strong.
Size
Its dimensions are 38.2 inches by 24 inches by 2 inches. It weighs only 10.4 pounds. It is compact and lightweight which makes it easy to store and carry around.
Comfort
The handgrips are oversized, soft, and well-cushioned. So, it doesn't cause any pressure or pain on the wrists. With 14 different positions, you will be able to do more challenging workouts. The color-coded board makes it easier to target different muscles. It is easy to assemble and store.
Ease of Use
The size of this push-up board is optimal. You can take it with you in the gym or anywhere, so you won't have to miss any push-up session. Its two-part design helps it to transport and store. As it is color-coded, it is very easy to choose the different positions and angles that you need to target your specific muscles. All you need to do is insert the heavy-duty handgrips into the various color-coded positions to target different areas of your arms and upper body.
Effectiveness
This push-up bar will help to develop your shoulder, chest, back, biceps, and triceps. It will engage your total core. The color-coded system identifies the working muscle groups. The blue region is for pectoral muscles, red for shoulder muscles, yellow for latissimus dorsi, and green for triceps. Its non-slip over-sized hand grips make exercise comfortable and so you can go on for a long time. With this push-up system, you get access to workout videos on the YouTube channel.
This push-up system is recommended for the beginners as it reduces the risk of injuries. You will be able to combine push-ups with plyometrics, cardio, and core exercises. If you exercise regularly with this push-up board, you will be able to develop your muscles, burn calories, build your upper, and lower body strength and lose weight. It can improve your posture as well.
Pros
The color-coded board looks attractive.
It is compact and lightweight which allows easy transportation and storage.
This training system makes it easy to work different muscles like the chest, triceps, and shoulders.
It has a non-slip design so you can work out on any surface comfortable.
The handles are well cushioned and non-slip.
It provides you with a QR code to access useful workout videos.
It has 14 options for the position of the hands and so you will get an effective upper body training.
It can improve postures.
Clear instructions are provided which makes it easy to use.
It is easy to assemble.
You get a 10-week training plan that will help you to motivate yourself to reach fitness goals.
Cons
It is suitable for beginners only.
It can train a limited group of muscles.
Final Verdict
The Power Press Push-Up Board System can help you to train the muscles of your triceps, biceps, shoulders, and chest to give you a toned body. You can place your arms on different positions on the board and the load distribution depends on where you place your arm. This push-up board will help to increase the efficiency of your push-ups.
By just using it for 30 minutes a day, you will be able to develop your muscles and build your upper and lower body strength. You will also be able to lose weight and burn calories. With 14 preset positions, you will be able to sculpt strong lean muscles. You can combine different positions to make workouts more challenging.