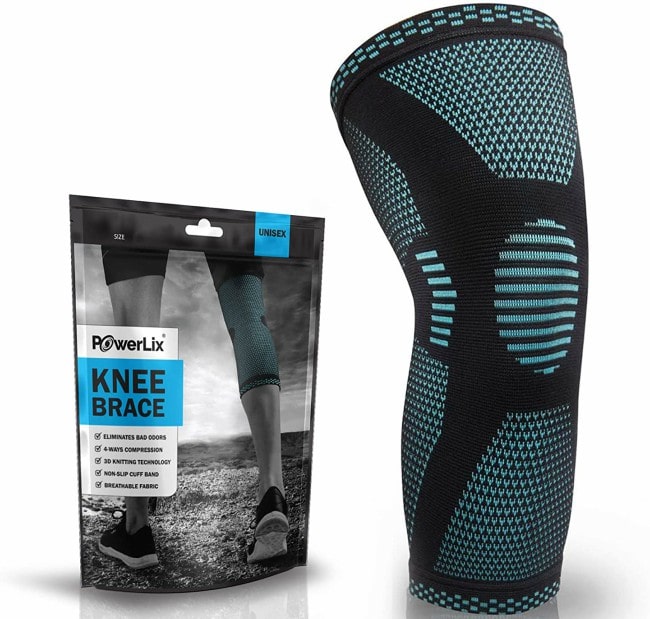 For someone who is suffering from knee pain or arthritis, participating in high-impact sports can be very painful. A lot of pressure is exerted on the knee and the surrounding areas when you participate in these sports. One of the best ways to deal with it is by using knee support. It minimizes movement and prevents the condition from getting worse. There are different types of knee supports in the market. The knee sleeves simply slip over the knee and provide some support. The knee supports wrap around the knee and has some adjustment options. Then, there are the hinged knee braces that support the knee with hinges on the sides. You should choose the types of knee brace according to your need. Here, we are going to review the Powerlix Knee Compression Sleeve.
Design
It is specially knitted with 2 silicone gel strips which ensure that the knee strap stays in place once you wear it. The knee sleeve looks attractive in blue and black and you will look good wearing it. The special fabric that it is made up of gives you a smooth feel and you can easily wear it all day long. Its special knitted technical design matches various joints. It is ergonomically designed to protect your knees. Its double silicone anti-slip wave provides an excellent grip, so you won't feel uncomfortable when doing squats, yoga, or weightlifting. You will get the optimal muscle support wearing it during various activities. It is longer than the other knee sleeves in the market, so it will cover a wide area of the knee.
Build Quality
This knee brace is of premium quality. It provides superior comfort without affecting your mobility. It is made of breathable and tight compression fabric that helps to maintain joint stability. You won't feel itchiness like you do wearing neoprene braces. It will absorb sweat quickly and leave you dry. It is odor-free and you can wear it for hours without feeling uncomfortable. You will get superior support and comfort wearing it without compromising your mobility.
Size
You can get it in sizes from small to XXL. You should measure the thigh's circumference about 5'' above your knee cap. The small size is 9'' to 11'', the medium is 11.1'' to 16'', large is 16.5'' to 18'', XL is 18.5'' to 22.5'', and XXL is 23'' to 25''. The sizes depend on the average compression pressure. The knee sleeve can expand up to 60% more than the original size.
Comfort
The fabric feels soft and comfortable. The double silicone anti-slip interior provides a good grip. It won't slide down or move during activities. You will feel confident wearing them and will notice an improvement in your performance. It is stretchable and allows flexibility in movement. It won't cause any skin problem, so you can wear it comfortably all day long. The moisture-wicking feature helps to absorb sweat and keep you dry all the time.
Ease of Use
You can easily put it on and take it out. The elastic is strong and reshapes after you remove it. It won't roll, slip down or slide due to the special knitted technical design having two silicone gel strips. It will stay in place even when performing activities like running or cycling.
Effectiveness
This knee brace provides stable pressure on the knee joint, thus providing optimal muscle support when working out or doing other activities. Even if you are suffering from knee pain, this knee sleeve will help you to cope with it. This knee brace is ideal for works that involve stress on the joints, like playing Basketball, Volleyball, or other games. You can perform at your peak by wearing this knee brace.
You can get relief from conditions such as arthritis, ACL, MCL, tendonitis, meniscus tear, and others. It improves blood circulation around the body and helps you to recover from these conditions. It provides a cooling effect that doesn't cause any skin rash. The ergonomic design helps to reduce swelling and inflammation. It also improves recovery time.
Pros
It has a stylish design.
It uses four-way stretchable fabric that allows mobility.
The fabric is breathable and it will absorb sweat quickly, leaving your knee dry and odor-free.
Its double silicone gel strips lock it in place so that it doesn't slip off when doing various activities.
It provides support for muscular endurance.
It can help you recover from arthritis, swelling, and other conditions.
You can do high impact activities like play Basketball or Volleyball wearing it.
It is affordable.
It is easily washable.
You will get a 100% money-back guarantee if you are not satisfied with the product.
Cons
It provides lesser compression than the other knee sleeves in the market.
It is not recommended for people allergic to silicon.
Final Verdict
This knee sleeve is ideal for those who are suffering from knee pain and conditions like arthritis. It is made from special fabric and premium stitching that makes it durable. It provides excellent comfort and support without compromising your mobility. It will maintain the optimal joint temperature. It will slide on top of the knee and protect you from future injuries. It adds warmth and limits the patella movement, thus reduces the risk of damage.
This knee sleeve is made of stretchable materials and allows freedom of movement. The compression improves blood flow and helps you to get rid of knee pain and swelling. The fabric is breathable and it will absorb sweat quickly. It is also odorless and you can wear it all day long comfortably. Your joints will remain at the best temperature and will protect you from future injures. It is a great option for runners who need stability in their knees. So, buy one today and see the difference and improvement in your performance and knee condition.