Rafael Nadal is one of the most popular tennis players of the century. He started demonstrating his skills in the game of tennis at the tender age of 8, when he won an under – 12 regional tennis championship. But his professional career started at the age of 15, when he participated in two events on the ITF Junior Circuit. He became famous after beating ace player Roger Federer and reached the third round of Wimbledon at the age of 17.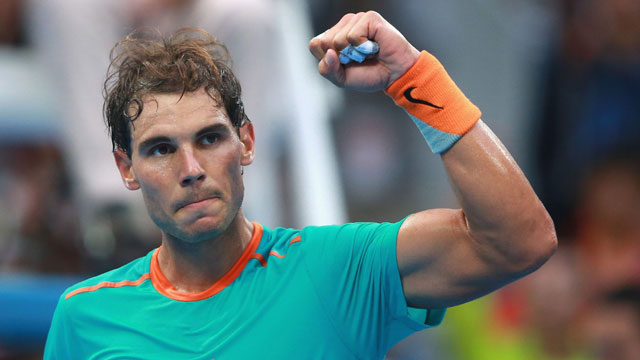 When he was 19, Nadal won the first French Open he played and has never looked back since then. He holds the credit of being the only male player to win a single Grand Slam tournament nine times and he achieved this feat after winning the French Open in 2014. If you have seen him play, then you must know that he is one of the best Clay Court players. He maintains a fit and healthy body by following a rigorous workout routine and strict diet plan.
Rafael Nadal Workout Routine
Resistance Bands – Using resistance band is one of the most favored exercise routine followed by the Spanish tennis star. He admits that he prefers them over weights. The resistance bands help strengthen the shoulder muscles and rotator cuff. If you haven't tried the resistance band exercises before and want to give it a shot, then do check out the cool advice offered by BodyBuilding.com before you get started.
Front Bends – Nadal performs front bends by keeping himself anchored to the wall with the help of his knees. Front bends are very beneficial for people who want to work a lot of muscles like back, legs and hamstrings, at once. It also helps strengthen thighs and knee muscles.
Push Ups and Pull Ups – The tennis sensation also likes to perform a variety of push ups and pull ups to keep his body in shape and tone his muscles. As we don't know the exact variations he tried, we have extracted a list of varied push ups and pull ups that are popular these days. Do check out the unique routine mentioned by chron.com.
Parallel – Bar Dips – The clay court specialist also loves to include parallel-bar dips in his workout routine. This is a simple exercise that works on your inferior pectoralis (lower aspects of the chest), triceps and anterior deltoids (front aspect of your shoulder). It also enhances the flexibility of your shoulder girdle.
Sit-ups with an Exercise Ball – The good-looking tennis player also likes to do sit-ups by using an exercise ball. This exercise is actually harder to perform when compared to a normal sit up, as your back is more arched. This exercise would work your abs, core muscles and legs. Learn how to get started with this exercise with the help of this video.
Different Plank Exercise Method – The Olympic gold medal winner uses a different technique of doing the plank exercise. He takes the help of a medicine ball and props his feet on the ball while doing a plank. This variation in the traditional plank exercise helps him strengthen his core. If you are not sure on how this variation of plank is performed, then do check out the useful article published at LATimes.com.
Catch with the Medicine Ball – Playing catch with the assistance of a medicine ball is another favorite exercise of the famous sports star. In this exercise, a person needs to play catch by using a medicine ball. The person needs to ensure that his or her body is twisting properly, which would play a vital role in working the muscles of each side. Want to learn how to do it? Begin by reading this simple and short article published in Shape.com.
Stretching – Stretching exercises should be a part of very person's workout routine. These exercises help in reducing the stiffness of your body and makes it more ready for a workout. Stretching before and after every workout is suggested by many key health experts as it helps your body to prepare for and recover from an intense workout session. Learn some simple stretching exercises by clicking on RealSimple.com.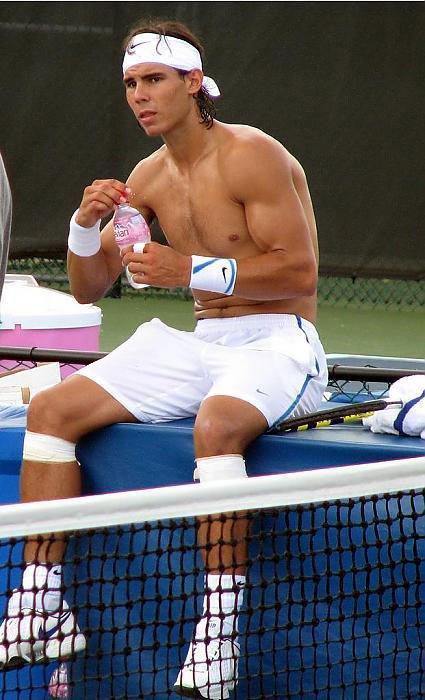 Running Machine – Rafael also likes to run a lot as it helps keep his leg muscles toned. He generally runs on a treadmill but tries variations of running exercises in order to keep him from getting bored. If you own a treadmill, then start running by taking the help and advice of PopSugar.com in order to avoid making a mistake and injuring yourself.
Vibrating Machine – Using a vibrating machine is also a must for this sports celebrity. It helps improve his muscle strength, range of motion and flexibility. It also assists him to recover from injuries and get rid of the worst of pain. Learn how to use a vibrating machine effectively by viewing the following video that offers insights on the best vibrating machine exercises everyone must try once.
Water Exercises – Nadal is also a fan of water exercises. He loves to swim, run and jog inside the water. It helps boost his stamina. These exercises also help one to get refreshed and feel rejuvenated. Just try it once and you'll surely love it.
Football – Very few people know that the tennis idol has a knack for playing football. So much so that when he was 14 years old, he was asked to choose between football and tennis. Of course, tennis won. But still, Nadal likes to devote some time to playing football. It not only relaxes him but also assists him to keep his reflexes sharp. Though he regrets not playing football much because he can't risk being injured, but he loves playing as a Striker whenever he gets the time.
Rafael Nadal Diet
The star who was named as Laureus World Sportsman of the Year in 2011, does not reveal much about his diet habits. We were able to get to only a few of his diet secrets that are mentioned over here:
He loves super healthy food such as grilled fish and chicken.
He is very fond of pasta.
Fresh veggies are a must for him.
His indulgences include Chocolates, Nutella and French Fries. Whenever he indulges in them, he makes sure to work out extra to get rid of the excess calories.