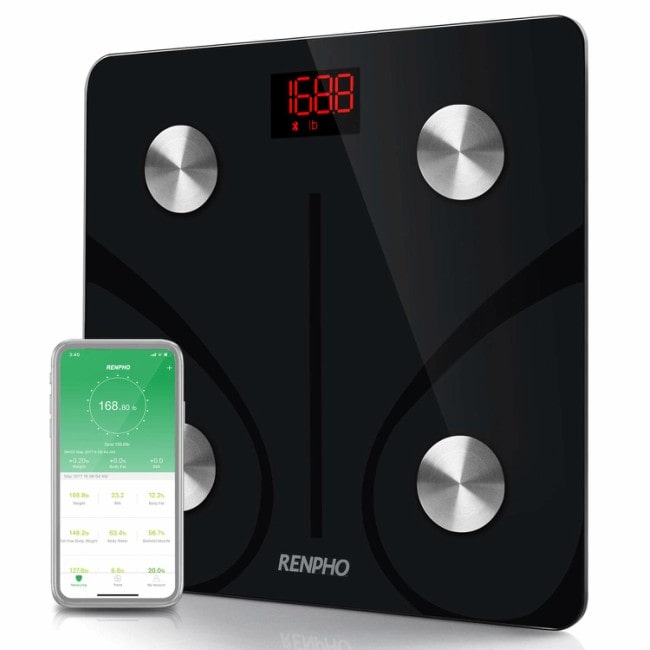 If you are determined to lose weight, then the first thing you need to have is a weight scale. It will measure your everyday weight and tell you whether you are losing weight or becoming overweight. Today's smart machine can do much more than this. It can measure your BMI, percentage of body fat, and water which will help you to know what diet and exercise routine changes you need to make to get the perfect body weight. The manufacturers use high-quality materials for its construction and include unique features to make it stand out from the competitors. There are different weight machines in the market. Among them, Renpho Bluetooth Body Fat Scale has received good reviews.
Design
This weight scale is sleek and stylish. You can get it in black or white. It has 4 silver-colored electrodes that are present for making contact with the body. There are some beautiful designs on the black surface. The numbers are displayed in red which makes them visible. The logo appears in white on the bottom center of the scale. It allows smart app synchronization with popular fitness apps. So, you will be able to track your fitness goal easily. It provides 13 important measurements which include BMI, body fat percentage, body water percentage, skeletal muscle, bone mass, visceral fat, metabolic age, and more. You can easily switch from kg to lb or vice versa. It can be used by up to 12 different users. It recognizes the different users automatically and stores their data. The scale connects to different fitness apps through Bluetooth. So, you can share your fitness progress with your trainer or friends.
Build Quality
It provides high precision sensors measure. It has the capacity to support a maximum weight of 180 kg or 396 lb. The scale interval is 0.2 lb or 0.05 kg, so you can get accurate measurements. It uses Bio-electrical Impedance Analysis (BIA) to calculate the 13 different body composition metrics. It uses high-sensitivity sensors and electrodes that provide accurate body measurements. A small current flow through the body through your legs because legs contain lean muscular tissue with high fluid content. The electrical current is so small that you will not feel anything. Body contact is made through the metal electrodes present on the scale's platform. To get the best measurement, you have to place the scale on a flat and hard surface and stand on it on bare feet.
Size
It has dimensions 11 inches by 11 inches by 1 inch. It weighs only 2.86 pounds. So, you will be able to move it from one place to another comfortably. You can also store it in any corner of the house.
Ease Of Use
It is very easy to setup. A user manual is included that provides detailed instructions on how to set it up. You can easily synchronize the app with other popular fitness apps like Samsung Health, Apple Health, Fitbit, Apple Watch App, and Google Fit. After you step on the scale, it will only take a second to view the results on your apps. It allows auto-calibration. The machine is FDA certified, so you can rely on it.
Effectiveness
This weight machine is very effective in calculating weight and other body compositions. With the high precision sensors, you will get accurate results every time you try to measure your weight and other metrics. This weight scale as a stylish design and is found in black and white colors. It is portable and so easy to move around. It can store a profile of more than 12 different users. So, all your family members can use the scale. It has an app that you can sync with your scale using Bluetooth. You can also sync the scale with other fitness and nutrition apps to help you set fitness goals and keep track of their progress. It is one of the most affordable high-quality equipment you will find in the market today. You get 2 years warranty for the product, so you can be satisfied with your purchase.
Pros
You get three AAA batteries for free.

The app is user-friendly and visually appealing as well.

It is easy to track your fitness progress.

It is portable, so you can move it around easily.

You will get 13 different measurements that include weight, body mass, percentage body fat, water composition, and more.

It has its own app that you can connect with Bluetooth. You can also get access to other fitness and nutrition apps to help you achieve your goal.

It is reasonably priced and provides great value for money.

It provides accurate results consistently.

You can set your goals, analyze body composition, and track user profiles.

There won't be any calibration issues, so you can rely on the measurement.

Using the app, you can get results in real-time.

You get 2 years warranty.
Cons
It doesn't display any other measurements other than the weight on the LCD screen. You can get the measurements on your app.

The display screen is smaller than the other machines available in the market.
Final Verdict
You will be glad to know that more than 3 million people all over the world have used this scale. It connects with the different fitness apps that can help to set goals. It can also save historical data that can be used to track your progress. It is better than the traditional weight machines as it can measure other metrics as well. This scale has Bluetooth connectivity to calculate the different metrics and relay the measurements to different health apps. It provides accurate measurements. It is such a high-quality scale that you can compare it to the medical-grade equipment. You won't find any calibration issues with this machine and every time you step on it you will get accurate results. This weight scale has 4 high precision sensors and 4 electrodes that ensure that you get the body composition and body fat analysis accurately. It is affordable but the features can be compared to those in the more expensive models.