Rihanna's body is most wanted. She's a Barbadian singer, who has made her reach to No. 3 in FHM magazine World's Most Sexiest Women in the World 2012. Some people say that you must have her sperm to get a body like her. She must be eating and working out right to achieve such a good, toned body. Wait….you don't have to wonder because her workout secrets have been revealed by her trainer Harley Pasternak (co-host of lifestyle makeover show on ABC's "The Revolution", author of 5 Factor Diet and trainer of Lady Gaga, etc.).So, let's check out!!!
Rihanna Workout Routine
Pasternak says that Rihanna workouts 3 days a week for 25 minutes, when on a tour. When Rihanna is home, she increases her workout to 5 days a week and does cardio as well for atleast 30 minutes.
Her other trainer, Ary Nunez told Grazia magazine
"We train when she's ready. Even if we're on the road and it's 2a.m., I'm on call 24/7 with her."
Rihanna prefers to run on treadmill. She likes to do a lot of cardio to keep her weight down, which includes jumping jacks, stationary jogging, rope skipping, cycling and jumping jacks. She also likes to dance as a part of workout. All these cardio can be done backstage or in a room before shows, says Pasternak. (All these exercises are so simple, so you can try them at home….yeah..you can give it a try…).
She tweeted her pic recently, when she was on a holiday in Hawaii. Most people wear comfortable clothes while in a gym but Rihanna wore a tiny white bikini, working out on a cross trainer.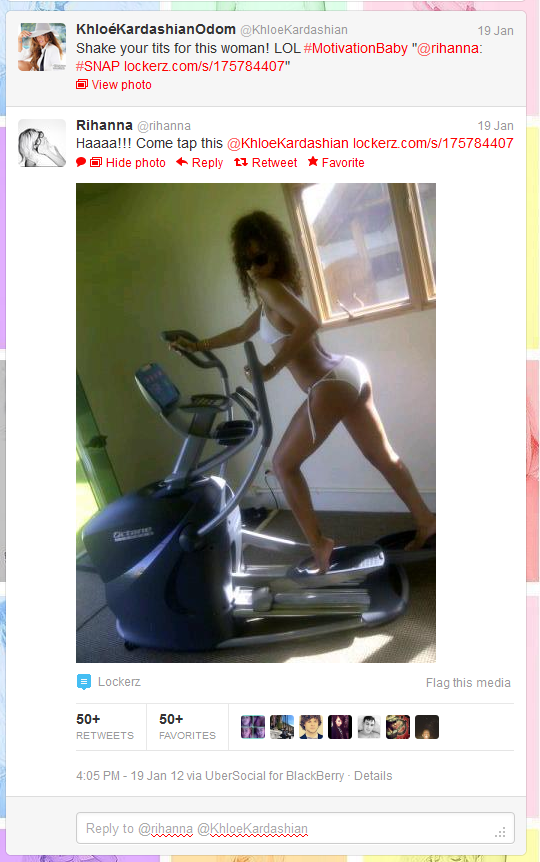 On being asked, what she likes most and least about her body, she replied
I like my bum, the most and I keep working at it as I want it to be perfect. It makes my clothes look good – and guys like it!

I like my legs, the least. I'm insecure about them. Everyone wants to have slim, perfectly-toned legs and I'm the same. I don't want my legs to bulk up so I do a lot of cardio.
Her weight is 133 pounds, which is absolutely right according to her height 5 ft 8 in. According to her, body size (hers is between 2 and 4) does not matter at all. What matters is to remain healthy and fit.
Rihanna does 1 day activity and 1 day rest.
Monday/Wednesday/Friday

Abs – It includes Walking Lunges – 15 lunges on each leg;  Jumping Jacks – 60 fast.
Cardio – It includes push-ups- 15 reps, 2 sets; Stationary Jogging – 25 reps for each side;
Squat – Squat Thrust – 5 reps (Squat thrust is a leg and ab exercise);
She performs resistance exercises for her legs.
Also, she loves her rear, so she does buttock exercises as well.