Ryan Thomas Gosling is Canadian actor and musician who does his workout regularly for 2 hours – nonstop. Ryan takes help from the celebrity trainer Kui Puk. Kui Puk told that Gosling is doing special type of training called "Muay Thai" for his 2013 movie "Only God Forgives".
Ryan Gosling Workout Routine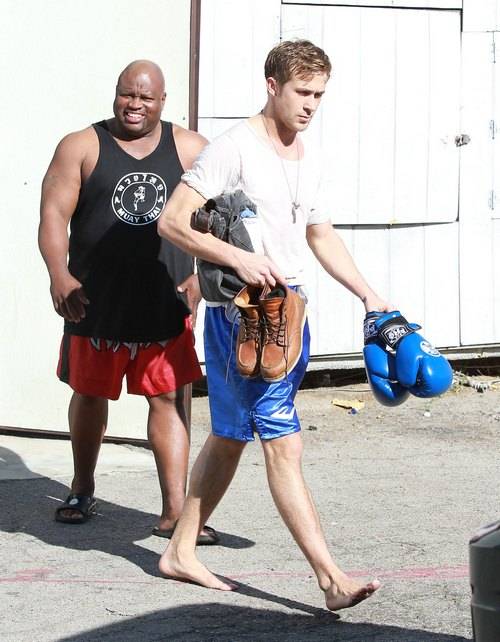 Ryan Gosling is doing Muay Thai. Muay Thai is a particular type of training which the 31 year old needs to learn as the film is about a British Gangster who engages in Thai Boxing matches with a Bangkok cop. Ryan Gosling says
"My training is painful. But, I like it a lot."
Ryan is training hard just to get in shape. He was seen practicing with Boxing Gloves in Los Angeles, California. When Ryan Gosling ties up with Nicolas Winding Refn, the end result is always intense. It is becoming a trend and Ryan is doing hard to make this belief remain true, atleast with the workout.
This workout should be done on Monday / Wednesday / Friday. But, before these exercises, do some warm-up exercise like running on treadmill.
Barbell Squat – 3 sets of 8 reps
Reverse Dumbbell Lunges – 3 sets of 5 reps
Bench Press – 3 sets of 8 reps
Chin ups – 3 sets of 5 reps
Bicep Curl – 3 sets of 10 reps
Triceps Rope Extension – 3 sets of 10 reps
After you are over, take 15 minutes rest.
Ryan Gosling Diet Plan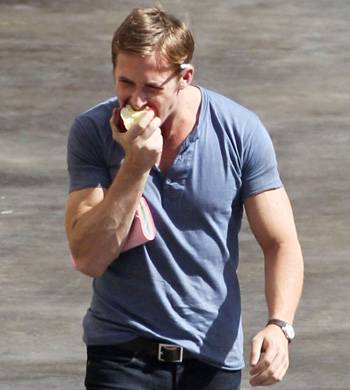 Ryan Gosling is taking proper care of his role in that movie as Julian (An Englishman who is a respected figure in the Criminal Underworld) and sticking to the diet as specified by his trainer Kui Puk. The diet Gosling is supposed to eat is a Thai diet of Fish, Green Vegetables and Rice.
Fish is a great source of protein and Omega-3 fatty acids, which are vital for human body to function properly. Also, brown rice, whole grain breads and beigel (or bagel) are sources of carbohydrates, which fulfills the needs of a working out body. This healthy and natural diet is what Ryan is following and also drinking a lot of water.
The above workout and this proper diet is enough to help Gosling to develop muscle and body shape, required for his role in "Only God Forgives" . We hope that this time he may not be robbed for "People's Sexiest Man Alive".