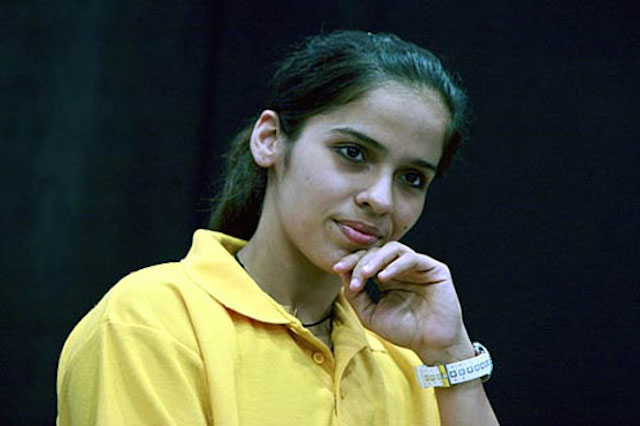 Saina Nehwal, an Indian badminton star, has achieved the honor of being the first Indian to win a medal in Badminton at the 2012 London Olympics. Also, she is the first Indian to win the World Junior Badminton Championships and the Super Series tournament i.e. the Indonesia Open, held back in June, 2009. Thanks to all these achievements, she has earned a lot of fame in very short span of time. Also, she has managed to garner a lot of fans that support and cheer for her in every tournament that she plays. She is a very fit person, who believes that fitness can only be achieved through constant determination and an inner urge to get out of one's comfort level.
Here we have mentioned the key workout routine that this badminton star follows on a regular basis. She focuses on several types of strength and endurance training exercises that help her improve her body's flexibility and enables her to be very agile in the badminton court.
Dumbbell Pullovers: The pretty badminton sensation likes to include the dumbbell exercise in her daily workout. It is an exercise that helps a person to strengthen chest and back muscles. It is quite simple to perform and is suitable for both, men and women. Beginners need to make sure that the weight of their dumbbell is appropriate as it should be as per the body ability of the person. This needs to be looked into as lifting extra weight can lead to problems like muscle pulling or cramping. Here's a video on how can you do it.
Rowing: The young badminton star also likes to put some time in rowing exercises. These forms of exercise are perfect for people who are just starting off with an exercise routine. It would help you to shed off excessive pounds, tone your muscles and improve overall physical and mental fitness level that too in very less time. These exercises are totally safe as they don't put a lot of pressure on your back or joints. Try out some simple exercises described in this video and let us know whether it worked for you or not.
Military Presses: If you are wondering whether that badminton takes a toll on Saina's shoulders or not? The answer is yes. This is because of the fact that holding a racket and moving with agility on the field can be a bit overtaxing on the shoulder muscles. So how does the badminton diva deals with it? Well, by opting for military presses. It is a simple exercise that can be done by standing or sitting and can be very beneficial in the long run. It would help you not only in working your shoulder muscles but also your upper body. Watch how to do it properly over here:
Heel Raises: This Haryana born sports star is also very fond of heel raising exercise. It's also known as calf raise exercise. This exercise is a must for you if you want to indulge in some heavy weight training, as it helps in relaxing the calf muscles thereby reducing the chances of an injury in this area. This exercise also helps you to make the calf muscles stronger and also tone them as per your expectations. You can try out this simple exercise by viewing this video:
Lat Pull-downs: This is another simple exercise favored by this vital member of Hyderabad Hotshots in Indian Badminton League. This exercise improves the coordination between the muscles of your upper body and makes your arms, chest and back stronger. The best part about this exercise is that you can increase the weight of the lat pull down machine and make yourself work harder. A preview of this simple exercise is over here:
Other Exercises: Apart from the above mentioned exercises, Nehwal also adds in some basic and simple exercises to her training routine like running and crunches. Running helps in keeping the legs stronger and crunches on the other hand, help in increasing the strength of her arms.
Discipline Yourself: The right handed badminton celebrity believes that disciplining oneself is vital to achieve success in life. She believes that one should follow a proper routine everyday and should never vary it until it becomes absolutely necessary. She herself trains for 6 days a week and has a steady sleep pattern. She wakes up in early morning, has a proper breakfast, and starts practicing as soon as she can. So, if you want to be fit and active like Saina, adding in a little discipline in your daily routine is a must for you.
Saina Nehwal Diet
Now let's have a look at the diet habits of this internationally acclaimed badminton star. These points can help anyone and everyone.
Adding chicken to your daily meal would help you get a fair amount of protein to your body. Also, it will help in rebuilding your muscles that are hampered by usual wear and tear.
Steamed food and salad are also recommended for people, who have a habit of munching a lot. This is so as these things fulfill your requirement of vitamins and minerals without adding a lot of fat to your body.
Keeping away from carbohydrates after 7.30 PM is another cool idea. It would help you shed off excess weight more easily and you would have a leaner yet stronger body type.
Adding eggs to your breakfast menu is also suggested because it would help you feel energized to face the entire day. You can choose to opt for egg whites only as they are a healthier option.
Last piece of Advice
The Hyderabadi shuttler also believes in setting realistic goals and achieving them. She had proved this by losing off all her excess weight while preparing for the 2012 Olympics. She felt a little dazed in the beginning due to her diet changes, but eventually she got over that and achieved her goal. If she can do it, why can't you? Just be sure of your health goals, make a plan and follow it no matter what. Be ready to make some sacrifices too. Good Luck!!!