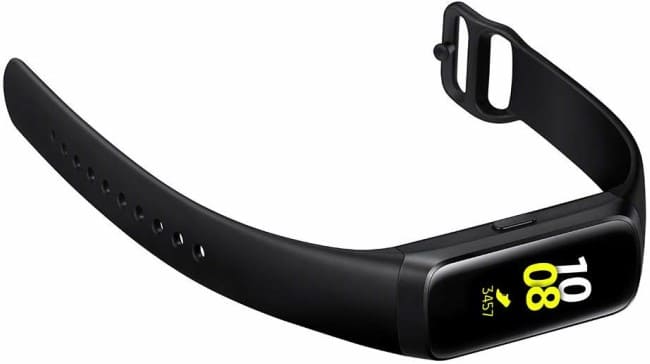 You must have noticed a watch-like device that people wear today. This slim device has turned out to be very helpful. It can be used to track the number of steps you have taken or the period you remained active. You can easily learn how many calories you have taken as well. Using this device, you will be able to get an idea about your fitness and set new goals to be achieved. This small device can also measure your heartbeat and track your sleep so that you get some important information about your health too. Diseases like sleep apnea can easily be detected with it. If you want to try out this device without spending much money, then you should go for the Samsung Galaxy Fit tracker. Samsung has already earned a good name for manufacturing quality products. So, you will get a quality product at a reasonable price. Here, we are going to look at the various features of this device and find out whether it's worth buying it or not.
Design
It has a slim and smart design which is very appealing. The interface is simple and you can easily control the basic functions. The band is interchangeable and is available in black and silver colors. So, you can buy more than one band and change them to match your style. The 0.95 inches display is touchscreen which makes it easy to operate. You need to tap, swipe or scroll to move to different functions. Its colorful display will give you real-time information about your activities. You can personalize the device by choosing different background colors, clock designs, and wallpapers.
It has a small physical button on the side. The heart rate sensor lies underneath but doesn't protrude too far to make an indentation on the wrist. It has an Apple Watch-like button clasp which is easy to put on and stays on place. It also makes the device look sleeker. You will look and feel best with this stylish device whether you go to the gym, office or elsewhere.
Build Quality
It is a 24/7 wearable and is built to last. You can always keep it on to track your activities throughout the day. It has military-grade durability to protect it against bumps and extreme weather conditions. It complies with the MIL-STD-810G standard for toughness. It is made of polycarbonate that doesn't scratch easily. The silicone strap is of high quality and doesn't collect hair or dust easily. It has a glass top layer that provides added protection. The silver border of the device is made of aluminum.
The device is light and comfortable to wear. Its curved super AMOLED display is clear and easy to read. It comes with a heart rate sensor that can measure your heartbeat. It provides real-time coaching to motivate you to stay fit. You can get notifications of your incoming calls, emails, SMS, and even 3rd party apps. Whether you are walking, running or hopping, the device will detect your activities automatically. It is compatible with most of the Samsung Galaxy devices. The battery lasts for a week and so you can wear it day and night to keep track of your activities and sleep as well. It can be used in any kind of adventure as it is dust and water-resistant. It has a 5 ATM water-resistant rating which means that it can be submerged under 165 feet of water. So, it is safe to wear during a shower or swimming.
Size
This tracker has dimensions 1.8 inches by 0.7 inches by 0.4 inches. It is lightweight and weighs only 3.52 ounces. It will fit any hand perfectly. You can use it just like a watch.
Comfort
With 120 X 240 resolution, the screen looks bright and it is comfortable to read the data even in bright sunlight. You won't have any issues with glares or low lights. There is a physical button and most interactions take place via the tracker's touchscreen. So, it is very easy to operate as the touchscreen is very responsive.
Effectiveness
This tracker has a lot of features that will help to achieve your fitness goals and keep track of your health as well. You can receive notifications on the device from any app that is installed on your Smartphone. There are preset responses that you can use to reply to the notifications or messages. It has a dedicated calendar, weather, stopwatch, timer, and alarm widgets. You will get reminders to get going if you are sitting idle for a long time. It can automatically detect 6 workouts. So, whether you are running, walking, cycling or doing any other activity, this tracker will be able to monitor your progress. You can also understand about your sleep pattern with the help of this device. It can monitor your heart rate during both active and inactive periods and give you important information about your health. You can also get access to the Samsung Health app and track 90 different workouts using it.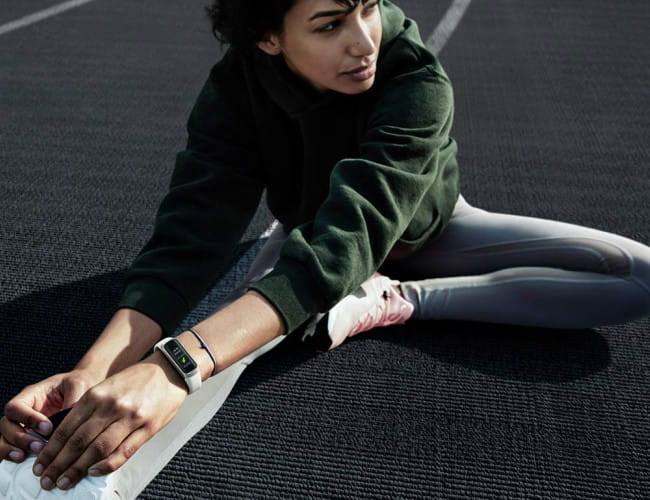 Price
It will cost about $83.00 to $99.99 at Amazon, Samsung or other retailers. This is a very reasonably priced tracker with loads of features. It will give you great value for money.
Pros
It is lightweight and comfortable.
You can change the bands for different looks.
It is water-resistant and so you can use it in the shower or swimming pool.
It has a gorilla glass screen which acts as protection.
Its AMOLED display provides bright and vivid colors. You won't have any issue of glares even in bright sunlight.
It has a heart rate monitor that can provide your heartbeat data constantly.
It can automatically track different activities.
It can track the quality of your sleep.
It provides quick Bluetooth connectivity.
It has the auto-pause feature which tells when you are stopping and going.
It has a reasonable price.
The battery lasts up to a week.
It has plenty of training programs and social features.
Cons
There is no GPS tracking.
There is not enough storage to store music.
Some users found the screen to be too small.
It doesn't have wireless charging.
There is no ambient light sensor; you need to adjust it manually.
Final Verdict
This device is light and sturdy and will go a long way. The screen is lovely and will show you the useful data clearly. You will get to know your heart rate, distance walked, calories burned, and more. You can even wear it when sleeping to keep track of your sleep and know whether you are having deep sleep or any sleep problems.
This tracker is perfect for casual athletes. You can wear it when going to the gym, at the office or even at home. It will give you an overall picture of your activities throughout the day. This device will keep you going and will help to achieve your fitness goals. You won't find many good quality trackers at such a reasonable price. So, you should try out this tracker and get your everyday fitness updates in real-time.