Sarah Harris has been a known face in Australia since last 15 years. She is currently the co-host on Network Ten's morning program, Studio 10 (2013-Present). The lady is now making the waves due to the fact that she is pregnant and she is slamming the body shamers and sancto mummies. She is maintaining a healthy workout routine but is not trying to fight with the changes happening with her body. Have a look at her viewpoint on having a healthy body during pregnancy and get inspired.
Lovely Surprise
The pregnancy came as a pleasant surprise for the new couple. Sarah and Tom Ward were thinking of a child but wanted to wait one more month, but their plans were squashed as she became pregnant suddenly. They think it's a lovely surprise and are exhilarated by it.
Letting Go of the Bad Habits
After getting pregnant, the TV star had a big positive change in her life. She has given up her bad habit of chain smoking since a few months, but after she became pregnant, she doesn't even feel like having a smoke which has contributed to make her life better. Growing a child inside her womb has become an incentive for quitting smoking. Wow…that's a cool side benefit of pregnancy, we must say.
Not Watching the Weight
Even after putting on 10 kgs weight as a result of the pregnancy, the journalist is not worried about shedding the excess weight. She thinks that her body is doing what needs to be done to grow a healthy child inside the womb so she is not bothering about the numbers on the weighing scale. She is more interested in being strong for birthing a healthy baby rather than looking slim.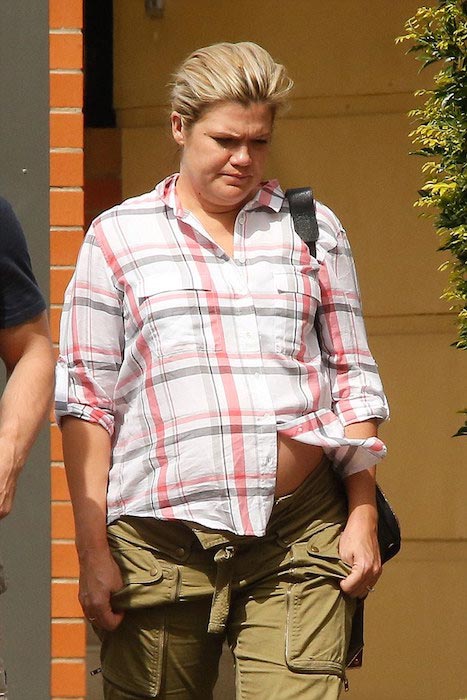 Pregnancy Workout
Working out is an important part of pregnancy for Sarah. She is taking the workouts very seriously and exercises whenever she gets time. She likes to walk a lot and keeps a "nerdy podcast" for company when she is waking. She is also attending barre classes regularly. Her workout goals also includes signing up for Pilates in the near future and hitting the gym hard after her expectant baby boy is born. All in all, we think it's a good plan because it's not too simple and not to complicated either.
Body Changes
The bubbly blonde is experiencing many body changes due to her pregnancy. Her baby bump is expanding rapidly and so is her rump. She has nice heavy breasts now (which she likes) and some parts of her body that were firm have started to sag a little. She is only using Spanx to keep her thighs in shape and is not doing much for the other body changes.
Life is More Than Fitting into Skinny Jeans and Mini Skirt
Sarah also admitted that she is a bit worried about getting the pre-baby body back but she is not making it the first priority. Though the TV industry demands a perfect body shape, the host thinks there's much more to life than being able to fit into a miniskirt or skinny jeans. And we totally agree!!
Have a Healthy Viewpoint of Life
The TV presenter thinks that the body shape shouldn't matter more than being a good human being. She opines that we should teach our kids to be genuine, kind and have a strong sense of self rather than teaching them to have a perfect body or a great butt.
Diet Secrets
The diet of the would-be mother has drastically changed due to pregnancy. During the first trimester, she ate everything from steaks to hamburgers to stodgy food as it was the only way to settle her stomach. Though she wished to opt for more healthy food options like green tea, almonds and alkaline water, it wasn't the case. She thinks that the reason behind her cravings for the red meat is the fact that she is having a boy. (Well, we hope she'll switch to the healthier food options now because she is in the last leg of her pregnancy and queasy stomach is rarely a problem in the last trimester)
Doing the Best for the Baby
The TV personality also slammed the "sancto mummies" who criticized her by stating that she should decide what's best for her baby. She doesn't think that drinking a cup of coffee or wearing high heels or dying her hair falls under the category of child abuse.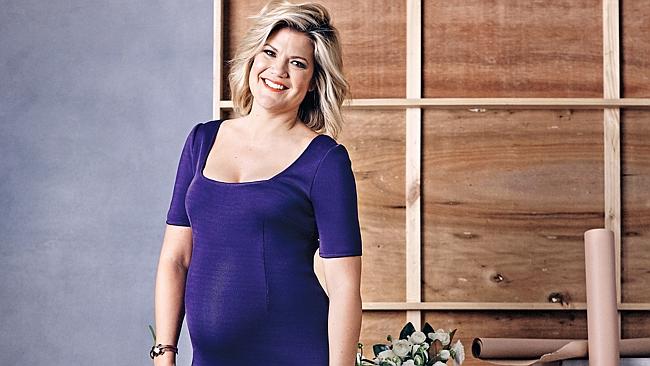 Eat Right
The beauty also doesn't favor the would-be mums who eat whatever they wish during pregnancy. She thinks that being pregnant isn't a license to eat junk food all the time. The expectant mothers should remember that the child would be eating the same stuff you eat, so you should never eat pizza and fatty stuff because you are hurting your child by eating that stuff. She has also given up foods like cheese and sushi for the well being of her baby boy.
Going Back to Work
Harris is planning to take a three-month leave from work. She is even ready to adjust her professional life for her baby. Giving an example she says that when her fellow Studio 10 co-host, Jessica Rowe had a baby, she used to breastfeed her baby girl in the dressing room and Harris can do the same if the need arises.
Being Proud of Her Body
The last bit of advice shared by the television celebrity is that the expectant mums should not worry about the body shaming that comes with pregnancy weight gain and they should also avoid the weight loss pressure after the pregnancy is over. They, like her should be proud of what their body is doing and be content with the miracle their body is performing rather than stressing about weight numbers.