Cycling is great for the body. It will have a positive effect on both the upper and lower part of your body. If you are looking for a total body workout, then there can be nothing better than cycling. If your office is nearby, then you can develop the habit of commuting using your cycle. You can also take out sometime during the morning or evening for cycling. However, all neighborhoods may not be cycle friendly and there can be a risk of accidents. Also, when it's raining or snowing, it may not be appropriate to cycle. One way to include cycling in your everyday fitness routine is to buy an exercise cycle. These are stationary cycles that you see in the gyms. You will get the same experience as cycling outside and without any obstacles like road condition or weather.
The modern exercise cycles are ergonomically designed so that your body doesn't get hurt after exercising for long hours. You will be able to do different intensities of exercises to meet your fitness goals using this exercise bike. You will find these machines in various price ranges. While it can be tempting to go for the cheapest one, quality should always be your priority. So, it is always recommended that if you can't afford the high-end equipment, you should go for the mid-range ones. The Schwinn 130 Upright Bike is one of the best mid-range exercise bikes you will find in the market today. Here, we are going to review it in detail.
Design
This exercise cycle is ergonomically designed so that it doesn't cause any strain on your body even after intense workout sessions. So, it will never put a stop to your daily exercise routine due to back or joint pain. It has a sturdy construction and comes with oversized crossbar tubing for providing extra stability. As it's made with solid steel and aluminum frame, you won't have to worry about any kind of accident due to instability even during intense training sessions.
It comes with lots of unique features to make your exercise routine more fun and exciting. It is designed to give comfort in every aspect. The pedals are large and so can accommodate shoes of any size. It has a cooling fan that prevents sweating during intense exercise sessions and helps to keep you going for longer hours. The seat can be adjusted to different heights. This bike is designed for both sitting and pedaling. However, you cannot stand and pedal like in the spin bikes.
The resistance can be adjusted to 20 different levels to bring in variations to your regular exercise routine. You have the option to adjust it 1 level at a time or simply jump to 10 levels at once. Even if you jump to higher levels of resistance, the transition is smooth. There are several pre-programmed workouts to spice up your exercise sessions. The belt drive and flywheel ensure a smoother pedaling experience. There is a display which shows important information about your heart rate, You can easily store the equipment at a corner of your room or even inside your closet when not in use. So, it's great equipment for small apartments.
Build Quality
This exercise cycle is constructed with high-quality steel and aluminum frame to make it durable and strong. It can withstand 300 lbs of weight. It is very easy to use and you will be able to use it comfortably for long sessions of workouts. The handlebars are ergonomically designed so that you can adjust it according to your preference. It reduces the risks of upper body aches and shoulder strains. You will be able to find the best position for exercising comfortably. It has oversized crossbar tubing for providing extra stability. Even if you pedal vigorously, the machine won't get unstable.
The front and rear bases of the frame has stabilizers, thus ensuring a secure ride even on an uneven surface. The seat is very comfortable and wide. It is adjustable also and can support users of height 4'10'' to 6'5''. You can also adjust the angle of the handlebar to position it according to your comfort level and this allows for multiple workout postures. The brake system works on the electromagnetic field and results in quiet and smooth operation. This bike has a one-piece crank which is very solid and supports the full weight of the user.
Size
This cycle has a dimension of 41.3 inches by 21.4 inches by Height 55.6 inches. When it is not in use, the bike has dimensions 21.4inches by 41.3 inches and will fit any corner of your room and you will be able to put it in a closet as well. There are 2 rollers at the front which allows for easy transport. The cycle weighs 58.4 lbs and can support a maximum weight of 300 lbs. The seat is adjustable and can support both short and long users. The distance between the floor and seat is 41'' which allows for 38'' leg extension and so tall users will be able to pedal comfortably.
Comfort
The grip and straps are designed in such a way that they will prevent your feet from slipping off. The handlebars are padded with rubber foam so that you can have a good grip. Therefore, even if you sweat, your hands won't slip. They are also integrated with pulse sensors so that you can monitor your heart rate while exercising. The seat is wide and comfortable. It can accommodate heavy users also. You can adjust the seat according to your preference. There are a tablet tray and a bottle holder as well for your convenience. There is a fan to cool you down during intense workouts.
Effectiveness
It is very easy to assemble the equipment. Clear instructions and diagrams are given and you will be able to assemble it quickly without any trouble. The console has an audio jack and USB charger. So, you will be able to charge your phone or listen to music while working out making your workout sessions more fun. There are dual displays to show vital information. You will be able to see the resistance level, heart rate, the program, distance covered, calories burned, the time elapsed and speed. The heart rate is monitored using grip pulse sensors. You can store user profile of up to 2 people and set a goal you want to achieve. Then, you can track how much of your target you have accomplished. It has a media tray where you can place all your electronic devices, keys, and other belongings.
You can choose from different programs. There are 3 categories of programs which are fun rides, mountains, and challenges. With these programs, you will be able to select the distance, calories to be burned, and time. You can also change the resistance to make the exercise comfortable. You can take up a fitness test to find out how well you are progressing.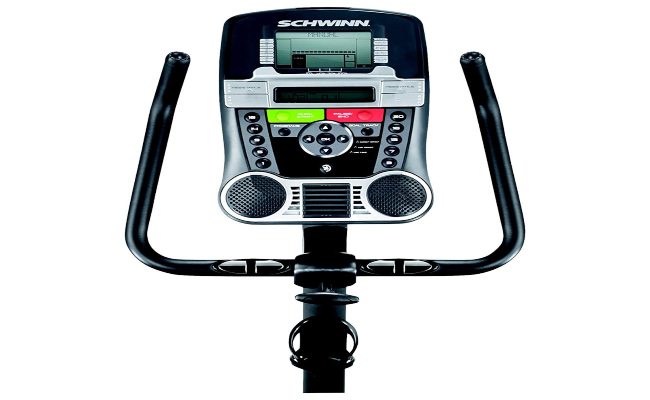 Price
You can get this exercise cycle on Amazon for only $499. It is a great bike for this price range. You won't find so many features in other similar bikes.
Pros
It is made of steel and aluminum frame which makes it strong and durable.
It is compact in size and can be stored easily.
It is easy and quick to assemble.
The seat is very comfortable and you can easily adjust it according to your need.
There are various pre-set programs to make your workouts more effective.
You will be able to upload the workouts to Schwinn Connect and myfitnesspal.com and even share it with others.
There are 2 displays that provide lots of feedback about your exercise.
There are 20 levels of resistance which makes the bike suitable for beginners to advanced level users.
You get lots of accessories with it including speakers, media shelf, media tray, fan, and a water bottle holder.
There are two wheels at the front of the bike which makes it easy to transport from one place to another.
It provides stability even on uneven floors.
It is quiet and needs low maintenance.
Cons
For people taller than 6' 1'', this exercise bike may not be appropriate as they won't get full extension of the legs while pedaling.
In order to see your heart rate, you have to grip both the pulse sensors that are on the crossbar of the handlebars. This may be inconvenient for some people and you may not also get accurate result all the time. A heart rate strap is a better option but it is not compatible with this bike.
The resistance and console won't work if there is no power.
Final Verdict
It is a very sturdy bike that is designed for beginners to the advanced level users. The seat is adjustable and comfortable and you can change the resistance levels to try out different intensities of workouts. After a workout session, the bike goes to a cool down program allowing you time to recover before you start your next session. It has many accessories to make exercise sessions more enjoyable. It is a great compact exercise bike for home.