Blonde bombshell, Dianna Dahlgren undoubtedly is a fitness diva who so far has graced the cover page of numerous fitness magazines. Having started her career as a gymnast, Dianna moved to modeling in 2009 and ever since, she is dazzling us with her charismatic body. Within two years after entering into modeling, the hot babe won myriad pro awards such as NPC Team Universe (2009), Europe Battle of Champions (2010), Phoenix Pro (2011), Los Angeles Pro (2012) and many more. Aside from the noble genes, there have been consistent and resilient efforts from Dianna which have bestowed her ridiculously flat abs, pert butt, and honed legs. The stunner attributes both balanced diet and regular workouts for her svelte figure. Let's sneak peek into the workout and diet secrets of Dianna Dahlgren.
Grueling Workouts
While sharing the secrets of her jaw dropping figure, Dianna spills out her exercise secrets. She shares that to groom her body for Ms. Olympia, she executed myriad high intensity workouts which torched fat and rendered her enviable shape. She worked out under the supervision of personal trainer, Damian Segovia. Apart from intense workouts which she did to sculpt her body, being gymnast since childhood also helped her to acquire toned body.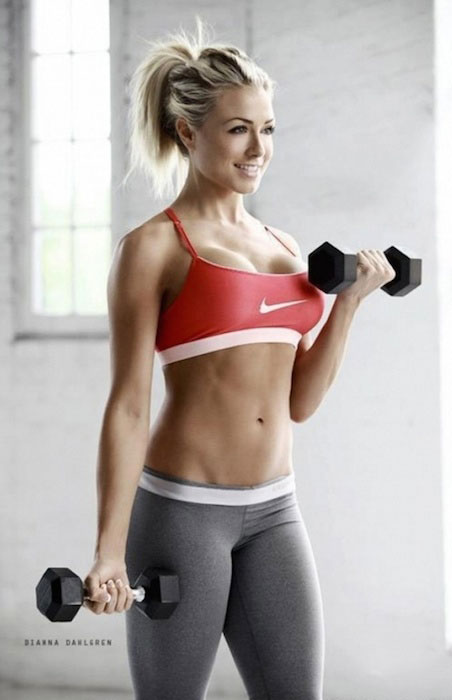 Love For Fun Cardio Workouts
The most peculiar thing about Dianna's exercises is that aside from conventional workouts, she is also in love with fun activities such as skiing, snowboarding, biking, hiking, off roading, horse riding etc.
Long Struggle With Binge Eating
The hot babe is self-proclaimed binge eater. She shares that she being victim of emotional eating was prone to splurge on foods. Foods actually were her way to overcome the miseries of life and she indulged herself in foods when she was in different moods like sad, happy, mad, angry etc. In the urge to keep her from foods, she began steering clear from foods and became victim of anorexia. She admits that all this dieting stuff screwed her life so bad that she felt herself the most miserable woman. In the utter state of deprivation, she would crave to eat her beloved foods all the time. However, before late, she realized the flaw in her attitude towards foods. She comprehended that it's not foods from which she shall keep her away. Instead, it's the kind of foods such as junk, processed, fast foods etc. which shall be in her list of forbidden foods. Not only did she understand the hostile impacts of adverse foods, she also learnt the nutritional value of healthy and nutrient dense foods.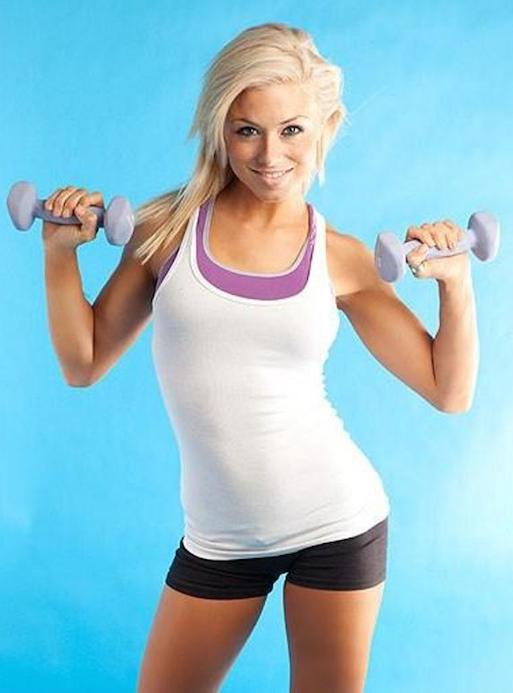 Provision of One Cheat Day
Having developed right eating acumen, Dianna made radical changes in her diet routine. She began giving healthy opening to her days by eating nutrient packed meals in the breakfast. The sultry model also makes sure that she includes protein and fats in her meals for they are vital to bestow proper nourishment to her worked out body. She also adheres to carb cycle which is comprised of one day with high carb foods and three days with high fat diet. And since cheat days are imperative to relinquish cravings and to keep the metabolism revved up, she enjoys one cheat day in a week. She relishes her beloved foods such as sushi, cheeseburger without bun etc. on cheat days.
Reliance on Food Supplements
Apart from eating good diet, Dianna also relies on food supplements to nourish her body. She consumes Dymatize ISO 100 to meet her protein needs. To fulfill vitamin needs, she inculcates digestive enzymes in her meals and she being victim of anemia does not forget taking iron supplements too. Usually women don't prefer consuming food supplements deeming them harmful for their bodies. However, the matter of fact is since it's not feasible to provide adequate nourishment just with the consumption of foods, food supplements offer the best option to fulfill the nutrient needs of your body.
Healthy Tips for Fans
Here are some healthy tips for fans aspiring to acquire slim and hale body like Dianna.
Change Your Attitude
Bring change in your attitude and rather than just looking at workouts as a means to shed away weight, if you consider workouts as a gift meant to supply oxygen and blood to all the cells of your body, you won't take them as burden. Exercises rejuvenate your cells and provide them fresh energy, so instead of being bullied by the thoughts of workouts, acknowledge them as anti-aging and health therapy, which will also impart you sizzling hot body. Provided you bring change in your attitude, workouts will not fail to astonish you.
Don't do Overtraining
Workouts for 25-45 minutes are sufficient to have your body fall into fat burning zone. Apart from exhausting your muscles, overtraining also enhances your appetite. Resultantly, you are likely to end up splurging on foods. Apart from that, overtraining might take your body to the state of weight loss plateau. In such a situation, no matter how intense workouts you perform, fat in your body won't buzz out.