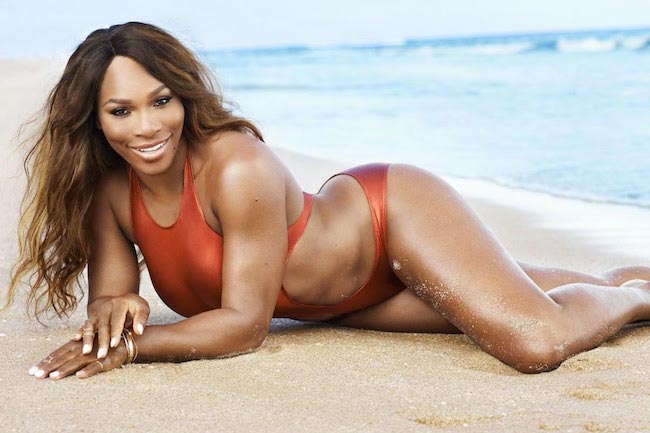 No Olympic gold for Serena Williams in 2016 but she is still reckoned as one of the greatest players of her generation. With twenty two grand slam wins (a record that only Steffi Graf can boast of and predicts Serena will break in the near future), 3 Olympic gold medals in women's doubles and another gold medal in women's singles in London 2012, her rank as women's number 1 is secure for now. She keeps coming back to defend it despite injury, sickness and pain! Due to turn 35 on 26 September, Serena is set to complete 21 active years of professional tennis! If you have not followed her long career closely, following are some of the facts that provide an insight into her strong-willed personality which will render new found respect for her as a sportsman.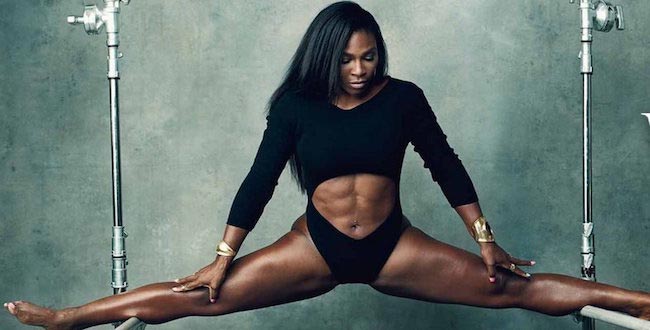 She can take hits like a boss!
Over the last two decades, Serena has endured criticism and ridicule face front like a champ. She has gained a firm ground with a long list of accomplishments in a sport that was formerly white and male dominated.
A sports writer from The New York Times mocked her "large biceps". The president of the Russian Tennis Federation joked about Serena's musculature by labeling her along with her sister, Venus, as the 'Williams brothers.' Serena has been trolled on twitter for being, 'built like a man' and at the same time slammed by others for being too 'curvy' and 'sexy.'
The former CEO of the Indian Wells tournament attributed Serena's career success to the presence of male tennis stars, Roger Federer and Rafael Nadal who make tennis popular enough for lady players like Serena to sustain their career! The interpretations for Serena's success might keep getting more and more ridiculous, but she makes a compelling statement for gender parity by amassing more Grand Slam titles than any tennis player, male or female, can presently lay claim to!
She does not take injustice lightly, but has the courage to forgive.
In 2001 at Indian Wells, Serena was scheduled to play against her sister, Venus in the highly anticipated semi-finals. Venus Williams, however, withdrew owing to tendinitis hours before the scheduled match giving Serena a direct entry to the finals.
An eagerly awaiting crowd was visibly upset and angered when informed about the match being cancelled, merely minutes before it was to begin, fanning rumors that her father, Richard Williams, was responsible for fixing matches between the two sisters. Although, Serena won the finals opposite Kim Clijsters, it turned out to be an unpleasant match since the crowd booed, jeered and threw racist slurs at the Williams family without any intervention from the tournament officials. That ill-treatment shook 19 year old Serena's self-esteem and she refused to play on that ground ever again willingly putting up with major loss in prize money and ranking points.
In 2015, Serena ended her 14 year boycott and made a comeback to raise money for the Equal Justice Initiative, a non-profit organization which offers legal representation to victims of unjust treatment in the legal system.
She is a successful fashion-designer off court!
Serena's mother taught her to sew during her childhood and she often made clothes for her dolls. Alongside living and breathing tennis, Serena managed to get a degree in fashion design during which she particularly found herself good at pattern making. Her interest did not end there and she managed to set up her own line of designer apparel, Aneres (Serena spelled backwards), running successfully since 2004.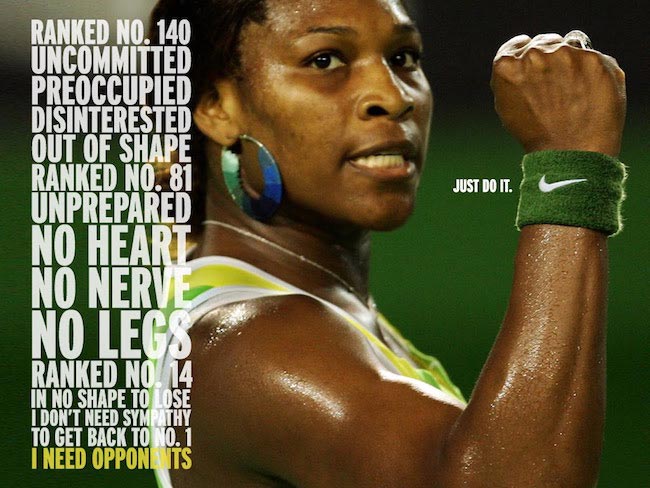 Limitations, even grave health scares and injuries cannot confine her.
In 2010, Serena's foot injury put her on crutches. Next year, she found herself in the Intensive Care Unit (ICU), threatened by pulmonary embolism, a condition where multiple blood clots ruptured her lung tissue, making her fear for her life let alone the end of a glorious career.
In 2012, she made it back on the tennis court, but went through a considerable slump before rising from the ashes in 2013 with a new coach, Patrick Mouratoglou, to breathe new life into her waning career. In that year alone, she won 11 titles and won 12 million dollars in prize money, successfully winning major tournaments despite being in pain from nursing ankle or thigh injuries.
She claims working out in water as directed by her coach quickly helped her build her lung strength and overall stamina.
Serena is living proof that you get better with age!
People widely believe that the ravages of professional sport indicate the need to implement a retirement plan the moment you hit 30. Serena might have played extremely well during her twenties, but in her thirties, self-awareness and deep insight of her sport enables her to be more consistent than ever. Every time her form hits a high note, Serena is able to make her series of wins last longer and every time she enters a slump, she is able to get out of it that much faster, refining her training and recovery on cue.
No matter how old she gets, as long as she is in the game, she will never drop her guard or let her performance slack, claims her coach, Patrick Mouratoglou. With nothing left to prove, Serena defends her title with immense pride. She brings more power to her serves now and plays even more aggressively. Having fun while playing the best game she can bring on the court is what makes Serena such a formidable competitor.
Sports Illustrated awarded her the Sportsman of the year award in 2015. The following video reveals why she deserved it.
She lives her life with passion
Motivation can be tricky. It comes in ebbs and flows. Serena admits you often have to dig deep to figure out what is it that you really want to feel fulfilled. Feeling grateful to be in a position to be a role model to millions of women worldwide, Serena takes keen interest in issues related to social justice and education.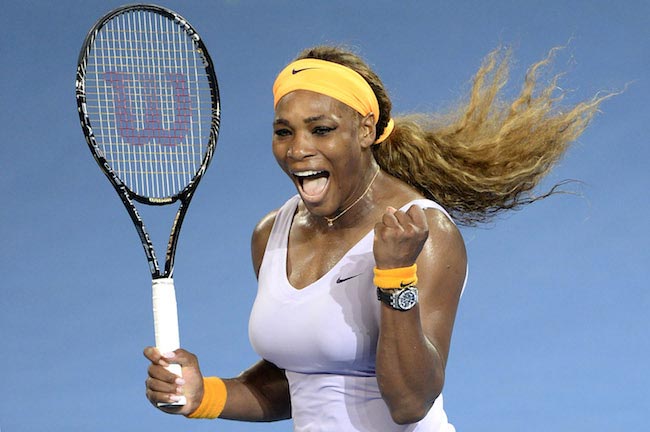 Her foundation, the Serena Williams fund has contributed to building schools in Africa and comes to the aid of victims of gang violence.
On the tennis court, she puts her game face on. Serena gets serious but visually expresses every emotion that runs through her mind. Off-court, she goofs around to unwind. She often breaks into a song and dance routine to fight off exhaustion from constant travel and makes the best use of her free time playing pranks on her friends. She does not let herself get trapped by inhibitions.
She trains with laser sharp focus to get extra-ordinary results from her training
No amount of training will work its magic if your mind and heart are not in it. Serena took to the tennis courts at the age of 3 in Compton, California, an area teeming with unchecked gang violence. Her father, Richard Williams helped her build a thick skin by learning to ignore the chaos around. In fact, he often paid other school kids to pester and jeer at Serena and her sisters during practice that eventually helped them build an unwavering mental focus.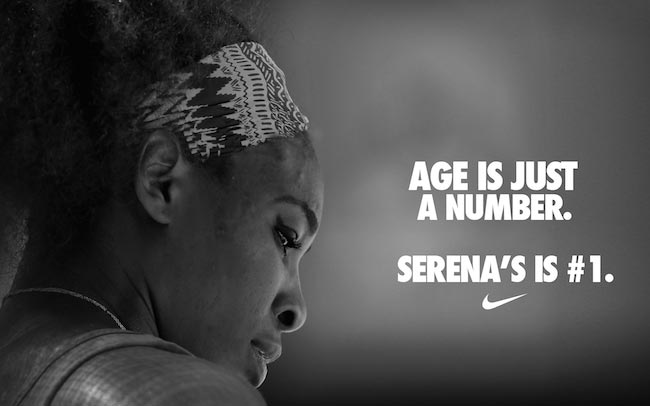 Serena's million dollar limbs are looked after by a diverse staff, but some of the people who play a key role in helping her retain her fitness include her personal chef, Lauren von der Pool, physical therapist Esther Lee, Canadian fitness coach, Mackie Shilstone and French coach, Patrick Mouratoglou, who insists Serena STILL have plenty of scope to improve her game and win yet more Grand slam titles!
Training and Diet: Owing to her sister's autoimmune disorder, Serena eats more consciously now and largely consumes meals containing no wheat and no sugar. She complained her cheat days often converted into cheat months, so she simply eats more mindfully without subscribing to any particular diet.
As an athlete she has trained all her life, so has no problem working out by herself, but her coach Mackie Shilstone designs customized workout plans and drills to keep her training interesting that renders more power to her arms, legs and core. She watches her game tapes closely to analyze ways to improve her biomechanical advantage.
Other than intense daily practice on the tennis court, Serena has to ensure several hours of cardio every week to ensure her stamina and endurance does not suffer. As much she hates the monotony of cardio, she switches between running, cycling, elliptical, bikram yoga and dance. While filming for a workout video sponsored by Nike, she even revealed that although high intensity drills are a significant part of her training, she often balances them out by training to slow music for recovery and elaborate stretching sessions.
Lastly, Serena understands the importance of staying fresh mentally before a big game. Without that, nothing else works!
The following advertisement for Powerbeats2, gives a brief snapshot of her training intensity.