Chocolate boy of Bollywood, Shahid Kapoor inevitably has been residing in the hearts of zillions of girls from a long time. However, with his six pack abs and perfectly chiseled body, now the dashing guy has also become a source of fitness inspiration for guys. Let's have a look at the diet and workout secrets of Shahid Kapoor which are accountable for his molded physique.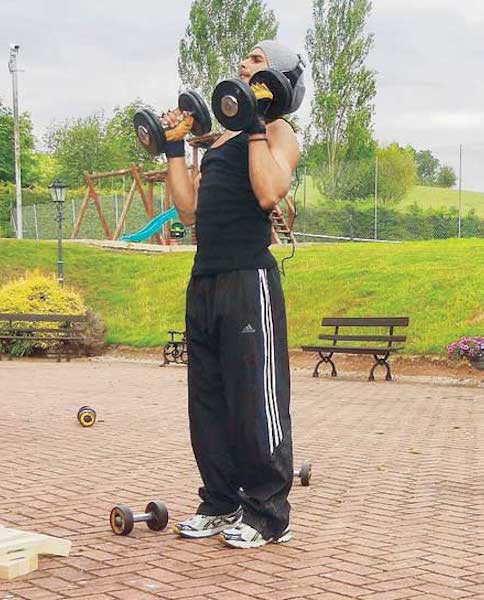 Vegetarian Diet
Shahid is one of the hardcore vegetarian dieters of Bollywood. He admits that it's hard to get ripped body without animal protein because protein peps up the formation and repair of lean muscles. Despite being sentient of the fact, the handsome actor steers clear from meat and other animal foods. That being said, he does not make his body devoid of nutrition. With the help of his nutrition expert, the actor has figured out wholesome and protein opulent plant based foods which can render adequate nourishment to his worked up body. He incorporates bountiful nutrient laden foods such as beans, spinach, rice, dairy, fruits, veggies etc. in his diet.
Five Small Meals in a day 
Shahid consumes five to six small meals in a day. Since number of meals is directly proportional to the intensity of workouts, five or six small meals are critical to fuel his body. Shahid renounces the consumption of foods dense in fats or foods high in carbs, he rather inculcates healthy fats, and complex carbs in his diet. Along with the ratio of macronutrients, he also stays vigilant about the timing of his meals and thus doesn't forget to fuel his body with pre workout, post workout, and other vital snacks.
Reliance on Supplements
The flamboyant actor banks on protein supplements such as whey protein and creatine to fulfill the requirement of protein in his body. Since plant based foods are incapable to meet soaring protein requirement of his body, he relies on supplements to help his body enhance muscle mass. Intense weight training causes tear of muscles and if you don't feed protein to your body, your body gets unable to deal with the loss of muscles. So, it's critical for you to consume minimum thirty grams of protein in a day.
Vivid Goal
The actor has his fitness goal very vivid in his mind. He seldom targeted to acquire six or eight pack abs with workouts; his objective rather was to build up his strength, stamina, and endurance. His muscular body can only be seen as one of the positive side effects of grueling workouts meant to strengthen his body.
Six Days Workouts
Shahid has divided his workout regime in two parts. While one part consists of days like Monday, Wednesday, and Friday, other part consists of Tuesday, Thursday, and Saturday. His days being divided on the basis of his body parts has him focus on them entirely. His workouts are proportionate mix of cardio and strength training. He also practiced martial training and other vigorous exercises for his role in the 2013 movie, R… Rajkumar where his body looked incredibly ripped and fab. Aside from doing sweaty workouts under the guidance of his fitness instructor, Abbas Ali, he also executes moderate workouts such as yoga, swimming etc. And at times when he falls short of time, he makes sure that he doesn't let the day pass without practicing any workout. Here's one sample workout routine of Kapoor.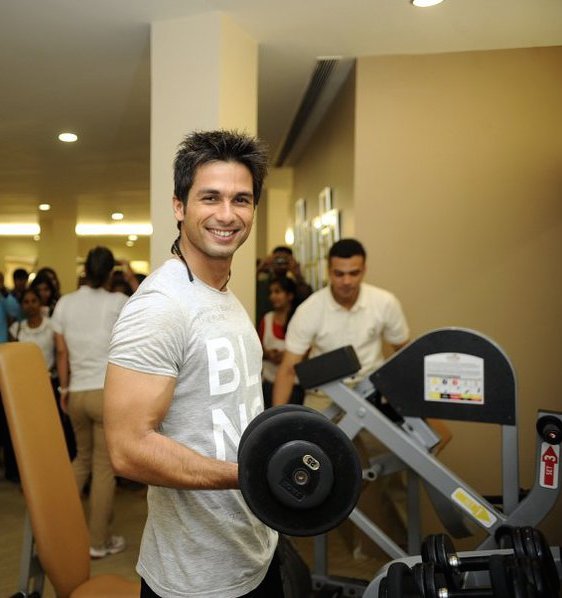 Monday, Wednesday, and Friday Routine
Warm up – 15 minutes on treadmill
Set One
Flat Bench Press – 5 sets, 8 reps
Chin ups – 5 sets, 8 reps
Dead Lifts – 5 sets, 8 reps
Lateral Raise – 5 sets, 8 reps
Set Two
Incline Dumbbell Press – 5 sets, 8 reps
Bent over barbell rows – 5 sets, 8 reps
Overhead press – 5 sets, 12 reps
Set Three
Seated row – 5 sets, 8-12 reps
Machine fly – 5 sets, 8-12 reps
High Pull – 5 sets, 8-12 reps
Rear Delt fly – 5 sets, 8-12 reps
Tuesday, Thursday, and Saturday Routine
Set One
Leg Extensions – 4 sets, 15 reps
Squats – 4 sets, 12 reps
Leg Curls – 4 sets, 12 reps
Standing Calf Raise – 4 sets, 15 reps
Set Two
Leg Press – 4 sets, 12 reps
Stiff Leg Deadlift – 4 sets, 12 reps
Step up – 4 sets, 12 reps
Sealed Calf Raise – 4 sets, 12 reps