Iconic actor of Bollywood, Shahrukh Khan turned millions of heads towards him when he appeared in hot and muscular eight pack abs. After Om Shanti Om (2007), this is his second dramatic transformation for his upcoming movie, Happy New Year (2014). While most people who are about to hit fifty don't even dream to have such a body at this age, the ageless celeb actually acquired it. With his meticulous makeover, SRK has proved it that if you abide by right approach and work hard, no goal is beyond your reach. Let's have a look at the diet plan and workout secrets of SRK which rendered him such a kick ass physique.
Prudent and Healthy Diet
Diet being the primary determinant accountable for hale and fit body has to selected and taken discreetly. SRK being well aware of the fact eats his diet while keeping his eyes open. Instead of eating anything and everything coming in front of him, he first ponders about the nutrient quotient of the food items he is to eat. Along with grueling exercises, he makes sure that his body gets right fuel.
He steers clear from high carb foods such as white bread, white rice, refined grains, sugary foods etc. Besides them, he renounces the consumption of fried foods and alcoholic beverages. Instead, he opts to eat foods rich in complex carbs such as fruits, green and leafy veggies, legumes etc. He fulfills the protein needs of his body by eating lean meats, pulses, egg whites, grilled chicken, etc. Aside from eating wholesome foods, he also stays vigilant about the portion size of foods and stops eating as and when he feels fuller. In addition to that, he swears by the principle of portion control not only in his routine life but also while having fun on festivals and parties.
Workouts with Personal Trainer
SRK didn't acquire those enviable eight pack abs overnight. They actually are the result of his six months of perseverance, hard work, and unwavering mind. The flamboyant actor being arduous and resolved towards his exercise regime has totally won the heart of his personal trainer, Prashant Sawant. While devoting one hour and twenty minutes in a day, the actor hits gym five days in a week. Since variation is the key to omit weight loss plateau, his fitness instructor changed his workouts after every fifteen days. When it comes to fitness, the actor religiously adheres to what his trainer instructs him to do. In spite of being an injury in his knees which made him incapable to do workouts, he didn't let his spark gp to do better in workouts. He seldom asked his trainer to alter the rigorous techniques or anything of that sort.
Workouts at Night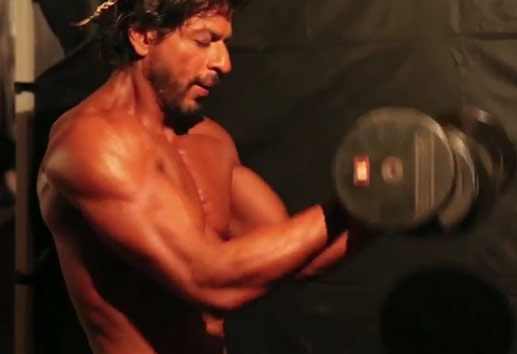 Most people refer to time constraint as the biggest stumbling block hindering their way to workouts. However, after knowing SRK workout regime, there might be an inspiring shift in your perspective. The legendary actor performs exercises at two or three at night which are comprised of suspension, weight training, and ten minutes of cardio session. His personal trainer also introduced him to vibrating dumbbells which provide superb exercise to his arms and shoulders. Endowed with great stamina and endurance, the handsome actor can run incessantly up to 15 kms. He reserves thirty to sixty minutes in a day for cardio workouts such as running, cycling, jogging, aerobics etc. After going through vigorous session of workouts, SRK makes sure that he consumes protein shake to bestow nourishment to his torn muscles.
Adequate Rest
No matter how strenuous workouts you do to acquire sought after physique, it will be of no use if they are not followed by adequate rest. Wear and tear of muscles take place in your body after strength training and your body needs time to recover the loss. However, if you continue doing ab and muscle building workouts (without enough rest), not only will your body lose muscles but you will also be likely to become victim of over training.
Positive Attitude
Aside from being an incredible actor with amazing chiseled physique, SRK is also a superb man equipped with immense positive energy. In today's stressful life where most men have garnered traits of beta male, SRK has successfully been able to keep the X factor alive in him. Super positive alpha men endeavors to find opportunities even in the hardships of life.