Stacy Ann Ferguson or more popularly known as Fergie is an American singer and songwriter who got worldwide success as the female vocalist for the Hip Hop group Black Eyed Peas. She has acted in various film and TV Shows as well starting from 1986. So, do you think she has made such success only due to her talent? I guess there must be a little role of his svelte body as well behind her success. Let's check out her workout secrets.
Fergie Workout Routine
Ferguson doesn't have a personal trainer as she doesn't like someone instructing her what to do next. She does whatever she likes and whenever she wants. Ferguson says that it is easier for her to remain in shape when on tour. This is because she is forced to workout whether she wants or not in the form of set every night. In her own words
"I am glad that our music motivates people to exercise. If I had to pick just one song to run to, it would be 'Violet' by Hole. It makes me want to run."
For her 2009 movie "Nine", she did a hard workout to prepare toned legs as she had to role as a voluptuous dancer. Though at that time she had to take help from trainer Mike Ryan. She did this workout for her legs –
Squats – Squats focus on quads, hamstrings and glutes. Hence, it helped Fergie to develop lower backs.
Walking Lunge – Luges are great for butt and legs. Lunges work on calves muscles which are found in legs. Mike Ryan suggests to do walking lunges 20 to 30 yards for 3 times a week.
Step Ups – Step ups are like you are walking on the huge set of stairs. Surely these exercises will focus on legs and also on knees. Do 2 sets of 10 step ups on each leg.
Dancing – As Fergie is always with Black Eyes Peas band performing on the stage with her singing and dancing, it has also added her good legs.
Running – Running is a good cardio vascular exercise for legs and whole body. It is a common and good warm up exercise also.
All these exercises, when once done and you have achieved a basic level, then you can shift to next level, in which you would be doing all these exercises with little variations like simple squats can be replaced with swinging kettleball squat lunge or wide squat with biceps. Similarly step ups can be done with some little variations.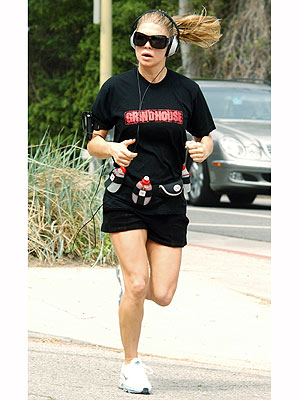 According to the annual 'Famed Hottest Looks' list, compiled by plastic surgeons-to-the-stars Richard W. Fleming and Toby G. Mayer, the majority of women undergoing plastic surgery want the glamorous Black Eyed Peas singer's body.
She is seen in the gyms doing a lot of cardio. Her workout exercises include basic abdominal exercises for dummies, jogging with her hubby Josh Duhamel, hiking, stair-climbing and resistance training with her band mates. She says
"Working out is really the top thing in my life that I do for my self-esteem and self-worth. It is like investment in health and happiness. When I am exercising, I get really proud of myself because I know I am doing everything in my power to be healthy."
Fergie Diet Plan
Fergie eats only pure food and nothing processed. She eats the following meals after every 3 hours to keep her metabolism up, prepared by Fergie's nutritionist Carrie Wiatt. Here a diet chart of Stacy Ann Ferguson.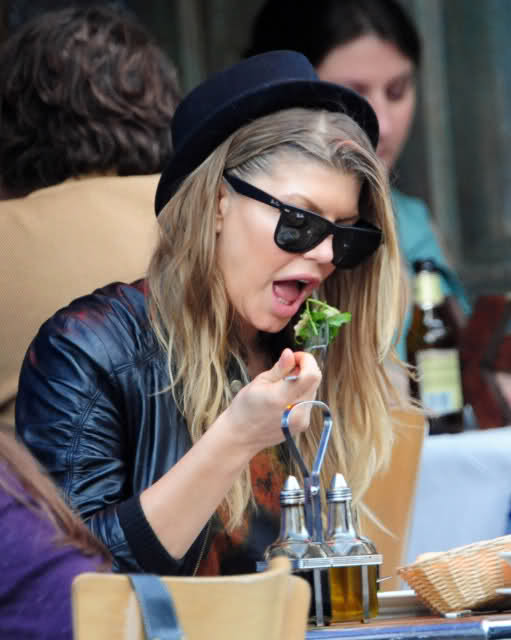 Breakfast
6 egg omelette seasoned with salsa / hot sauce
2 slices of Whole Grain toast with 2 tablespoons of butter
Mid Day Snack
Light organic cheese
Rice Crackers with flaxseed
Kashi bars
Lunch 
Quarter of an Avocado
4 ounces of shredded chicken rich in protein
Grapefruit
Evening Snacks
Vegetable Soup
Carrots dipped in 2 tab
A cup of Popcorn / Almonds
Supper
Plain organic yoghurt with 2 tablespoons of granola / Cottage cheese
Fiber filled berries
Dinner
Salmon which is rich in Omega-3 fatty acids
Half a cup of couscous
2 cups of Veggies with honey Dijon for flavor