Electrifying beauty of India, Sonakshi Sinha is one of the most famous celebs of Bollywood. Having made her entry into Bollywood with her debut movie, Dabangg, the dazzling beauty was a fashion designer prior to starting her career in acting.
Dabangg indeed was an outstanding movie, which abruptly made the actress so popular. However, more eminent was the makeover of the actress. Being genetically hefty, Sonakshi used to carry massive weight of 198 pounds. With the overly voluptuous body, she obviously could not save a place for her in movies. After being inspired by the celebrated actor, Salman Khan, the fab actress made her mind to torch unsolicited pounds from her body.
Sonakshi switched to balanced diet and regular exercises and shed sixty-six pounds from her body. However, the pretty actress still has not been able to join the league of slender actresses, but since getting to 132 pounds from 198 pounds too was no less than a miracle to her, she is pleased with her new bod.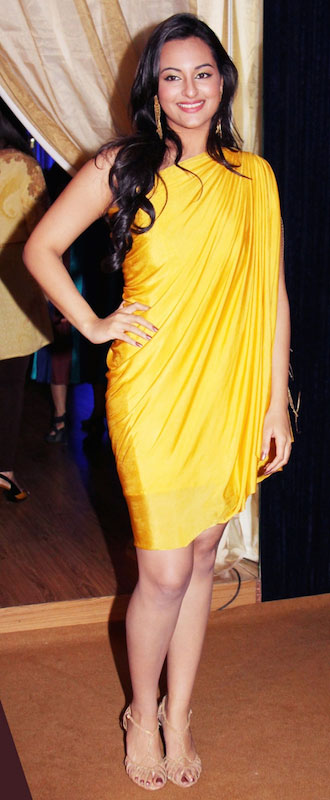 Sonakshi Sinha Diet Plan
Sonakshi being a big foodie had to face great difficulties in swearing by a balanced diet regime. Junk foods, processed foods, and all other unhealthy stuffs being the most loved foods of Sonakshi were not cool for her to forbid. However, she programmed her brain and reminded it of her weight loss objective.
By using her sheer will, the stunning actress inculcated high protein, low carb, and healthy fats in her diet. She also trimmed her big appetite by consuming five small meals in a day. Apart from keeping her from being sluggish, small meals also provide adequate nourishment to her body.
She kept strict distance from junk foods specifically foods having high content of trans fats. Green tea being great antioxidant and fat burning food item has become her favorite and she consumes it twice or thrice in a day.
Sonakshi weight loss story has no room for starvation and fad diet plans. She never succumbed to these claptrap ways of melting pounds. While sticking to portion control, she consumes all kinds of foods including sugary foods items such as cakes, pastries etc. in moderation.
Sonakshi Sinha Workout Routine
Although Sonakshi made up her mind to scorch surplus pounds from her body, but it again was not easy for her to embark on healthy diet plan. Her body being not accustomed to grueling workouts used to ache and pain. Just as you feel weird and different when you do something new, your body also seeks time to accept your new lifestyle habits.
Her workout regime consisted of three days dedicated to strength training and cardio workouts, and two days to hot yoga. She embraced Bikram yoga. It's a hot yoga performed in hot room having temperature of forty degree Celsius. Being high-impact yoga, just fifteen to twenty minutes of yoga has your body sweat immensely and burn several pounds. Apart from conventional weight loss exercises, the actress also cherishes the time spent on playing tennis.
Healthy Recommendation For Sonakshi Sinha Fans
You being one of the fans of Sonakshi Sinha might be keen to know her secret formulas of attaining curvy figure. You inevitably can learn a lot from the personal experiences of Sonakshi. Despite being overweight for such a long period of time, the charming celeb made no room for discontent and negative self-degrading traits.
She at the same time didn't get paranoid over the idea of scorching surplus pounds from her body. She rather followed judicious and meticulous approach and steadily adhered to healthy foods and exercise regime.
Her makeover was not overnight, she had to gradually embrace right foods to avoid flab rule over her body. The natural tendency of her body being vulnerable to grow plump might bestow you a reason to relate you with the hot celeb. Despite not being a part of size zero celebs, the poise and elegance reflected by her simply make us overlook her imperfections.
Should you also vow to confront everyone with confidence, you too can spread the same reverence for you in the air. To become hot and enviable like a celeb, you first need to feel and act like them. You inevitably can ditch your body by feeding right messages into your brain.