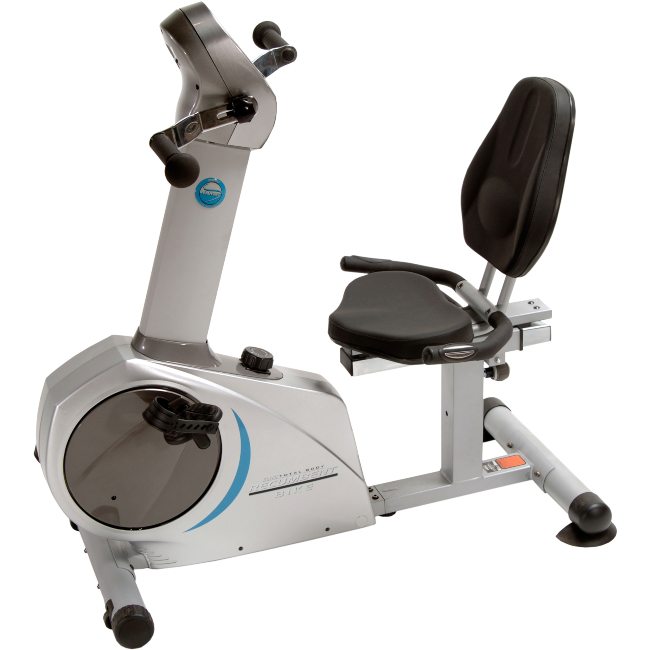 Exercise equipment can help you to stay fit during the times you are too busy to go to a gym. Most people now prefer buying exercise equipment for home to maintain the regularity of their fitness routine. Our life is busy and it may not be always possible to go to the gym after work. Doctors recommend that you go for a morning walk every day, but the weather and circumstances may not always permit you to go outside. If you have good exercise equipment at home, then no matter how busy you are you will be able to find some time during the day to exercise.
The fitness product manufacturers have come up with various types of equipment to meet the customers' needs. Among the many types of equipment available, if you are looking for something that will be comfortable on your joints and will help you to burn calories faster, then you should buy an exercise cycle. You will find various kinds of exercise bikes on the market. However, the recumbent bike has gained popularity recently for its effectiveness and comfort. These are much affordable than the other fitness equipment as well. Here we are going to review the Stamina Elite Total Body Recumbent Bike.
Design
You will really like its look as it is stylish and metallic grey in color. It is compact and requires very little space. The seat is very comfortable as it is thickly padded and you can adjust the seat as well. It has an angled backrest that will give you more comfort during exercise as it will give full support to your back. It has a multi-function electronic display that shows the speed, heart rate, distance, calories burned, and other stats. This way, it is much easier to track your progress. There are pulse sensors which helps you to stay within your target heart rate zone. You can choose from 8 levels of resistance. With a magnetic resistance system, the operation is quiet and you won't disturb others while exercising as it's noise-free.
Most of the exercise bikes you will find in the market have foot pedals. But, this bike has upper pedals for the hands as well. So, along with lower body workout, you will be able to tone up your upper body as well. It is a great bike for a total body workout and is designed to give you comfort during exercise.
Build Quality
It is built with a sturdy steel frame which makes it durable. The steel parts are double coated with makes them corrosion-resistant. The flywheel and belt drive provides a consistent and steady operation. The foot pedals are wide and give a solid platform for pushing. As the pedals are textured, your feet won't slip and will remain in place during exercise. There are also hand pedals for upper body workout. The hand pedals work independently of the foot pedals. So, you can choose to use both or just one according to your need.
The seat and backrest are ergonomically designed to support your body and provide comfort. It has a magnetic resistance system that lets you change the resistance level according to your preference. It provides stability so that the machine doesn't wobble during intense exercise sessions. You get 5 yeas warranty for the frame and so you won't need to worry about replacing it any sooner.
Size
The dimensions of the bike are 50 inches by 24 inches by 49 inches. The bike weighs only 121 lbs and so you will be able to transport the bike easily. When not in use, it takes up an area of 24 inches by 50 inches. So, you will be able to store it in your closet easily.
Comfort
The bike is designed in such a way that it's easy for you to get on and off the bike. It has a large padded seat and backrest that will give you comfort throughout the exercise. You can also adjust the seat and backrest according to your need. The handlebars can be easily reached without bending forward. They are covered so that your hands don't slip due to sweat. The operation of the bike is quiet and you will be able to watch TV or listen to music as you won't hear any noise while exercising.
Effectiveness
If you need an exercise bike for total body workout, then you should buy this one. It provides both performance and convenience. You can use it at home for cardiovascular fitness and also total body toning. In order to get the best result, you must work within 70% to 85% of your maximum heart rate. It will help you to tone up your legs, arms, and core without causing any strain on your joints. You will be able to raise metabolism and build up strength if you regularly exercise on this bike.
The seat and backrest are comfortable and helps you to exercise for long hours. Along with the seat and backrest, the arm rails are also adjustable which offers stability. It is a great bike for cardiovascular exercises and will help you to lose weight and get into shape quickly.
Price
This bike will cost you $799 at Amazon. Though the price is a bit higher than the other exercise cycles in the market, it is worth buying it due to the quality and performance.
Pros
It has a sturdy frame and can support users up to 250 pounds.
The seat and backrest are padded providing ultimate comfort.
The magnetic resistance system lets you vary the intensity of your workout and provides quiet operation.
Along with the pedals, it has rotating handlebars to tone up your arms, back, and shoulders.
It provides a steady and stable base for exercise.
The display is wide and it shows the distance covered, calories burned, and other stats.
There are sensors to monitor your heart rate.
The data console is powered by battery, so you don't need to look for an electrical outlet to operate it. You can exercise anywhere in your home.
It has a magnetic resistance system that lets you change the resistance levels and provides quiet operation.
You get 5 years warranty for the frame and 1 year warranty for the parts.
Cons
The upper body resistance is too light.
There are no preset workout programs.
There is no media or bottle holder.
Final Verdict
Stamina is a well-known brand for manufacturing quality fitness products at a reasonable price tag and this exercise cycle is no exception. The most exceptional feature of this bike compared to the other ones in the market is the upper hand pedals which give you a total body workout when used with the lower foot pedals. With 8 levels of resistance, you will be able to vary the intensity of your workout. This exercise cycle is best for light cardio and recovery workouts, toning legs, and arms muscles as well. You will be able to lose weight and build stamina by exercising on this bike. Buying this exercise cycle will give you the opportunity to workout at home comfortably without causing any strain to your back and joints.