If you are a regular gym-goer, you must have noticed a sit-up bench. People use it to strengthen their abdominals. It has been proven that if you can exercise regularly using the sit-up bench and have a healthy diet, then you will be able to strengthen and tone your abs in no time. When it comes to toning of our body, the abdomen is one of the most challenging areas. You will notice that a slight change in diet can affect the shape of your abdomen and no matter what exercise you try, it is difficult to get a toned abdomen. In such a case, a sit-up bench can come to the rescue.  
One of the benefits of using sit up benches is that you can perform exercises by adjusting the bench to different settings. The bench comes with padded back support that reduces the risk of injuries. The sit-up bench not only tones up your abdomen but also helps you to shed weight. It may not be always possible to go to the gym. So, it is a good idea to buy a sit-up bench for your home use. Here, we are going to talk about the Stamina Pro Ab/Hyper Bench that has received lots of positive reviews from the customers.
Design
It has a very simple design and is compact. So, you can store it easily in your home without taking much space. You can fold it when not in use and put it anywhere in the room. You can adjust the bench to 4 different levels. The seating arrangement is very comfortable with the vinyl stitching and layer of foam. It has a great thigh and leg support which will support your body when you want to do a total body workout. The handgrips are easy to reach and extended so that you can hold on to them during intense exercises. The strong hand grip will help you to strengthen your upper body. There are foam rollers that can be used as a pivot to do crunches and other exercises to strengthen your core. It has a non-slip footrest that will keep your feet secure during exercise. 
Unlike the other sit-up benches that you will find in the market that focuses only on the abdomen, this bench provides a total body workout. Besides the abdomen, you will be able to workout out your legs, arms, and back. 
Build Quality
This bench is made of a heavy-duty steel frame that is 2'' thick which makes it extremely durable. It is coated with a metallic powder that provides extra protection. The upholstery is covered with vinyl and is padded for extra comfort. Due to the vinyl covering, it's easy to clean and so you won't need to worry after a sweaty exercise. You can use this solid bench with or without dumbbells. There are some benches in the market that will wobble while exercising. However, it is not the case with the Stamina Pro Ab/Hyper Bench. There are non-slip rubber frame caps that make sure that the bench stays stable even during fast exercise motion. These caps also protect the floor. 
You will be able to adjust to 4 different positions and try out various exercises. This bench is built mainly to strengthen your abs and back muscles, however, it is also great for a total body workout. You will be able to burn calories and tone up the rest of the body as well. The bench is built to last for many years and it's a smart purchase due to the value it provides at a good price. You get a 5-year warranty for the frame and 90-days warranty for the parts. 
Ease of use
You get the detailed instructions to assemble it. The necessary tools are also provided. However, it might take some time to assemble the parts. Once it is assembled, you won't have any trouble doing the different kinds of exercises. 
Size
It has dimensions of 36 inches by 17 inches by 7 inches and weighs 42.4 pounds. It is built to fit your leg length and the foam rollers keep the ankles secure. This way the body is aligned in the right position.
Comfort
The seat is padded with high-density foam which gives comfort and cushion while exercising. As it is covered with vinyl, it feels comfortable to the skin. The steel frame construction makes the bench strong and allows you to do various types of exercises. It has easy-to-reach hand grips that make it comfortable to exercise and helps to keep your posture correct. There are non-slip footrests that make it more comfortable to do certain workouts. 
Effectiveness
With this bench, you can do a variety of exercises which include sit-ups, crunches, leg raises, chest presses, push-ups, split-squats, and more. These exercises can strengthen your core and help to tone your abdomen. You can change the position from flat to 30-degree decline and work out your upper and middle abs in 4 crunch positions. It is very easy to change the position; all you need to do is pull a pin to adjust the angles of the bench so that you can reduce or increase the intensity of your exercise. You can perform standing hyperextension exercises to work on your lower back muscles.
The thigh support and pivoting foam rollers that you get with this bench are very effective. You will be able to adjust the thigh support to fit your leg length and the rollers to hold the ankles in place. There are non-slip rubber frame caps that keep the bench stable and secure during exercises. You can use this bench as a sit-up bench, a roman chair, and a decline bench. So, you are getting 3 things for the price of one.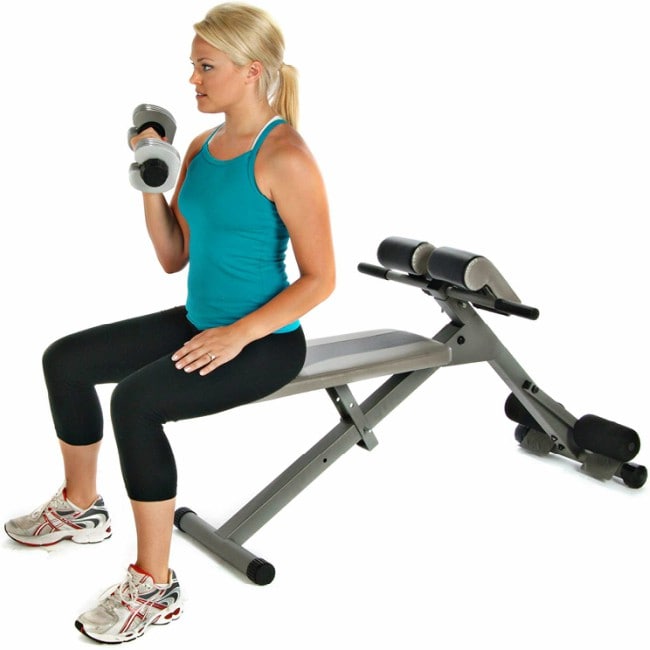 Price
You can buy this bench for $179 only at Amazon. It is a high-quality mid-range bench that will last for a long time. It has interesting and helpful features that allow you to do various types of exercises. So, considering the construction and versatility this bench provides good value for money.
Pros
It is compact and simple which makes it visually appealing.

It can be folded and is easy to store as you can put it inside your closet or under your bed easily.

The bench can be adjusted to 4 different positions.

It is made of heavy-duty 2-inch steel frame construction which makes it very strong. 

There is adjustable, split thigh support that helps you to work out with or without dumbbells. 

The handgrips are easy to reach which makes workouts comfortable. 

The pivoting foam rollers support the lower leg during hyperextension exercises and crunches. 

It has non-slip footrests. 

The seat is covered with high-density foam pads that provide comfort and good support. 

The padded upholstery is easy to clean.

You get a 5-year frame warranty and 90-days parts warranty.

Cons
It takes some time to assemble the bench.

The price is a bit high.

Some users find the footrests short.

It is not appropriate for users who are taller than 6 feet or weighs more than 250 lbs.
Final Verdict
The Stamina Bench Pro can be a great addition to your home gym. As it has a small footprint, you will be able to keep it anywhere in the house without taking up much space. You will be able to do lots of exercise routines at home and get the results that you normally get in the gym. With this bench, you will be able to target your core muscles and stress your upper body muscles also. There are endless possibilities with this sit-up bench. No doubt, buying this bench will be one of the best decisions you will make to achieve your fitness goals.
Buy Stamina Pro Ab/Hyper Bench