People today are much focused on their fitness than they were in the past. There is various fitness equipment available that help to give you a strong and fit body. Those who are into weightlifting know that a weight belt is a very useful tool that supports the body while you lift weights. These belts are worn around the abdominal and waist area. When you perform squat or deadlift, this belt compresses some of the areas of your core and helps to train the other muscles. Some people have the misconception that weight belts can correct bad form. Weight belts can help to get you the best out of your good form. It can support your lift and stabilize our spine. You will be able to lift more weights with the help of a weight belt. It is a valuable tool to invest so that you can get the most out of your workouts. 
Before buying a weight belt, it is important to do some research. You need to buy a weight belt that is made of quality materials. The size of the belt must be right so that it fits you perfectly. Your budget is another factor you should consider. Among the various weigh belts available, the Steel Sweat Weight Lifting Belt is one of the best ones in terms of quality and functionality. Here, we are going to review the product in detail.
Design
This belt has a very elegant design. It is found in 3 different styles: hyde, texus, and bolt. The hyde belt is brown and the other two designs are black. All the designs have a unique appeal and you will like them. The lining of the hyde and texus designs are of suede and that of the bolt design is leather. All of them are made of genuine leather that makes them strong and durable. There are various holes in the belt which leaves rooms for adjustability. So, you will be able to customize the size of the belt. The belt is very easy to adjust and comfortable to wear. You won't feel any pinch on your skin as the belt is smooth and soft. 
The belt is 4 inches wide that provides maximum core support when you lift heavyweights. It has heavy single buckle and a seamless roller which is made of stainless steel. This is better than a two-prong buckle and will not break. 
Build Quality
This weight belt is made to be long-lasting. It is made of premium quality cowhide leather and stainless steel hardware. The combination of leather and stainless steel is just perfect to get a top-quality product. The leather is vegetable tanned for weeks before it is used for making the belt. This process gives a natural tone to the belt and makes the belt durable, strong, and water-resistant. So, even if you sweat, the quality of the belt won't deteriorate. The vegetable tanning process makes this belt last longer than the fabric belts. Its double-stitching guarantees that it will support you during intense workouts also. 
It has one prong that makes it easy to adjust the belt. The prong is strong and it won't snap off backward. In case the belt becomes loose, you will be able to tighten in using the premium quality stainless steel screw-in rivets. This belt is IPF Federation compliant, so you can rely on this belt for many years. 
This weight belt from Steel Sweat is manufactured with care so that it can give a high degree of protection. Once you buy it, you won't need to replace it for years. If you find any fault on this belt, then you will get a full refund of your money if you detect the flaw within 90 days of purchase. 
Size
This weight belt is 10 mm thick and 4 inches wide. This thickness provides better core and lumbar support that is ideal for powerlifting. You will find sizes from small to XXL, so there is a size for almost everyone. You should choose a size so that the belt fits snugly to provide you the ultimate support. 
Comfort 
This weight belt will act as a cushioning for the spine. You will be able to lift more weights with the help of this weight belt. The belt will also help to prevent injuries. 
Effectiveness
This weight belt will give you a stronger core so that you can lift more weights. With a single prong steel buckle, this belt provides long-lasting support to your back. As the belt is made from vegetable-tanned full-grain leather, it reduces break-in time. The genuine leather used in this belt results in a variation of color tones. Its single-prong roller buckle that is made of stainless steel allows you to make easy adjustments. This system is strong and won't break easily. 
This weight belt will help to stabilize your core. It will limit how far your abdomen expands when you breathe out and creates extra pressure, thus providing spinal stabilization. Once the spine is stabilized, the body will increase the legs and hip contractions. As a result, you will be able to lift heavier weights faster and with great comfort. You will be using more muscles to lift weights that will help to develop your muscles more. 
This belt will help you to do squats and deadlifts with ease and confidence. You will be able to protect your back and be able to lift more weights to reach new fitness goals.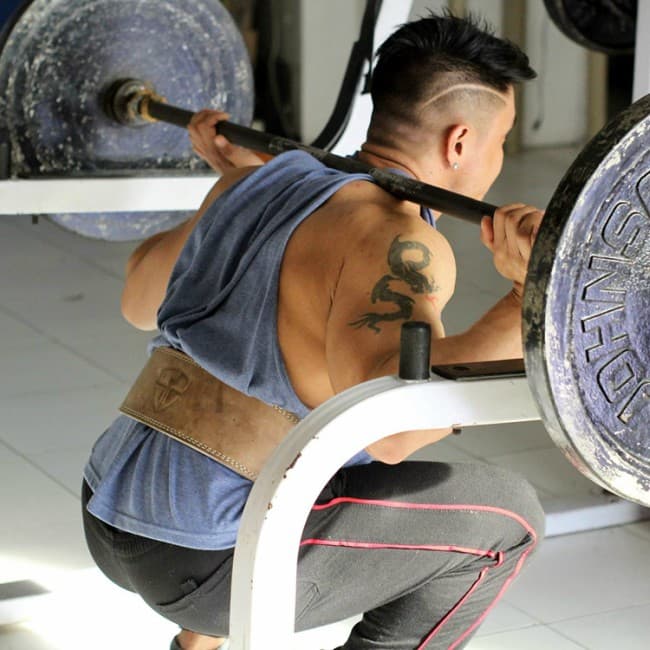 Price
You can purchase this belt for only $34.99. This belt will give you lots of benefits and you will feel great after buying this belt. The price may vary according to different promotions. 
Pros
It is made of high-quality leather that makes the belt strong and durable. 

This belt is simple and quick to adjust. 

It is 4 inches wide and 10 mm thick which is perfect to support your entire back and abdomen area.

It is available in various sizes, so there is always the possibility of getting the right size. 

It has heavy-duty nylon stitching that makes the belt stronger. 

Its single-prong roller buckle makes it easy to use the belt. 

It has stainless steel screw-in rivets.

You get a full refund and a lifetime warranty for this belt.



Cons
You won't be able to lift more than 600 pounds of weight.

Some users find it too stiff.
Final Verdict
A weight belt can help to improve your performance. If you have such a quality belt like the Steel Sweat Weight Lifting Belt, then no doubt you will be able to achieve your goals quickly. This belt is made of top quality vegetable tanned cowhide leather which makes it extremely durable. It comes in different designs and looks very elegant and stylish. Using this belt, you will be able to perform squats and deadlifts comfortably.
The belt is quite affordable and you will be a winner if you buy this belt. it is IPF approved which is a guarantee that it won't let you down. You get a full money refund if there is any problem and you get a lifetime warranty for the product. So, undoubtedly it is one of the best leather weight belts you will find in the market and it will be very handy for weightlifting and other exercises.