We are now more health-conscious than before. We understand the importance of being fit and healthy. A fit body not only looks good but can also protect us from various diseases. The number of gyms is increasing and more and more people are getting enrolled to get their desired body. Among the various equipment you will find in the gym, a bench is common equipment. It helps to do various weight training and other exercises conveniently and gets a better result.
You can buy a bench for your home as well. It is not always possible to go to a gym and a gym bench can be very handy in doing regular exercises. You can do sit-ups, bicep curls, incline press, and many other highly effective exercises with the help of this gym bench. Before you decide to buy a gym bench, you need to understand the different types of benches and their features so that you can buy one that will best serve your purpose. 
A gym bench should have a sturdy construction as you will be using heavy weights for training. The upholstery should be comfortable so that it doesn't hurt your back. It should have the necessary extensions like leg presses so that you can do a wide range of exercises. Different fitness equipment manufacturers are coming up with benches having different features. We have surveyed the market and have found the Steelbody Deluxe Utility Weight Bench to be one of the best. Here, we are going to look into the detailed features of this bench.
Design
This gym bench is designed for the novice and the serious weightlifters as it can handle up to 800 lbs of weight. With this bench, you will be able to do different exercises like weight training, ab workouts, bench presses, arm lifting exercises, and more. It is very easy to store and transport this bench as there are wheels and a handle to move around. It has foot pads and end caps which protects the surface and keeps the bench secured. The backrest is comfortable and can be adjusted to 6 different positions including flat, incline and military. You can also adjust the seat to 5 different positions to give you more exercise options.
Build Quality
It has a solid steel construction with a powder-coated finish. The upholstery has 2-inch thick padding and is covered with durable faux vinyl covering that provides excellent grip and comfort.
It has a ladder-type adjustment system that is solid and durable. You will be able to switch to different positions easily. There is a pin lock system to lock in the adjustment angle. It takes very less time to adjust making it very convenient for you to exercise. The bench is stable and so you can do different exercises comfortably and safely. The chance of causing any injury is minimum when you workout on this bench.
Ease of Use
It is very quick and easy to assemble this gym bench. You get an adjustable wrench and Allen wrench with it. You need only 2 people to assemble this bench and there is no chance of having any injury.
Size
It measures 47 inches by 45 inches by 25.5 inches, so it won't take up much space and is ideal for the small house also. It has a weight of approximately 50 lbs. The height of the bench from the upholstery to the floor is 18 inches which makes it perfect for tall users. The bench is stable due to its size, so you will have a comfortable workout.
Comfort
The backrest and seat are padded and there is a vinyl coating as well for extra comfort. You can adjust the seat to 5 different positions which will give you more flexibility. The bench is stable and won't wobble during exercise.
Effectiveness
This bench can be used for strength training, weight lifting, arms lifting, back training, and abs workouts as well. It is ideal for upper body workouts and is very effective in training your shoulders, arm, back, abs and legs as well. Usually, the mid-priced weight benches have 400 lbs to 600 lbs of weight capacity which is suitable for intermediate users for doing medium to heavy dumbbell workouts. But, this gym bench has a weight capacity of 800 lbs which can take the weight of heavy rack work and that too at a very affordable price.
With 6 adjustable back support positions and five-seat adjustment options, this bench is extremely versatile. You will be able to have different incline angles for bench pressing and other exercises. As the seat can be adjusted, it provides a stable base where you can life weight safely. It will also prevent you from slipping down the bench in a high incline position. With the adjustable seat, you will be able to relieve your pressure on the lower back.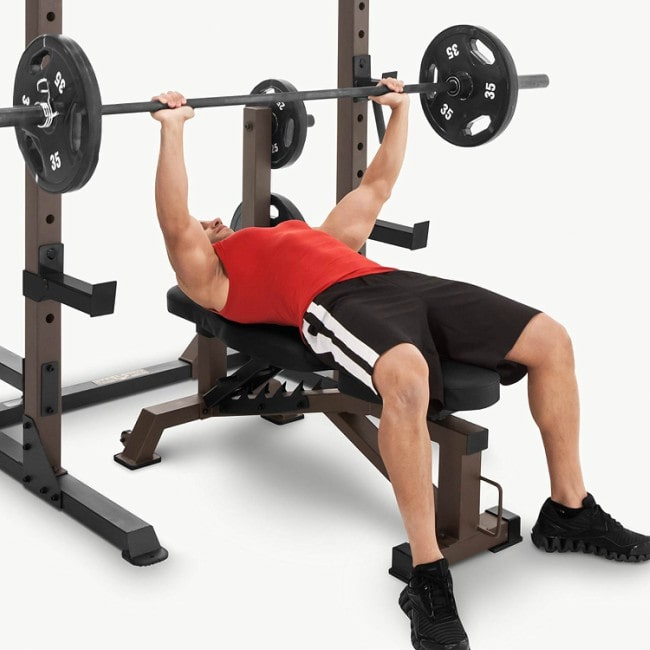 Price
You will be able to purchase this bench for only $199.99. If you consider the various features and adjustment options it has, the bench is reasonably priced. You will be able to get a perfectly toned body and lose weight with the help of a sturdy and high-quality gym bench.
Pros
The bench is made up of heavy-duty steel and it has a powder-coated finish as well.

It is black in color and the design is very stylish with thick and strong legs. 

It has 2-inch thick padding with vinyl covering. 

It is very easy to assemble and the necessary tools needed for assembling are provided with the bench.

You can adjust the backrest to 6 different positions and the seat to 5 different positions which gives you plenty of opportunities to exercise. 

It can withstand weight up to 800 lbs. 

It has non-marking foot pads and end caps that make the bench stable. 

You can add it to a rack or cage system.

It is ideal for a full-body workout.

Both the beginners and the experienced weightlifters will be able to use it. 

It provides outstanding value for money.

It has a 10-year manufacturer warranty. 
Cons
It lacks in the decline position, so you won't be able to do exercises like decline presses properly.

There is wood in the back area which some people find uncomfortable and delicate.

This bench doesn't have a full incline position that is needed for certain exercises such as shoulder press. It's highest incline position is 70 degrees. 

It cannot be folded flat for easy storage.
Final Verdict
Overall, the Steelbody weight bench is of good quality and versatile equipment that you can buy for your home. You will be able to adjust it to various angles and the weight capacity is large which makes it ideal for the serious weightlifters as well.
This bench can target your specific muscle groups that give a total body workout. Its steel construction provides great support and stability. As transport wheels are included, you will be able to move it from one room to another without much hassle. You can easily add it to any cage or rack system. With so many benefits, it's worth buying this gym bench.