She may be the wife of the greatest shooter in NBA history but still when it comes to being famous, she holds her own. We are talking about Ayesha Curry who has been the love of the life of famous American professional basketball player Stephen Curry. He plays for the Golden State Warriors of the National Basketball Association. The beauty recently shared the diet secrets of her family and some smart and healthy cooking tips. Have a look at all of it here.
Being Realistic
The lady is about to start working on her own cooking show and shares that she want it to be fun, approachable and fresh. She would share only those recipes that can be easily made at home by anyone. The recipes would largely include the recipes which she herself cooks at home, so it would be a great source for the fans of Ayesha and Steph to know what their favorite celebs are eating. As the show is yet to be released, we bring you the list of foods the Curry family has so that you can learn from their diet plan and create something healthy for your family too.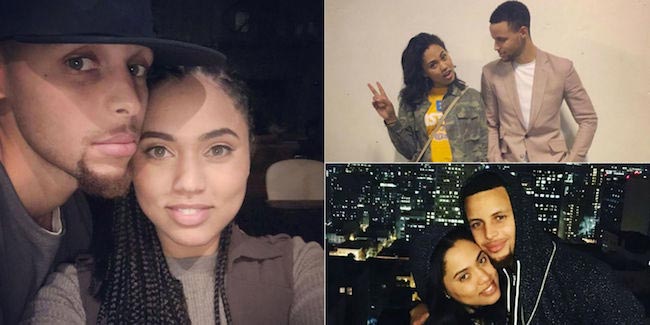 The Easy Breakfasts
The successful blogger depends on smoothies for breakfast. She has a Vitamix blender that she uses daily to create a large smoothie that is really thick and filled with frozen fruits. She always tries to add in bananas and berries to the smoothies. Ayesha slices them when they are fresh and wraps them in a freezer wrap so that she can use the fruits in every season. The smoothie is enjoyed by her husband and kids too and she drinks whatever they leave out.
The diva also likes to make avocado toasts in breakfast. She prepares them by adding Vegenaise on multigrain bread that's loaded with sharp cheddar, fried egg, chili flakes, and tabasco. She says it's a great source of nutrition that can be made in 5 minutes. Ayesha also likes to make her own coffee by using coconut oil or grass fed butter. She thinks that it's very creamy and frothy even when no dairy products are used and everyone loves it.
Always Ready Meals
As Steph is always on the go, she likes to make meals in batches and keep them ready so that he can just grab them and go. She uses 10 GladWare containers for such meals and fills them up with healthy options such as protein-rich foods, vegetables, and healthy starch. Usually, these containers have some quinoa, a vegetable, chicken and sweet potato, but she experiments with it by taking the help of Instagram and Pinterest.
The mother of two eats these meals when she makes them and Stephen usually just takes them away and uses them as a snack. These snacks keep his tummy full when he reaches home at 2 because he usually has a meal at about 7 or 7:30.
Making Chicken with a Twist
Ayesha likes to give a new twist to the chicken by sprinkling turmeric over it as it's a good anti-inflammatory spice. And when she is making classic chicken tenders for her kids, she breads them in ground flaxseed and bakes them in the oven, reports Delish.
The Secret Ingredient
The author of the upcoming cookbook The Seasoned Life has a secret ingredient. It's the brown sugar. She uses brown sugar in everything and piles it on when she cooks bacon. She also uses it in her spaghetti sauce as it brings out every other flavor and totally perfects the sauce.
DIY Lunches
The new-media foodie prepares DIY lunches mostly. She does not have a set recipe for them. Ayesha goes to the market and buys some fresh fruits and deli meats. Her family members make their own sandwiches. She also makes bagged salads with chicken, fish or grilled shrimp for lunch.
Dinner Options
The basketball wife always has marmalades at home because she uses them to prepare sauces. She shares that she mixes apricot marmalade with fresh ginger or garlic and soy sauce and uses it as a condiment to coat sea bass or salmon. The sauce helps create a sweet and savory flavor that's very intense. For dinner, she also prepares one pot meal such as baked fish with vegetables, potatoes or rice.
Dessert They Love
The Curry family loves homemade bananas foster for dessert but they only have it occasionally. She used to make it by using a Bic lighter with a really long stem because she was afraid of the fire. Now she makes it by tilting the pan.
Diets She Won't Do
The star says that she will never opt for a Colonics or a dairy-free diet in her life.
Diet Indulgence
The popular lady is a big fan of vegan maple donuts. She can't get enough of them, but if it was a superfood, she would have eaten them all day long, reports Well and Good.