Stephanie Gilmore, or Steph, is a professional surfer who holds the credit of being a 6-time champion of the Women's ASP World Tour. Just one look at her and you will realize that yes, she is the ultimate champion not only in the world of surfing but also in life. She has an incredible body and a strong mind, both of which are a result of following a consistent workout routine and diet plan. Scroll down to know all the details.
Morning Routine
The diva is an early riser who wakes up at 6 in the morning and starts her days with a glass of water. Then, she takes her necessary supplements and vitamins. After that, she likes to relax by looking at the ocean and for that, she uses different methods like driving or walking. She then either makes a breakfast for herself and eats it at home or makes a smoothie and takes it on the road with her.
Workout Routine
Though a large part of Steph's training is governed by the surf, she likes other workouts as well. When not surfing, she tries an exercise session. The exercise session that she would prefer to do depends on where she is in the world and what mood she is in. She is a fan of yoga because the flexibility and strength offered by it present something parallel to surfing.
Sometimes, Stephanie likes to work out with her trainer at the gym because the trainer likes to keep her on her toes by ensuring that every session is different. The basic aim of her gym sessions is to strengthen her glutes. In the gym, the exercise sessions usually involve sprints, plyometrics, and a lot of balance work. Stephanie likes sprints a lot because it comes in handy during competitive surfing.
Developing Mental Strength
The sports personality has admitted that she still feels the nerves before an important event or competition. However, Stephanie doesn't let them affect her performance and she rather turns them into positive energy and focuses on it. Whenever she needs to relax, she also uses some tried and tested methods like breathing exercises, reading, or listening to music.
Diet Secrets
Gilmore finds it hard to stick to a particular diet plan as she has to visit different countries for the events. So, she has started focusing on supplements and vitamins to ensure that her body gets all the needed nutrients consistently. Stephanie also tries to drink as much water as possible.
Diet Plan
Stephanie follows a balanced diet because it's important for her strength and well-being.
Breakfast
After her morning routine of gazing at the ocean and having a smoothie loaded with kale, mint, cucumber, spinach, mango, fennel, lemon, ginger, dates, almond milk, and MCT oil, Stephanie has a coffee made either with full cream or almond milk. She washes it down with 'The Natural Vitamin Co. Women's Multivitamin' especially when she needs to hit the road and keep her energy levels up. The vitamins help her body to get a required vitamin boost and also protect her skin, hair, and nails from the side effects of surfing. She also has a toast with avocado, coconut oil, lemon juice, tomato salt, and cracked pepper.
Lunch
For lunch, she likes to have a large salad of feta, beetroot, fresh greens, cucumber, walnuts or pepitas, and sprouts with a drizzle of vinegar, olive oil, pepper, and salt.
Tea
At 5 in the evening, Stephanie likes to have a green and peppermint tea with hummus and celery. If she craves a pick-me-up or something sweet, she has crackers with chutney, goat cheese, or honey.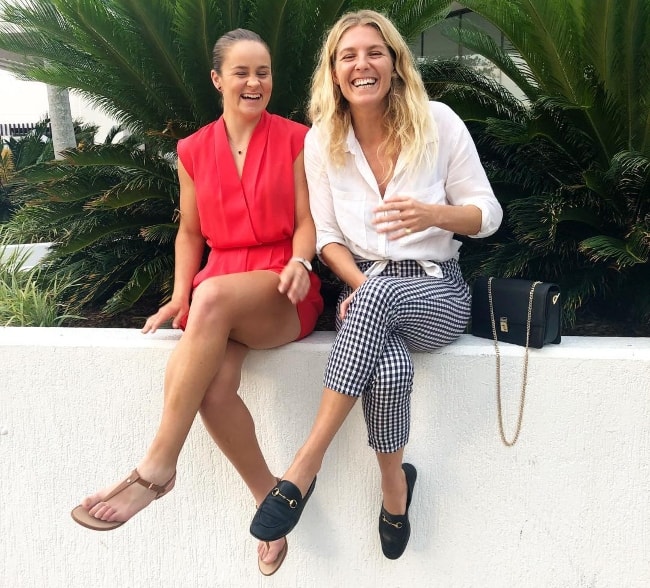 Dinner
At 7.30 p.m., Stephanie starts preparing the dinner that consists of Moroccan fish stew with wild or brown rice. The stew is made with healthy ingredients like onion, ginger, garlic, cumin, fresh snapper, cinnamon, sea salt, turmeric, tomatoes, chickpeas, fresh coriander, pepper, flaked almonds, and honey.
Dessert
If in a mood to indulge, Stephanie likes to have a glass of red wine with some dark chocolate for dessert.
Featured Image by Stephanie Gilmore / Instagram