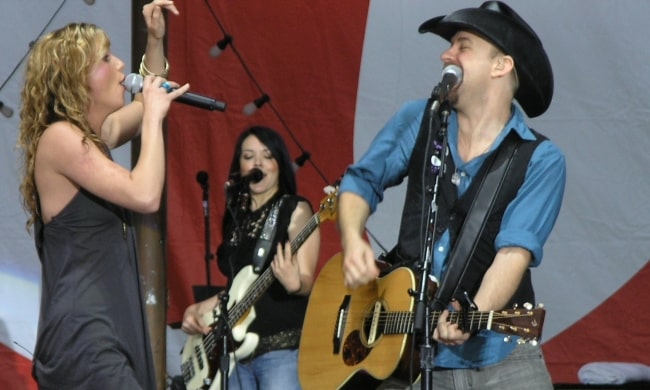 Sugarland is an American country music duo made up of singer and songwriter Jennifer Nettles and Kristian Bush. Initially starting off as a group of 3, their founding member Kristen Hall departed in 2005. Sugarland has released several well-known albums such as Twice the Speed of Life, Bigger, Enjoy the Ride, Love on the Inside, and The Incredible Machine.
Members
Jennifer Nettles (Lead Vocals)
Kristian Bush (Mandolin, Guitarist, Vocals)
Past Member
Kristen Hall (Guitarist, Vocals) (Former Member)
Origin
Douglas, Georgia, United States
Genres
Country
Labels
Big Machine Records
Formation Date
2002
Singing Portfolio
Sugarland released its debut album titled Twice the Speed of Life on October 26, 2004. It was the first and only album that the singer and guitarist Kristen Hall contributed to before leaving the band. Some of the most popular tracks from the album were Something More, Baby Girl, Just Might (Make Me Believe), and Down in Mississippi (Up to No Good).
By May 2021, Sugarland had released 6 albums including Twice the Speed of Life (2004), Enjoy the Ride (2006), Love on the Inside (2008), Gold and Green (2009), The Incredible Machine (2010), and Bigger (2018).
Sugarland Facts
Originally, Sugarland was founded by Kristen Hall and Jennifer Nettles in Atlanta, Georgia in 2002.
They are all experienced, folk-rock musicians and have recorded several albums in the genre.
In 2004, Sugarland signed to Mercury Nashville Records with whom they recorded their first 5 albums.
Some of their most popular tracks are Want To, Settlin', All I Want to Do, Already Gone, and It Happens.
Their studio albums Twice the Speed of Life, Enjoy the Ride, Love on the Inside, and The Incredible Machine have been certified platinum-selling or higher by the Recording Industry Association of America.
In 2012, Sugarland decided to go on a hiatus and then reunited in 2017, to record their 6th album Bigger that was released on June 8, 2018.
Featured Image by Sugarland / Instagram