Tamra Barney or Tamra Judge is one of those celebrities who are making the waves these days by showing off their fitness. She recently won a competition of fitness and is not done with that. Tamra is working hard to win the next one. Have a look at her workout routine, diet plan and her struggles for being fit. She has also shared some useful advice with the fans, which we think is worthy to be learned by all.
The Beginning
It all began when the diva realized that she was at an age where the bodies of women start to go through menopause. She also saw some changes in her body and didn't like it.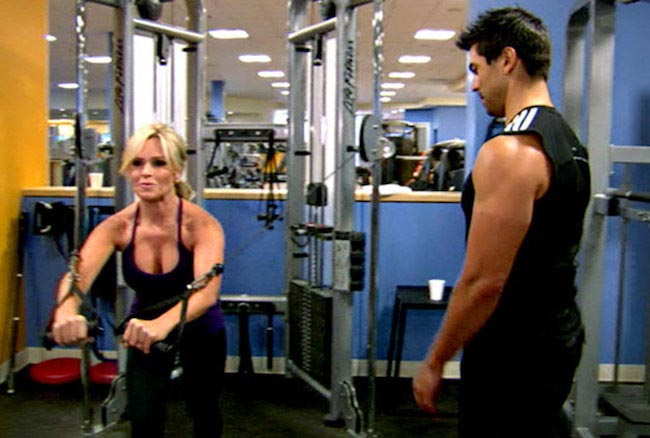 Workout Routine
The TV star decided to change her body by training with trainer Mia Finnegan to take things at a higher level. She says that her workouts are different than the average gym goer. She admits to doing everything from bicep curls to sprints to pull-ups.
Her workout routine began at 4.30 in the morning when she did some low-intensity cardio. Then, she met Finnegan and they did some lifting. The next step consisted of doing split body parts, shoulders, legs, triceps or biceps. They focused on two body parts every day and it included abdominals almost every day. She worked out hard for five months and saw her body change in front of her eyes.
No Quick Success
The Real Housewives of Orange County (2006-Present) star says that her fitness is not a result of a few quick steps. It took a lot of time and she was discouraged at times. She questioned her steps at many times and didn't know what she wanted. But after the process was over, she was proud of it. She also added that the changes she had made in her body would usually have taken a year, but she did it in 5 months according to Finnegan.
Diet Secrets
The spokeswoman for Duzoxin weight management system also revealed some of her diet secrets. She believes that the biggest part of training is eating. She is now eating to live rather than living to eat. She creates her own food boxes by using two different types of protein. She just grabs them when she goes out in a little lunch bag.
Diet Plan
The TV personality spends hours in prepping her food every day. The main components of her diet are protein and veggies. She believes that if a person cannot have enough protein, it's as bad as overeating. The breakfast she has includes oatmeal, egg whites, and blueberries. She then goes for a workout session. After the exercise session, she has an after-workout AdvoCare drink. Tamra adds a lot of supplements to her daily diet. The next meal includes about 4 oz. of ground turkey and some raw vegetables. She then has a protein bar. The next meal would include some chicken. In short, she is eating all day and never felt hungry on any day.
No Cheat Days
The mother of four never had a cheat day. She thinks that cheat days were not an option when she was training hard. She stuck to her diet and remained focused at almost all times.
The Struggle
The training was very physically and mentally exhausting for her at several times. But she wasn't pushed so hard to want to give up. She is proud of her accomplishments. Tamra now aims at becoming a better person inside and out. She admits that though, she didn't have entire cheat days, she slipped up a bit when she had a few drinks but these incidents were rare. She also adds that she won't let her carb deprived mind to put barriers in her fitness path.
The Result
The result of the hard work put in by the bikini fitness competitor is that she has lost 16 percent body fat and now weighs around 111 lbs.
The Rewards
One of the rewards achieved by the owner of Cut Fitness is that she has won her first MuscleMania competition. She had always wanted to participate in such a competition but didn't have the tools. She also says that taking part in the competition was not about winning and getting on stage, it was about setting a goal for herself and completing it. She accomplished it and it's the most rewarding part for her.
Not Done Yet
If you are thinking that the wife of Eddie Judge would be on an emotional high and won't work hard for her fitness anymore, then you are wrong. The beauty is already preparing for the next competition which is to be held in November 2016. She is back to training and aims to stay in tip-top shape.
Being Herself
The AdvoCare lover likes who and what she is now. She has built a lot of muscle and is proud of it. Even when someone tells her that she looks masculine, she doesn't care and thinks that the fitness level she has achieved is not for everybody.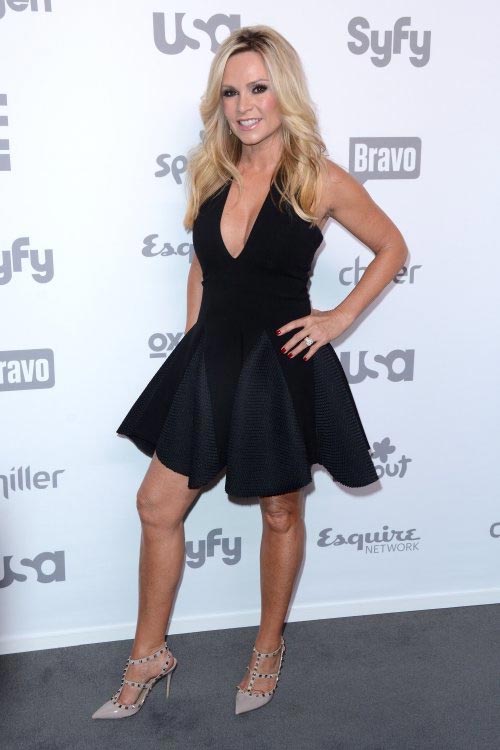 Advice for Fans
The realtor advises her fans to stay focused on fitness. She thinks everyone should work out to be healthy and it should be your number one priority. She also adds that a healthy figure comes in all sizes, so you must not worry about how you look. Everyone can be healthy but everyone can't be size zero. It shouldn't matter what size you are if you are healthy from the inside out. (And we totally agree with you!!)
If you liked the ideas and fitness inspiration shared by Tamra Judge, be sure to follow her on Instagram, Twitter, and Facebook.