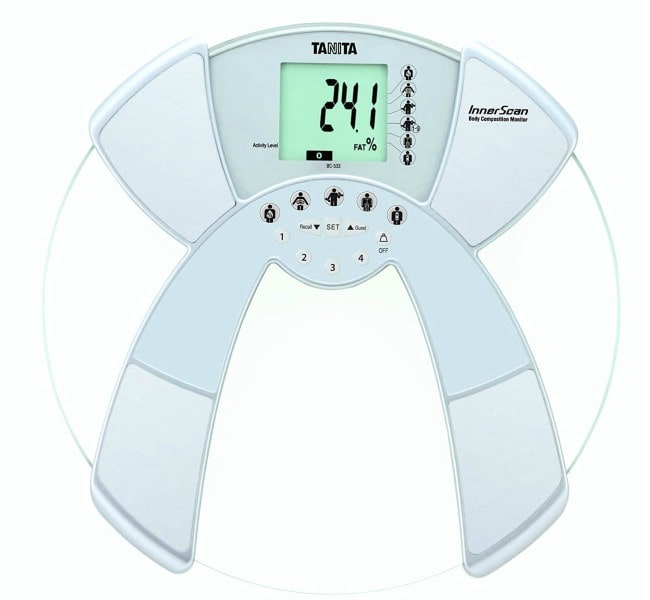 Measuring weight regularly is very important. It indicates your health and fitness. As we grow, our body changes. For a child, measuring weight is necessary as it shows whether the child is growing in the right proportion or not. If the child is underweight that it is an indication of malnutrition and if he or she is overweight, then there is a risk of obesity. For grown-ups also taking weight is important as it can alert you if there is anything wrong with your body. To measure weight accurately, you need to have a good quality weight machine. Tanita is a brand known for manufacturing high-quality weight machines and we are going to review this machine here.
Design
It has a sleek and modern design with silver accents that will complement any room. This machine is designed to be user-friendly. The LCD is large so you can see the numbers. You will be able to view 9 different measurements that will indicate the condition of your health and fitness. There are 4 permanent memory locations where you can store your information. There is athlete mood, guest mood, adult mode, guest mode, and weight only option as well. There is a recall function that will allow you to see the previous results.
Build Quality
It is made of large tempered glass and has a stainless-steel platform. It can support weight up to 330 lbs providing 0.2 lb accuracy. It uses FDA approved bioelectric impedance analysis that is also trusted by fitness experts all around the world. This technology is used in the medical field to accurately monitor body compositions. It can provide 9 measurements which include weight, body fat, body water, bone mass, muscle mass, metabolic age, physique rating, visceral fat, and calorie intake. You need four AA batteries to operate it. You get a three-year warranty for the product so you can get satisfaction after buying this machine.
Size
It has dimensions 13 inches by 1 inch by 13 inches. It is not bulky and so you will be able to store it comfortably on any corner of the room. It weighs 5.7 pounds, so it won't be difficult to move around. The platform is just perfect for any user to stand on it and measure weight. The LED display is large so that you can view the measurements.
Ease Of Use
This machine is very easy to use. All you need to do is step on the machine and the results will be displayed within 20 seconds. You need 4 AA batteries to operate it. The different metrics will be displayed on the screen which will be easily visible. It is recommended that you use the machine on a flat surface and avoid using it on the carpet. You should stand in bare feet to get the measurements. It is possible to store data of 4 different users. So, your family members can also use it and keep track of their fitness progress.
Effectiveness
Using this weight machine, you will be able to monitor your body and what effects it can have due to diet and exercise. It can store the information of up to 4 users. Apart from the weight, it can calculate your body fat percentage. This metric will help you to create an exercise and diet plan. Body fat will indicate whether you will have the risk of heart disease, diabetes or high blood pressure. It also measures body water percentage which is an indication of how your body functions efficiently. This machine will display the metabolic age level which will tell you how much calories your body needs to function properly. Knowing the different body compositions will help you to be alert regarding diseases such as heart disease, diabetes, high blood pressure, and more.
Pros
It provides 9 full-body measurements which include weight, body fat, body water, calorie intake, visceral fat, and more.
It has a rugged tempered glass platform that makes it durable.
It uses biometric impedance analysis for taking the measurements.
It has different modes like weight only mode, child mode, guest mode, and more.
It has a large LCD display that helps to show results clearly.
It can measure up to 330 lbs of weight.
You get 4 AA batteries for free.
You can store data from multiple users.
You can retrieve data to know the previous measurements and compare them with the current ones.
It provides consistent results.
It is affordable and easy to use.
Cons
It can only store personal information of up to 4 users; whereas, some other smart weight machines in the market can store more user profiles.
It is not appropriate for pregnant women and those with a pacemaker or other implanted electronic medical device.
It doesn't have any smartphone app.
Final Verdict
This weight machine has everything that you need so that you can track the effectiveness of exercises and your diet. It is a great scale for someone who is looking to shed extra pounds. Using this scale, you will be able to see your past results and compare your weight and other metrics. With this machine, you can monitor your body composition as well. You will be able to know how much of your weight is fat and how much is water.
This machine is affordable and you will get 3 years warranty. So, you can use it every day without worrying about its quality. The machine is durable and will help you to monitor your weight regularly. You will be able to set a goal and see if you are meeting your goal or not. Due to the body composition results, you will be able to know how effective is your diet. Accordingly, you can change your diet and exercise routine so that you can maintain the right weight. If you are looking for a great scale at a reasonable price, then you should buy this weight machine.