Tim McGraw floored his fans by demonstrating a totally ripped body in 2013. Since then, his fans have been eager to know that what actually motivated the star. Here we bring you the details of not only what motivated him but the entire workout routine and diet plan of the celebrity which he follows before every tour and event to look so hot. What's it like? See for yourself.
Unique Workout Motivation
Most of his fans know that he had an ugly legal battle with Curb Records which took a long time to resolve and impacted his release schedules. But a few people know the effect this battle had on the mind of the singer. He felt frustrated and his creativity suffered too. He wanted to control something in his life so he turned to controlling his physical well-being.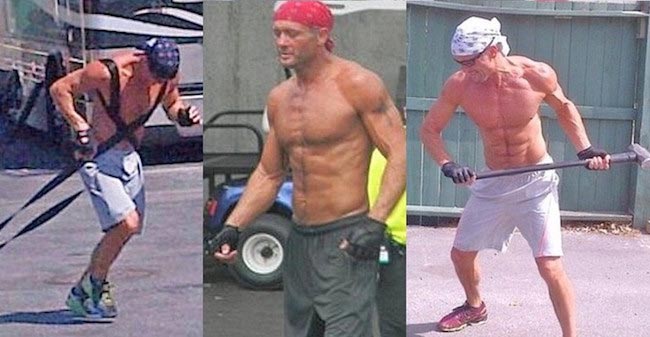 Getting Fit For the Kids
Another fitness motivation of the songwriter was the comments made by his kids after watching Four Christmases (2008) reported Billboard.com. When his kids saw the film and the big face of their dad, they told him to do something about it. He realized that he needed to enhance his fitness routine and reduce alcohol intake. He also wanted to be a better husband, father as well as a better singer. Optimal mental and physical wellness were his prime goals.
Physiological Benefits of a Workout
The son of the late baseball player Tug McGraw worked out three times a day which had a "domino effect" on him. It also helped him to be in a better mental state and his competitive streak got better too. It further motivated him to workout really hard.
Diet Habits
NY Times reported that the diet habits of the popular personality were very bad before he started his new fitness journey. He used to eat a lot more calories as compared to the calories burned during his workout. He realized that he was eating more than he should but it was a hard habit to break.
For Endurance
Tim also wanted to be fit because he wanted better endurance while performing. He wanted to have enough stamina and energy to perform live for a 2-hour show without taking a break.
Workout Equipment Preference
The Louisiana-born has devised a unique solution to the problem of working out when he is on the move. He does his tours in a trailer that can be transformed into a portable gym. The equipment he likes using the most include exercise balls, battle ropes, a tractor tire, sledgehammers, 20-pound chains, attachable weights, and dumbbells.
Workout Gear Preference
The workout gear of the actor is quite comfortable. He wears gray cotton shorts and tennis shoes only.
Workout Routine on a Tour
The three-time Grammy winner has a special workout for tours and special events. He begins with attaching 40-pound weights to his ankles at 11 in the morning and running on a hill. He then takes a break for lunch at 2:15 pm. After lunch, he does 12 circuits of CrossFit exercise. He usually has the company of band and crew members on this workout session. The tasks he does as a part of CrossFit are quite difficult. They include squatting and slamming heavy battle ropes to the ground and throwing sledgehammers on a truck tire. He also does "Manmaker" exercise in which a person has to do a combination of dumbbell lifts and a burpee.
Apart from the aforementioned exercises, the winner of NIAF Special Achievement Award in Music (2004) likes to follow a martial arts fitness program along with a water-resistance workout that's created just for him.
Who's the trainer?
The trainer who has helped the American singer to stay so fit is none other than Roger Yuan. He's taught Tim a lot of things about fitness and they work out together once or twice a year. Yuan is a fan of yoga, weight training, martial arts and CrossFit.
Diet Plan on a Tour
When the talented singer wants to look good for a tour, award show or any other event, he likes to follow a special diet. As a part of this diet, he eats some oatmeal with walnuts, dried cherries, and pure Canadian maple syrup. During mid morning, he has a protein shake. Lunch usually involves tuna with avocado, walnuts, apples, some chillies, and eggs. He also likes to have an afternoon protein shake. Dinner involves eating some chicken breast (grilled) with polenta or spinach with half of sweet potato, steamed broccoli or asparagus. He often has yogurt with granola before going to bed.
Diet Indulgence
Though he likes to keep an eye on what he is eating but the music sensation has a weakness for pizza, pasta, and cheeseburgers.

Always Work Hard
The singing icon used to play basketball and baseball in his youth and the lesson imparted by his coach is still engraved in his memory. The coach used to say that practice should be harder than the game. So if you work really hard when preparing for a show or event, the show will become almost very easy. We assume that he wishes for all fitness fanatics to work hard in the gym to get great results so that you can look your best at every event without putting in much of an extra effort.
Wish to know more about the fitness efforts of the better half of Faith Hill?