It is a common misconception that women should not work out during pregnancy. Celebrity trainer, Anna Kaiser is busting this myth by sharing details on how much women should work out during the first trimester and sharing the basic do's and don'ts everyone must follow. We suggest that you take her advice seriously as the fitness expert is pregnant too and she is sharing the advice from her own experiences.
No Excuses
The first suggestion shared by the trainer of Sarah Jessica Parker is that you must not make pregnancy as an excuse to skip exercises. You might feel like relaxing your body and sleeping most of the times is the answer but it's not. Regular workouts can make you feel better too. She also advises you to keep working out intensely if you did it before getting pregnant.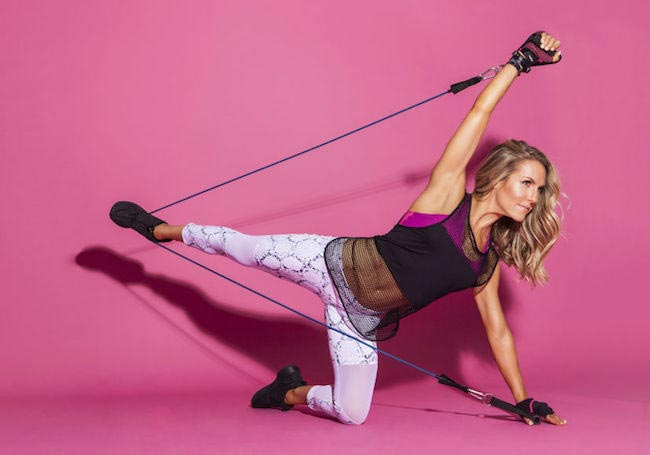 Relief from Hardships
The first trimester of pregnancy is often the toughest for women. Kaiser suggests that you beat some of the illness by working out, reports People. Nausea and exhaustion would go away when you work out regularly and you will feel more focused too.
If you are not sure about how to go for first-trimester pregnancy workouts, then here are a few simple do's and don'ts that will help you.
Do-
Workout with Someone: The creator of Beachbody's INSANITY believes that you must workout with someone so that you can keep yourself accountable even when you feel tired or nauseous. No matter how tired or nauseated you feel, you should just get to the gym and exercise for a few minutes, even if it's just for 30 minutes.
Try Interval Training: The pretty blonde suggests that you try interval training during pregnancy as it won't put too much stress on your joints or ligaments and give you a great endorphin rush. You can try dance-based interval training or circuit interval training. They both include non-repetitive movements that engage all the muscles and help you with backaches too.
Workout in the Morning: If you wish to stick to a workout routine, you should get done with the training first thing in the morning. The more you delay it, the harder it will be for you to do it. If you do it first thing in the morning, not only it will make you feel better during the day, but it will also help with morning issues like feeling bloated or constipated.
Eat pre and post-workout meals: The co-host of ABC's My Diet is Better Than Yours (2016-Present) insists that pre and post-workout meals are vital for every pregnant woman. If you don't eat, your body will pull from its reserves rather than giving those reserves to your baby.
Spend some time in Strength Training: The former dancer wants you to strength train when you are pregnant by using slightly heavy weights, taking more time and doing fewer reps than you usually do. Adding extra weight would keep your heart rate up. You must also remember to focus on building up large muscles like building back muscles with back extension and back flies during pregnancy. Doing pec exercises and stretching is also recommended as it will save you from feeling sore.
Train with an Expert: When you are pregnant, it's obvious that you would want to train with someone who has experience in training pregnant women. It will ensure that you avoid putting your body in a compromising position because the trainer would truly understand what's going on with your body.
Don't-
Go for High Impact Movements for Long: Some workouts are better than others during pregnancy according to the former choreographer. You should avoid doing any type of high-impact movements for a long period of time as it's not good for a pregnant body.
Try New Workouts: The trainer of Shakira also wants you to stick to the workouts you did before pregnancy. It will be good for you as your body will know what to expect. Doing the usual workouts would also keep you aware of how much you can bear as you would have pushed yourself hard in the past whereas when you try a new exercise, you often have no idea on how hard you have pushed yourself. Most women don't feel like working out at all. In such a scenario, you must stick to the exercises that are fun for you or give you pleasure.
Remain in one position for long: The founder & CEO of AKT InMotion advises pregnant women to not hold yoga positions or stretches for long as it can do some serious damage.
Try Quick Up and Down Movements: When you are pregnant, you must avoid all the exercises that put your neck against gravity. You must also avoid any up and down movements like a burpee during pregnancy.
Lie on Your Stomach: Any exercise that needs you to lie on your stomach is a big no. You cannot risk that according to the trainer of Naomi Watts. During the first trimester, it's okay to strengthen the core muscles but when your pregnancy progresses, you need to reduce the focus on rectus abdominis muscles as they would already be stretched out and focusing on them may lead to tearing. In the later stages of your pregnancy, you can focus on inner obliques and transverse abdominis.
Workout Advice for Anna Kaiser Fans
Here's a bit of advice that is not just for pregnant women but all the exercise fanatics. When you are exercising, you often tend to push yourself too hard but don't even realize it. To map whether you pushed yourself too hard, the elite trainer advises you to remember a few things.
You pushed yourself too hard if you are unable to recover from a workout and you feel short of breath for a long while. Some other signs are having no energy and feeling sore constantly. Feeling the need to drink a lot of water and still not having enough is another vital sign.
The weekly limit for workouts is 60 to 90 minutes four to five days a week, the trainer of Sofia Vergara told Business Insider.
Did you like the pregnancy workout advice shared by the trainer of Kelly Ripa? If so, you might want to follow her on Instagram.