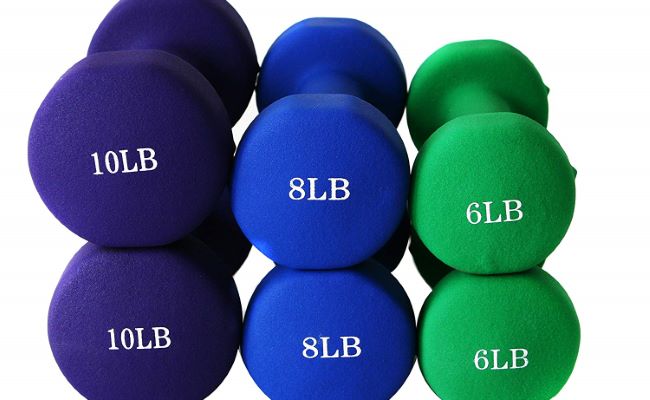 Nowadays, you will find many people heading to the gym. The main reason for it is because people have become more health conscious. They want to see themselves in good shape and in good health. Life has become stressful and people are always occupied with various types of stressful situations. Going to the gym regularly can be an escape from all these worries and troubles. However, the monthly gym membership fee is expensive and there are people who cannot manage the time to go to the gym despite being a member.
A good alternative to the gym is working out at home using simple equipment. Dumbbells are one of the best exercise equipment to tone up your arms, shoulders, etc. You won't be able to imagine what a nice pair of dumbbells can do to your body. If you are conscious about your health and looking for the simplest way to achieve your desired body, then, you should start working out with dumbbells.
It is important to purchase the proper dumbbell that will be suitable for your body. There are many types of dumbbells available in the market. The choices can be overwhelming. So, it's necessary to learn about the various features of these dumbbells so that you can choose your pair of dumbbells wisely. You need to consider the material, quality, price, and other factors before you buy your dumbbells. You must also choose between fixed and adjustable dumbbells. Here we are going to review the Unipack Neoprene Dumbbells which have gained quite a popularity for their design, quality, and effectiveness.
Design
These dumbbells come in beautiful colors. That's why these are more popular among women. You can get it in various weights that include 2lb, 4lb, 6lb, 8lb, and 10lb. Different weights come in different colors. They are compact and so easy to carry and store. You can easily put them in your bag when you travel somewhere. The ends are hexagonal and this prevents rolling when dropped on the floor. The bar is long enough to fit your arms perfectly. The ends are marked clearly so that you know which weight you are carrying. These dumbbells are very comfortable to hold as they are neoprene-coated and have a non-slip surface. You can easily hold them in your hands while walking as well.
Build Quality
These are made of cast iron and are coated with neoprene. This makes them well balanced and they will feel great in your hands. You can find them in various attractive colors. The high-quality neoprene quoting also ensures that the dumbbells don't crack, rust or fade. The texture makes the dumbbells non-slip, so you will be able to work out for long hours without worrying about your sweat. The handles provide excellent grip as well. The hexagonal design of the dumbbells prevents them from rolling when placed on the ground. You can use these dumbbells both indoors and outdoors.
Size
The dumbbells are compact in size. So, you will be able to store them easily at a corner of your home. You can also take it outdoors. They are hexagonal shaped, so, they keep you and the floor protected when placed on the ground.
Grip
The dumbbells have a neoprene coating that provides a non-slip comfortable grip. Your arms won't get tired after doing intensive exercise. Your hands will fit your arms perfectly. You can also keep them in hands while you walk. So, you will be able to burn body fat and sculpt your muscles even on the go. Due to the outstanding grip, you will be able to exercise as hard as you want to.
Effectiveness
You will be able to use these dumbbells both indoors and outdoors. These are great for at-home workouts, strength training, and jogging. These are made of cast iron that makes them durable. The ends of the dumbbells are marked with the weight which makes it easy to identify the weight. With so many weight options, you will be able to pick up the right weight for your aerobic, strength training or walking. You will be able to enhance your upper body strength, improve the muscles tone, and tone up your arms, back, and shoulder by exercising with these dumbbells regularly.
Price
You can get a pair of 2lb dumbbells for only $11.93 at Amazon. The heavier ones will cost you more. For example, three pairs of 6lb, 8lb, and 10lb will cost $59.95. These are quite cheap if you compare the other similar products in the market.
Pros
These dumbbells are made of cast iron which makes them very strong and durable.
They are covered with high-quality neoprene surface that makes them comfortable.
The handles have a non-slip surface and they are durable. So, your hands won't slip due to sweat.
You can get these in various lovely colors and weights.
The weights are numbered clearly on the sides. So, you will be able to identify the weights easily and use them according to the type of exercise you are doing.
They are compact in size and so are easy to store.
The neoprene coating prevents rusting, fading, and corrosion.
You can do various types of exercises using these dumbbells.
They are good to use indoors and outdoors.
Cons
You may experience some odor initially.
A long warranty is not given.
Final Verdict
If you want to burn calories fast, then, weight lifting is one of the best ways to do so. You can invest in a good pair of dumbbells to get the body you have always desired. These dumbbells from Unipack are very effective and of high quality. You will be able to build up your muscles and tone up your body within a very short time.
The dumbbells are constructed using cast iron which makes these dumbbells extremely durable. You can find these dumbbells in various weights. You should start with the lowest and gradually move to the heavier ones. You can use these dumbbells for aerobic exercise, strength training, etc. The neoprene coating protects the dumbbells from rusting and fading. So, they will last for many years. You will be able to do strenuous exercises using these dumbbells. They have a non-slip surface, so, your workout won't be affected even if you sweat a lot. The grip is just excellent and you will be able to workout without any problem for long hours.
These dumbbells are compact and so you will be able to take them anywhere. The colors are just amazing and you will feel great stacking the different colored dumbbells. You will be able to take these dumbbells with you anywhere. They are also convenient to store. The price of these dumbbells is not much and buying these dumbbells will be a good investment for your home gym. You can buy them in pairs separately or buy several pairs as a combo together as well.
No matter whether you are walking, jogging or doing aerobics, these dumbbells can add something extra to your regular exercise routine. You will really enjoy working out with these dumbbells and see muscle improvements within a very short time. So, buy these dumbbells today and get a perfectly toned body.