Vanessa Hudgens is a popular actress who had to gain weight for the film, Gimme Shelter (2013). She lost that weight quite quickly thanks to a proper workout routine and diet plan. The results are so amazing that she had been looking better than ever before. Let's find out the workout and diet plan that she is following, know about her competitive streak during workouts and her preferred workout gear. We also explore how confident she is in her own skin and why she thinks she is not perfect.
Workout Routine
The workout regime of the stunner consists of SoulCycle, Pilates, and Yoga. She attends a SoulCycle class twice every week and likes the loud music. She considers the classes to be similar to dancing but without the stress of looking good. Revealing her competitive streak, she said that she likes being around people while working out so that she can compete.
The High School Musical babe also tends to ride for the teachers. When she is in the front, she pushes herself harder and offers her energy to the class which makes it a win-win situation. She attends the really early classes because she often has to start filming at 5:15 AM. She is also a huge fan of yoga and considers it to be a big help in keeping fit. It's more like a therapy for her rather than just a method of fitness.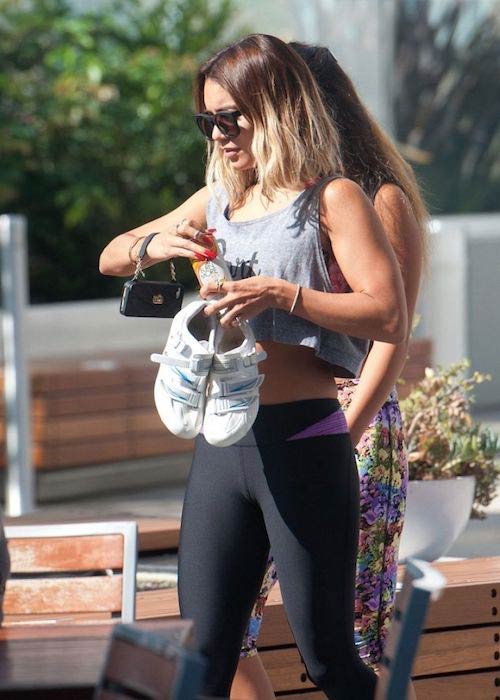 Workout Motivation
When working out, the California-born likes to wear sports bras instead of t-shirts because seeing her body, works as a motivator for her.
Diet Plan
The diet plan that helps the Powerless (2017-Present) star to look so great is called as Ketogenic diet. It is followed by many other celebrities like Adriana Lima, Kim Kardashian, Megan Fox, etc.
In this diet plan, you stick to a healthy fat-fueled, low carb diet and it helps in maintaining high energy levels throughout the day. If Vanessa doesn't get high fat, her body holds onto the calories. She believes that people are wrong in thinking that all fats are bad, some of them are an excellent source of energy and sustenance. Her diet plan also includes having an avocado daily. Her diet plan also makes her stay away from refined sugar and dairy products.
This diet helps the brown-eyed beauty to have a lot of energy to power through the workouts, stay active all day and have her metabolism working right. 80 percent of the calories as per this diet plan are from fat.
Success with Weight Loss
The brunette beauty says that the aforementioned diet plan really works for her as she lost around 10 lbs in about a month.
Diet Indulgence
When the singer is in a mood to indulge, she has all sorts of foods like ramen. She keeps one fun food day every week. She is also a fan of grilled salmon with pear, avocados, greens and pomegranate seeds that she gets from a gourmet bakery-cafe situated in the Toluca Lake section of Los Angeles.
Being Proud of Who She Is
Vanney is proud of who she is and doesn't let anyone else decide what she finds beautiful. But, she wasn't always this proud of herself. She was a bit shy as a girl, but she overcame that. She has never felt bad about herself or her body (like many of us do) because her mother taught her to love herself and appreciate who she is.
Not Perfect
Hudgens also denies that she is perfect. In her opinion, nobody is perfect. People just need to accept that and stop comparing themselves to others. God makes a person who they are for a reason and you should learn to embrace that.