The most stylish, glamorous, and spice girl Victoria Beckham, no doubt is an epitome of fitness. Despite being mother of four kids, Victoria owns a perfectly sculpted and toned body. Just few months after giving birth to her fourth baby, she resumed the same sleek and lean body, which she always had.
Married to soccer player, David Beckham since 1999, she truly believes that striving hard to achieve something desirable is the only key to success. 5 feet 4 in Victoria believes that she is not tall like other models but she very well knows how to best use what she has. The Style-icon dresses her in sleek outfits which make her took taller than she actually is.
Winning the British Fashion Awards in 2011 in the category of Designer Brand of the Year Award, the former spice girl prefers to design her outfits in her own way. While defying her age, Victoria has been able to maintain her dramatic girlish figure. Unlike other celebrities with great bodies, Victoria keeps her regular routine of workouts in alignment with her diet.
Victoria Beckham Workout Regime
Without fail, Victoria hits gym in routine and performs workouts six times in a week . She runs on treadmill for several minutes in a day. The mesmerizing beauty asserts that running is the best cardio-workout ever and she daily runs for 5-6 miles in a day. Running burns enormous calories from your body.
She considers morning time as the best time to practice cardio-workouts since empty stomach enhances your chances of shedding unsolicited pounds many times more. To her, among all the weight reduction programs, cardio-workouts are the best ones for they ensure proper functioning of your heart.
Apart from that, Victoria is a big fan of athletics sports. Besides toning your legs, arms, abdomen, athletic sports burn four hundred calories in an hour. Obsessed with workouts, Victoria was not always in love with workouts. In fact, she was averse to them and abhorred them. It was only after she shifted to Los Angeles that she became conscious about her looks and daily workouts.
She believes that she getting married to one of the fittest athletes has also played a significant role in driving her crazy towards workouts. Victoria feels that her body is not in perfect shape but she constantly endeavors to bring it in shape.
Victoria Beckham and Yogalosophy
Not only does she regularly goes to gym, she also practices Yogalosophy, which is a totally new concept invented by Mandy Ingber. Mandy released Yogalosophy DVD also, showing all the routine yoga postures.
Comprised of two words, yoga and philosophy, Yogalosophy is perfect blend of yoga and toning exercises. It includes stretching exercises, meant not only for weight reduction, but also for conditioning muscles. Being extremely impressed with the impacts of Yogalosophy, Victoria practices it three to four days in a week.
Victoria Beckham Diet Plan
Intense workout not accompanied with healthy diet will get you nowhere. While avoiding all the junk foods, Victoria prefers to have foods rich in high-protein. Her daily diet includes grilled fish, smoked salmon, alimentary paste, scrambled eggs, yellow fin tuna, sushi salad, sandwiches, and blueberry smoothies, which effectively controls aging.
While incorporating only chosen food items in her diet, she has drastically brought down her consumption of salt and sugar. She strictly swears by very healthy diet in routine. However, she doesn't deny going out and enjoying her adored foods and champagne once in a week.
Victoria's Love for Alkaline Food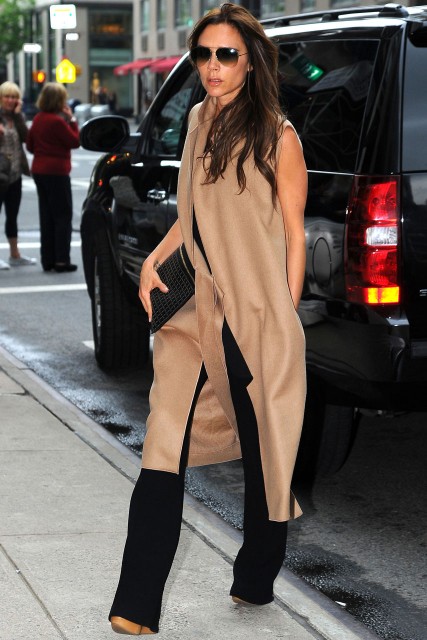 Having endorsed a cookbook named "Honestly Healthy" published by chef named Natasha Corrett, Victoria simply loves the idea of alkaline food. She is very often found sharing her love for alkaline food in her tweets. The book is comprised of 106 recipes and all of them have fresh vegetables and fruits as their ingredients.
The concept of alkaline diet is based on the fact that human body has balanced mix of alkaline and acid. But the wrong and unhealthy foods such as junk food, alcohol, salt, coffee etc., which are basically acid forming foods create an imbalance in your body by producing more acids, which further causes stress and increase in body weight. Alkaline food items bring back the balance between the two and assist your body in scorching surplus calories and boosting up energy.