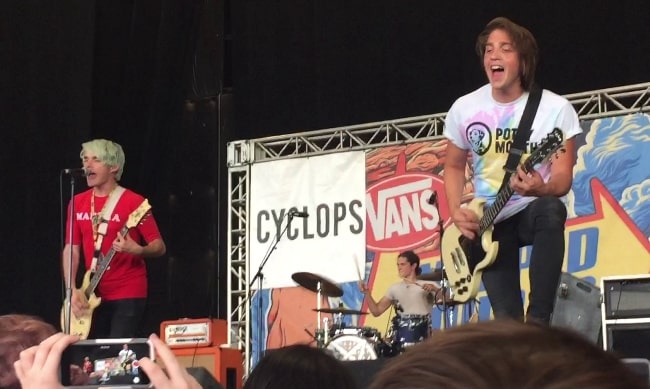 Waterparks is an American pop rock band formed in 2011 in Houston, Texas. The group includes the lead vocalist and rhythm guitarist Awsten Knight, backing vocalist and lead guitarist Geoff Wigington, and backing vocalist and drummer Otto Wood. Despite the band's composition, it was formed by Awsten Knight and former member Gage Matthieu. Moreover, it has won several accolades including the 2017 Rock Sound Award for "Best International Breakthrough Artist" and the 2017 Alternative Press Music Award for "Best Breakthrough Artist".
Members
Past Members
Gage Matthieu – Bass
Owen Marvin – Drums
Origin
Houston, Texas, United States
Genres
Pop Punk, Pop Rock, Alternative Rock, Electropop
Labels
300 Entertainment, Hopeless Records, Equal Vision Records
Formation Year
2011
Singing Portfolio
Over the years, Waterparks has released a number of albums, extended plays, and songs which include Double Dare, Fandom, Entertainment, Airplane Conversations, I Was Hiding Under Your Porch Because I Love You, Hawaii (Stay Awake), Crave, High Definition, Watch What Happens Next, Dream Boy, Not Warriors, Blonde, I'm a Natural Blue, Black Light, Lowkey as Hell, and Gloom Boys.
Waterparks Facts
On August 17, 2012, the group performed its first show at Warehouse Live in Houston alongside Invent Animate, DWHB, and Life as Lions.
Waterparks released its first studio album, Double Dare, on November 4, 2016, by Equal Vision and it included tracks like Take Her to the Moon, Dizzy, Royal, Stupid for You, I'll Always Be Around, and 21 Questions. It was nominated for the Alternative Press Music Award in the "Album of the Year" category in 2017 and Mackenzie Hall of Alternative Press also compared the work to Twenty One Pilots.
On January 26, 2018, the boy band released its 2nd studio album named Entertainment and it was ranked at number #6 on the UK Rock & Metal Albums (OCC) chart, at number #7 on the US Top Alternative Albums (Billboard) chart, at number #13 on the US Top Rock Albums (Billboard) chart, and at number #14 on the UK Independent Albums (OCC). Logan White of Substream Magazine stated that "Entertainment is fun, catchy, and even a little bit unpredictable. Waterparks have pushed forward to become the best version of themselves that they can be, proving that they are here to stay."
The band has credited Sum 41, Blink-182, Good Charlotte, Kesha, My Chemical Romance, Green Day, Fall Out Boy, Linkin Park, and Saves the Day as some of its musical influences.
The 3rd studio album, Fandom, by Waterparks was released on October 11, 2019. The album received many positive reviews with Jack Rogers of Rock Sound describing it as "one of the year's most fascinating, ferocious and fanatical albums" and Jo Cosgrove of Discovered Magazine stating that "Fandom is a very fun, very bouncy, party-perfect album. But to the right listeners, a fifteen-track confession on why fame and celebrity isn't as fun as it looks. Or sounds."
The song titled Turbulent from Fandom won the Rock Sound Award for "Song of the Year".
Featured Image by Peter Dzubay / Wikimedia / CC BY 3.0