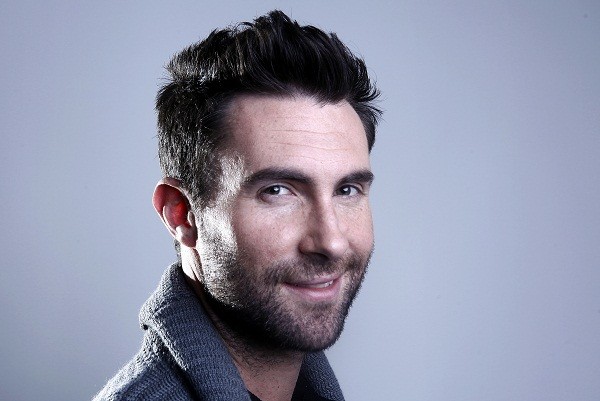 Grammy winning, lead singer of Maroon 5, no doubt has killer look with most muscular body. His incredibly fab hairstyle and his amazing dressing sense have always been hot topic of discussion among youngsters. Having countless fans all over the world, the fashion-icon has now made his fans anxious to know about the secrets behind his perfect stud look.
Adam practices yoga for at least one hour before going on stage. He feels that yoga builds him to give rocking performance on the stage. He practices varied postures of yoga for one hour to relax him and to feel energized.
Adam Levine Experiences with Yoga
Having the most spectacular and super-hot body, Adam is a big admirer and practitioner of yoga. To him, yoga is the essence of life which keeps both his body and mind relaxed. Highly impressed with different yoga postures and their effects on the body parts, Adam practices yoga for two hours in his daily routine.
Being on long tours mostly, Adam considers yoga best for people like him, who are frequently out for travel. The undemanding yoga which requires one to have to have just a mat and few feet of space flatters him the most.
What Adam Levine feels about Gym?
Before embarking on yoga, Levine used to practice intense weight lifting for two hours in gym. Battered with weight lifting trainings, Adam personally contends that weight lifting does more harm than good to your body.
He himself had got thick neck as one of the side effects of weight lifting, which gave him monstrous look.
What Made Adam Become a Yogi?
Adam was not very tempted to swear by yoga in the first place. In fact, he used to run away from it for he considered it boring, involving creepy clichés.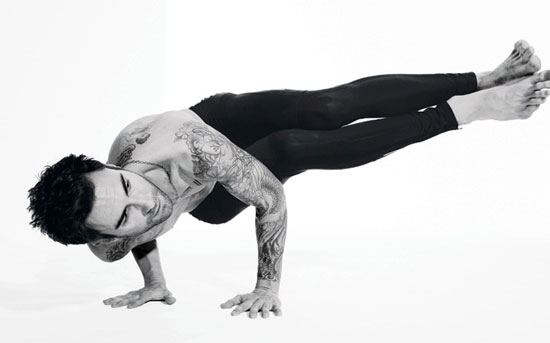 Chad Dennis, New York based Yogi is the man responsible for diverting Adam Levine toward Yoga. While making the beginning from simple postures, Dennis gradually increased the levels of complexity for Adam. Chad often accompanied him to the location of Maroon 5 and on the way he educated him about diverse postures of yoga.
Adam Levine Passion For Yoga
Despite having naturally slender orientation, his body was chronically very stiff from the lower thighs and hips. And due to this stiffness, the initial days of yoga were not less than a struggle to him.
But his consistent endeavors to learn various postures of yoga finally paid him off. Now, he can do even the most challenging postures of yoga with ease, which were once intimidating to him.
Apart from getting him relief from the back pain, yoga also rendered great flexibility to his body and toned his muscles. Adam's commitment to yoga is really incredible. He has become so loyal to it that he has vowed never to go back to gyms, weight lifting, or anything like that again in his life.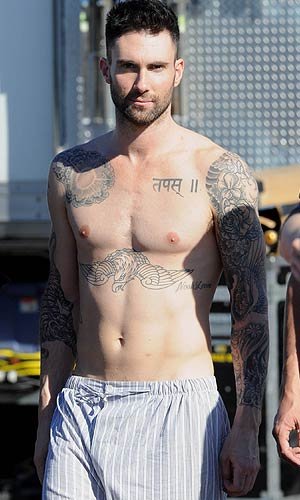 Yoga Postures practiced by Adam Levine
Some of the yoga postures practiced by Adam Levine are –
Sirsasana
Sirsasana being one of the favorites of Adam; he never skips this posture. Sirsasana requires you to have your upside down (your head on the ground and legs in the air.) while maintaining your body posture straight. Sirsasana stimulates blood supply to the brain and hence sharpens your mind. This posture demands a lot of practice and stamina.
Ashtanga
Ashtanga is comprised of eight series of postures and is an indispensable part of Adam's daily routine,. Ashtanga benefits you by detoxifying your body, bringing your spinal cord in proper shape, and developing strength, stamina, and flexibility in your body.
Vinyasa
Vinyasa being more intense form of Ashtanga involves bringing perfect harmony between breathing and movements. Movements of body in this yoga are faster than Ashtanga.
Vinyasa provides great relaxation to your body, mind, and spirit. Besides, fast movements of body release enormous toxins from your body in the form of sweats. It rejuvenates your entire body and fill it with vibrant flow of energy.
Jivamukti Yoga
Comprised of five ingredients namely scripture, non-violence, music, devotion, and meditation, Jivamukti Yoga is a blend of wisdom at all the levels such as physical, spiritual, and ethical.
Various stages of Jiyamukti Yoga condition the muscles of body through stretching and bestow an internal massage to the body organs. It releases stress from the body and therefore ensures a stress-free life for you.