Yuvraj Singh is one of the most renowned Indian cricketers. He is well known for his aggressive batting and excellent fielding. Of late, he has been all over the news for emerging as the costliest cricketer in the IPL season 8. The Delhi Daredevils team made a successful bid of whopping 16 crores for him. This news came as a huge relief for all the fans of this excellent player who were greatly disappointed by the BCCI's decision of not including Yuvraj in the 2015 Indian World Cup Team. Yuvraj is often fondly remembered as a cricketer who had hit 6 sixes in a single over bowled by Stuart Broad, a right hand seam bowler of England, in World T20 held in 2007.
This star IPL player has also managed to successfully beat the deadly disease of cancer in the year 2011-2012. Though this recovery of his has not been an easy journey, but he has recovered well and seems to be be all fit and fine now. He has been working very hard on maintaining his fitness level by following the below mentioned workout and diet routine.
Foam Rolling: It is a self massage technique that can help you to relax your muscles. This exercise is preferred by athletes and star sportspersons all over the world. For this all you just need is a foam roller, lacrosse ball or a Theracane. You can even use your hands to do it but using equipment is much easier. Have a look at some basic foam rolling techniques over here:
Running: Running helps this middle order batsman to keep his legs in shape and provides a great boost to the stamina as well. Along with the running, Yuvraj also includes a number of squats and lunges while running, this helps him at being an excellent fielder. It's a cool exercise that can be done by anyone at any point of the time. You just need to make sure that you don't push yourself too hard. Also, see to it that the path you choose is clear so as to avoid stumbling upon something. Some basic running techniques that can help you get started are mentioned in this video.
Mobility Exercises: As the name suggests, these set of exercises would help you to increase your mobility. These exercises are a vital part for warming up as these would help the muscles get more flexible and thus reduce the risk of injury. Also, these exercises help you get better results in the long-run of your workout routine. Just have a look at some of these simple mobility exercises that can be done within a short  time span of just 5 minutes.
Skill Practice: The slow left-arm bowler also spends a lot of time in skill training. He bats for two hours, bowls for one hour and practices fielding for at least 30 minutes. This skill training helps him to be a better all rounder and a valuable cricket player to the team.
Pull-ups and Push-ups: If you want to add some shape to your shoulder and chest muscles then the simplest form of exercises that can help you out are push-ups and pull ups. These set of exercises help Yuvi not only to hit those extraordinary shots as a batsman but also help in improving his ball throwing abilities as a fielder. Have a look at these simple exercises over here:
Bench Presses: This exercise is one of the most commonly done exercise across the world. It tones every muscle of your upper body and helps you improve your strength and stamina. For sportspersons like Yuvraj, it helps in the improvement of performance on the field and also it enhances the bone density that prevents the bone from breaking. Learn how to do a bench press correctly by watching this video
Bench Pulls: This exercise is favored a lot by this latest member of Delhi Daredevils as this help him have a stronger back. It also assists in improving the overall back strength and pulling strength. It can be done only with proper equipment and one must not forget to keep his or her back straight while doing this exercise. How can you do it? Just see the right technique in this short and precise video.
Dumbbell Rows or Cable Rows: This exercise is again preferred by this left-hand batsman as it helps him to have a strong back. Back issues are important from the point that Yuvi has to play for hours and won't be able to do so if he has some back problem. So, if you want to get a stronger back that has no weak or paining muscles in the long-run then adding dumbbell exercises in your exercise routine is a must for you. There are a number of ways to do this exercise, here's an explanation of how you can choose the best one for you.
Hip Lifts: This amazing exercise would help you to keep your lower back strong and prevent all sorts of lower back problems. It is also essential for people who have protruding tummies. This exercise would largely make your body move with ease and you will have fewer problems in your hip muscles. It's quite simple and can be understood by watching this useful video.
Deadlifts: If you want to add on some slabs of muscles on your body then this exercise done by the internationally acclaimed cricket player is a must for you. The best part about this exercise is that it builds and tones the muscles of upper and lower back simultaneously. It requires minimal supervision and can be done using the basic equipments. You can try it out just by watching this video.
Lateral Raises: Everyone loves to have strong and superior shoulders that can help improve their looks. If you want them too then this easy to learn exercise would definitely benefit you. The Chandigarh born cricket star includes it in his workout plan on a regular basis. Just have a look on how to do it as making a mistake in the technique can prove harmful for your shoulder muscles.
Prone Holds: This is another core exercise preferred by Singh. It would help any person to build his or her core. The important thing in this is to ensure that the back remains straight during all stages of this exercise. You can learn to do this exercise by just watching this useful video.
Plate Chops: This exercise is best for all sportspersons as it increases the coordination between a person's upper and lower body. It also makes the arms stronger. You can learn the proper way to do it by observing this video.
Swiss Ball Jackknife: This awesome exercise preferred by the star player of World Cup 2011 is quite simple and should be done regularly. You just need a swiss ball to get started. It would be good if you have a supervisor to map your progress initially. It would also be wise to perform it for a short amount of time until one gets used to it, this is because performing it for long stretches of time all together may be harmful for the body. Here's a video of how you can do it properly.
Ice Bath or Swimming: After the exercise session is at its end, the "Punjab da Puttar" tries to go in for an ice bath or long swim. This ice therapy would be useful for people who sweat a lot in the gym or during the workout sessions as it helps a person's body to relax and get rid of all the harmful lactic acids.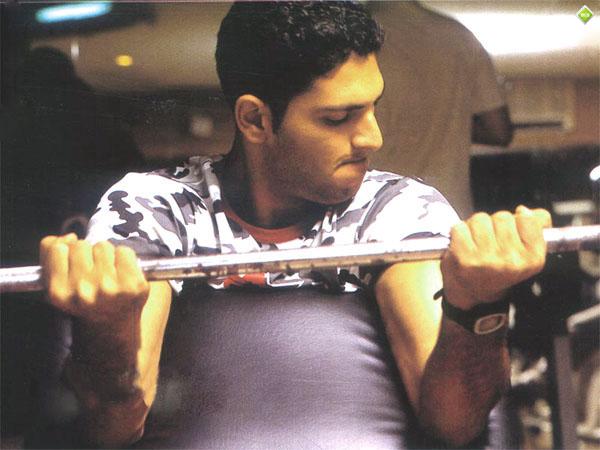 Yoga and Breathing Exercises: Last but certainly not the least, this run hitter player believes in adding some yoga and breathing exercises to his workout routine. This is because it helps him relax and flex his muscles. It also helps him stay calm during stressful situations.
Yuvraj Singh Diet
We are sure that after reading about all these exercises that are done by Yuvraj, you must be wondering whether he eats heartily or not. The answer is yes. The cricket star believes in having good amount of food items three times a day and his diet includes the following:
The breakfast usually contains cereals, milk, eggs and fibrous fruits.
Both the lunch and dinner have high amounts of protein and are also balanced with carbohydrates.
Chicken, Kadhi Chawal and Mattar Paneer are some of the favorite indulgences of this gem of Indian Cricket.
Conclusion:
Although Yuvraj follows an extremely varied workout routine but his heart largely lies with skill training and running. He loves to run and has disclosed it on several occasions that running helped him to be fit again especially, just after he had beaten cancer. So, if you are wondering where to start your exercise routine, then the answer is by running. It will help you loosen up your body and shed extra weight. Go start running, either on a path or make use of your treadmill.