With her fit and slender body, Alesha Dixon has become an epitome of fitness among her fans. Former "Strictly Come Dancing" champion, having million dollar smile is credited with toned figure. The brunette doesn't miss out any likelihood to flaunt her streamlined legs and sexy cleavage. The classy singer nurtures awe-inspiring positive attitude and doesn't let any obstacle smash her zeal for life. To Dixon, diet has upper hand over workouts. Here is a quick evaluation of her diet and workout routines which maintain her in incredible shape.
Health – Utmost Important
Who on the planet doesn't wish to look fascinating? Dixon too endeavors her best to look stunning. However, her desire to look good doesn't have her stick to ridiculous means to shed pounds. She being health conscious values optimum health over skinny figure. So whatever diet or workouts she abides by, she follows them while setting health as her paramount goal. Several of us are prepared to do just anything to melt away weight. We don't even bother about our health. Always remember, if you are healthy and your metabolism is good, you can easily defy fat. However, if you are skinny with impaired metabolism, you are only likely to suffer from myriad ailments. So, set your objective in right direction.
Workouts With Personal Trainer
Dixon works out with her personal trainer, Janet Malinowska twice or thrice in a week. Her personal trainer has her do various grueling workouts while keeping strict watch on her moves. She has devised plentiful exclusive workouts to strengthen her glutes. Dixon chirps, workouts with fitness instructor make you more disciplined and prudent. Since you are accountable to them, you cannot opt to include or exclude workouts as per your comfort. However, if hiring a personal trainer is not feasible for you, you can find a buddy who can perform workouts with you. Doing so will make you time bound, answerable to someone, and competitive in attitude.
Seasonal Variation in Workouts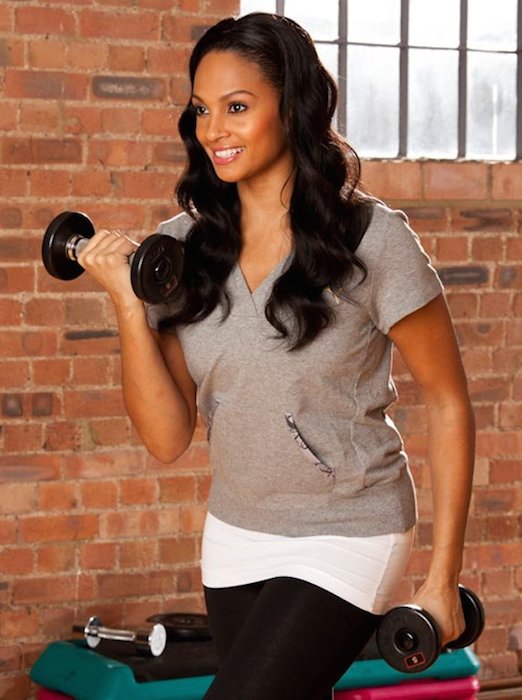 Aside from two to three times intense workouts in a week with her fitness expert, Dixon is not very particular about workouts. Her workouts vary with season, place, and time availability. If she is surrounded with pleasant climate, she goes out for strolling with her dog, running, hiking etc. And unlike most other celebs who don't feel very comfortable working out in gyms, Dixon adores watching other people working out, because it inspires her.
To stop your bums and thighs from being pulled by gravity, incorporate spinning exercises. Spinning exercises (like cycling) translate fat into lean muscles, and thus render you buffed bums, thighs, and legs.
Breakfast – Paramount Meal of the Day
The big and expressive eyed celeb refers breakfast as her most imperative meal of the day. Being an early riser, she has early breakfast which is composed of nutrient dense foods. She takes hefty breakfast so as to keep her fuller until lunch. Since hiatus between your dinner and breakfast is almost twelve hours, it's crucial for you to eat nutrient-laden foods in the breakfast. Some people evade breakfast due to morning rush hours, while others shun it because they are up to strip off surplus pounds. Whatsoever is the cause, your metabolism has to pay the toll for it. So, if you have very hectic schedule in the morning, cook your breakfast at night prior to heading to sleep and eat it in the morning. Since frozen meals consume more time to metabolize than hot meals, apart from saving your time, they will also bump up fat burning process in your body.
80/20 Principle
The exquisite beauty swears by 80/20 principle, which means she consumes eighty percent wholesome and nutritious foods, and twenty percent junk, processed, and unhealthy foods. This formula beats her cravings and upholds her in startling shape. She also relishes her beloved red wine in moderation. Among eighty percent foods, her reliance being more on low carb and low calorie foods has her bank on yogurt, cheese, salad, eggs, fish, veggies etc. And instead of waiting for cheat day to gratify her cravings, she eats her beloved foods when she feels her cravings are all over her mind.
Detox Diet – Reserved for Long Weekends
While being on long weekends, the starlet utilizes her time by turning to detox diet. Apart from eating antioxidant veggies such as spinach, broccoli, citrus fruits etc., she consumes ample juices, green smoothies, and water to weed out toxins. Since you are more likely to indulge in your adored foods on holidays, it's superb thought to stick to detox diet.
Along-with detox program, you can also incorporate daily body brushing to beat cellulite from your arms, thighs, and butts. You can prepare the bath scrub at home by mixing ground coffee, brown sugar, sesame oil. Rub the thick paste on your thighs, legs, and arms to whip cellulite. Caffeine being very invigorating will burn fat and will render you slim body in bunch of days.