Do you find it hard to shed post-baby weight, but claims made by sexy celebs often put you off? Well, here comes the sizzling model, actress, and artist, who is hundred percent for you, and believes that post-pregnancy weight is not an easy nut to break.
Signature buzzcut, hot and sexy, Amber Rose is always in news for something. After being in limelight regarding her official wedding with rapper, Wiz Khalifa, Amber is now in talks for her post-baby weight loss. Amber actually got legally married to Khalifa in July 2013, but they postponed the wedding celebration and finally celebrated it in August 2013.
Rose believes women making assertions and saying that post-baby weight is easy to shed actually mislead other women. She herself has experienced the difficulty level of shedding weight after pregnancy. She acknowledges that post-baby weight doesn't go off easily and you really need to work harder to retrieve the same figure which you had prior to pregnancy.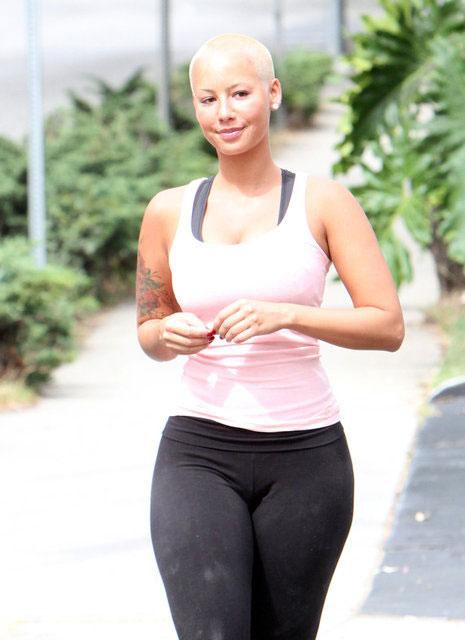 Amber Rose Workout Regime
After getting blessed with a son, Sebastian in Feb 2013, Rose had a huge weight loss target in front of her. She was to lose 109 to get back the same glamorous and appealing look.
She hired Jeanette Jenkins, celebrity trainer to meet the objective. Jeanette Jenkins has already assisted several eminent celebs such as Alicia Keys, Kelly Rowland, Paula Patton, Tia Mowry and Pink in purging post-baby weight.
Under the supervision of Jenkins, Rose executed diverse workouts such as power yoga, kickboxing, jogging with sprint intervals etc. She practiced workouts for one and half hour on daily basis.
Amber Rose Diet Plan
Rose has always been fit and slender, and why she should not be, after all, she performs regular exercises and takes a balanced and healthy diet. Rose was vigilant about her diet right from the time of her pregnancy. She ate only nutritious and healthy foods during that time.
She knew the fact, more unhealthy foods she will feed to her body; more difficult it would become for her to shed those extra pounds. Despite being particular about her diet, it took the model eight or nine months in salvaging her pre-baby figure. Instead of getting over restrictive towards her diet, Rose practiced portion control and ate all kinds of foods in moderation.
Healthy Recommendation for Amber Rose fans
Rose really feels upset when she hears people commenting that plastic surgery and other artificial ways are accountable for her sculpted body. While she contends, torching pounds through surgery is something she neither appreciates nor recommends to her fans.
She suggests all her female fans not to resort to any artificial way after pregnancy, and instead of showing haste, you shall honor patience. That being said, you should not sit idle and wait for natural weight loss process occurs on its own.
However, prior to embarking on exercise or diet regime, provide your body, minimum six months time to recover from pregnancy and attain strength, because after remaining stretched for a long duration of pregnancy, your stomach requires time to back inside.
Image Credit – ImageShack