Corey Calliet is a renowned celebrity trainer who is known for turning actors into Greek gods. His client list includes prominent names like A$AP Rocky, Tyreke Evans, Michael B. Jordan, and John Boyega among many others. He recently shared some of his fitness ideas and offered solutions to the problem of doing a workout in the mornings when you feel too sleepy. He also gave some easy mantras to stick to your fitness new year resolutions in 2018. We suggest you pin those in your gym or your bedroom.
Be Prepared for Morning Workouts
If you want to work out in the mornings to get it done and be good to your physical and mental well being, then you should learn to avoid the snooze button. It is our biggest enemy. In case you can't get up early morning because the alarm sound is irritating, you should change it to something you enjoy, be it your favorite song or your favorite tune. Make sure it is not dull or soothing enough to put you back to sleep. Choose something loud that pumps you up.
Another trick is to lay out your workout gear on your bed or your bedroom door and make breakfast in advance. When everything is right there, you will be more tempted to try a morning workout.
No Excuses
No matter how busy you are or you think you are, you should make the time regularly for a workout. Don't put it on the backburner but make it a priority.
Workout Anywhere
You don't need to hit the gym or sweat for hours to get fit in the mornings. You can workout anywhere, even in your home and can spend just 30 minutes to one hour daily and get results if you choose the right exercises.
Motivate Yourself
Apart from the pumping music, do whatever you think will motivate you to get out of bed. One idea could be to write a motivational quote in a place where you'll see it as soon as your eyes open. Another method is to splash some water on your face. Do whatever suits you and stick to it for a few days until it becomes a habit.
The Results
When you form the habit of getting up early for a workout, you will be able to change your life for better. When you improve your attitude and mental health to get a workout in, it will fill you up with energy and your day would be perfect.
Data Speaks
What the motivational speaker is saying – getting up and getting a workout in the mornings is a good idea because researchers from Brigham Young University have found that if you exercise in the morning, food will be less appealing and it will inspire you to stay active for the entire day.
Another study published in Health Psychology has revealed that if you wake up early and head to the gym, the probability is high that you will exercise regularly for the rest of your life.
Numbers Speak
Calliet thinks that if a man can do 20 pull-ups and 100 crunches, he will be deemed fit.
Celebrity Training Method
The fitness expert makes sure that each celebrity he trains with works out at least two times a day. The first session usually includes heavy or moderate weightlifting while the second session includes high-intensity interval training.
Reason to Stick to New Year Resolutions of Fitness
A strong reason to stick to your new year resolution of getting fit is that being healthy will change your life for the better. Healthy equals happy for the most people.
Gym Performance
The trainer works out for about 25 hours every week and can bench press 515 pounds.
Dad Bods
Dads must try to be the healthiest versions of themselves as they have a vital job to do, i.e., raise their kids responsibly.
Mental Fitness
If your mind is not made up regarding embarking on a fitness journey, you won't see results. Being mentally strong is the first step to being physically strong.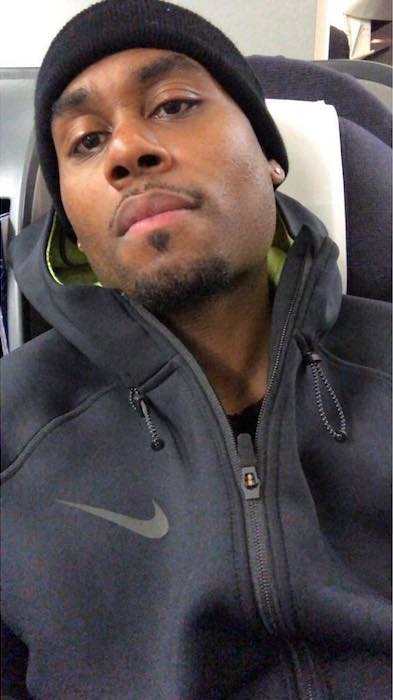 Success Mantras for 2018
Some of the mantras that can ensure you stick to your resolution of having a fit body are:
"Let's Go!"
"Don't cheat yourself, treat yourself."
"Don't quit on me."
"Work for it!"
You can pin them to your wall or make them your mobile wallpaper.
Diet Eliminations
Some foods that never do you any good are soda, candy and anything fried. You should also stay away from the foods that make you feel bad from the inside.
Workout Is a Must for Everybody
If you are physically able to get a workout, there is no reason why you should not do it regularly.
Featured Image by Corey Calliet / Instagram