Bella Hadid 2017 Workout Routine and Diet Plan
Bella Hadid is one of the hottest young models in the world today and she is proud to say that she is breaking all the perceptions about models. She likes junk foods, too sugary foods and doesn't always feel like working out.
But when she concentrates on fitness, she spends two hours in a gym and sticks to a great diet. Here you can have a look at her recent workout routine and diet plan. You can also know about a weird diet trend she tried, her weight fluctuation issues and her opinion about her trainer. Read on!
Workout Routine
When the stunner begins a workout, she trains hard and does it for two hours. One of the workouts she doesn't like much is yoga. She says it's calming and amazing but when she has to train, she gets satisfaction by doing something she can work hard at. Sometimes, she does exercises just to keep moving like swimming in the mornings. When she is in the gym, she likes working on her butt and abs. She also likes running as an exercise.
Not a Gym Bunny
The diva admits that she is not a gym bunny and she doesn't get out of bed to get started with the workouts. But when she gets to the gym, she works really hard.
Models Do Eat
There is a stereotype that models don't eat. Bella defies that by eating everything she wants, be it a pizza or a donut. She doesn't feel very guilty about indulging and indulges especially when she is traveling.
Teaming Up with Nike
The model teamed up with Nike in November 2016 and she liked it because she wore Nike gear most of the times while growing up. She is also obsessed with shoes and had Air Force Ones in every color when she was younger. She still likes wearing this brand while working out.
The Most Beautiful and Powerful Woman
For Hadid, the most beautiful and powerful woman is Serena Williams because she is strong inside and out. She is also very kind and sweet. She is genuinely one of the greatest women.
Diet Plan
The Diet Plan of the LA-born is mentioned right here:
Breakfast
It includes having a bagel on most days.
When she has mornings off, she likes to make eggs and sausage or visits the bagel store below her apartment and buys an egg sandwich on a plain bagel. She doesn't like gluten-free bagel much and has tried them before.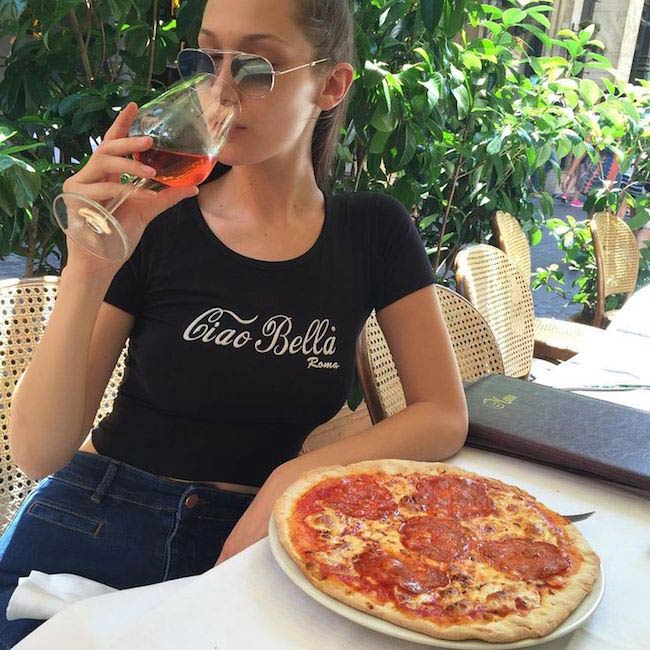 Lunch
For lunch, she likes to have some salmon or chicken with fresh vegetables. If that's not an option, she goes for pasta.
She likes having protein during lunch because it makes her feel good. If she eats too much, she feels tired so she avoids that.
Snacking
She has admitted on Snapchat that she has a grilled cheese sandwich every day.
Juicing
When having a juice, she sticks to green juices and keeps them around on set as well. She also has ginger shots in a cooler, and drinks one when she is feeling low.
Coffee Addict
Like many of us, the hottie likes to have a lot of coffee. She can have three espressos before noon.
Dinner
As she has a hectic routine now, she orders in dinner when she leaves work for home. By the time she reaches home, her dinner, which is usually sautéed kale from Westville restaurant, is already there.
Eating Often
The gorgeous woman has to eat quite often because she has low blood sugar.
Weird Diet Trend She Has Tried
The weirdest diet the younger sister of Gigi Hadid ever tried was a lemon cayenne juice cleanse. It was very bad and she hopes to not try anything like that ever again.
Diet While Traveling
When traveling, the successful model likes to eat healthily and avoids plane food. She also stays hydrated at all times.
Workout and Diet for Victoria's Secret Shows
The daughter of Yolanda Foster participated in Victoria's Secret show in 2016 and worked hard for it. The experience was not as good as she lost a lot of weight. She lost the shape of her breasts and her butt.
For the show, she worked out three hours every day and stuck to just protein based diet. The results were so dramatic that people actually told her that she looked too skinny. She thinks it was a good thing because it proves that when you have a fitness goal in mind and you stick to a proper routine, you can achieve anything you want.
Don't Judge Please
The older sister of Anwar Hadid admits that her weight fluctuates a lot and people shouldn't judge these things. Everybody is different and judging others is the worst thing one can do.
Appreciating the Trainer
Bels admitted that she liked working out with Rob Piela at Gotham Gym when she was preparing for the show. He trains many of the VS models including Gigi. She called him the best and said she likes working one on one with him. She is not comfortable in working out with just anybody and often freaks out if she has to do any kind of workout with a complete stranger.