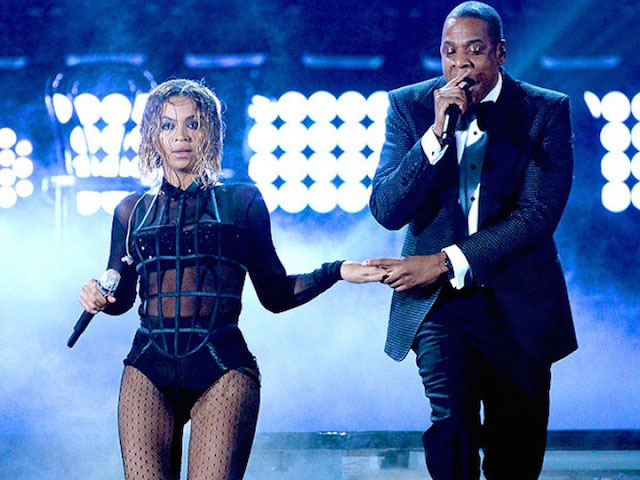 One of the most adorable and enviable couples of Hollywood, Beyonce and Jay Z blazed all of us with their awestruck sassy performance at Grammy Awards 2014, held at Staples Center on Jan 26. The couple blasted the stage while performing the sensational song, Drunk in Love.
Bey and Jay, both were the nominees of the award for their duet song, On the Run. However, only Jay could make it to conquer the prestigious award for Best Rap / Sung Collaboration for the song, Holy Grail, which Jay sung in collaboration with Justin Timberlake. But since Jay publicly attributed his pretty wife for the award, his heart touching speech was worth more than any award to the adored wifey, Bey.
Besides their awesome performance, what captivated us most was their perfectly sculpted body. Well, both Bey and Jay did not occurred to be in slender and svelte body just like that, they actually worked pretty hard for grooming their bodies. Their toned bodies are the testimonies of six months of arduous workouts and diet regime, the couple followed to shape their bodies. Apart from stage performance, Bey looked totally ravishing and ethereal in the white skin tight gown she wore in the award function.
The couple together lost massive 110 pounds to look outstanding in Grammy award function, among which Jay shed 40, and Bey torched remaining seventy pounds. Beyonce, who was blessed with daughter, Blue Ivy in Jan 2012, already was to rid her body from post baby pounds, and her high spirit caring hubby accompanied her to boost her energy.
Bey and Jay Workout Routine

Workout routine of Bey and Jay was based on the newest technology wherein they were to make typical dance moves also known as power moves. These power moves conditioned their muscles and provided superb exercise to their shoulders, elbows, butts, and knees. They also practiced vigorous running sessions and numerous other workouts to strip off calories.
Bey and Jay Diet Plan

To scorch calories, the couple relied on plant based foods consisting of green veggies, fruits, nuts, seeds, whole grains. Though they initially embarked on the vegan diet plan considering it very hard to execute, however all their doubts grew groundless when they found the diet program amicable. The diet plan having total duration of twenty-two days added new and amazing experience about vegan foods in the mind of bombshell.
The couple has all the words of thanks to their personal trainer, Marco Borges, who counseled them to embrace such a diet program. The diet program swapped their favored yet unhealthy foods with nutritious dense and yum foods. For example, high starch pasta was swapped with quinoa, and meat, chicken were replaced with soy products, etc.
While abiding by the diet plan, their day started with vegetable smoothie, quinoa, oatmeal etc. and in snacks, they consumed cucumber and edamame beans, topped with cayenne pepper, lemon and vinegar. Even past the award function, Bey further shed five more pounds just to acquire the same lean and lithe figure, which she used to have prior to her pregnancy.
Healthy Recommendation For Beyonce Fans
You, being one of the fans of Beyonce might be prepared to do anything on earth to have figure like her. And most of you might find it easy to melt weight, but honing your butts might be one of the challenging tasks. Here come two exercises belonging to lunges through which you can sculpt your butts.
First – Stand straight on ground and put a small, one feet table in front of you. Now, without hauling your hips in the forward direction, put your feet on the table while bending one of your legs from knee and taking the other leg in the backward direction. Repeat the exercise with each leg for at least twenty times.
Second – Lie flat on your back on the floor. Keep both your arms straight on the ground while making ninety degree angle with your chest. Bend your legs from knees with your feet lying flat on the ground. Lift up your back while putting the entire pressure on your hips. Make minimum fifteen to twenty reps.
Both the exercises being specifically targeted to tone your lower body portion will not only buff your hips, but will also hone your thighs and legs, and will have you own slender and bikini embracing figure.