6 ft 1 in, Blue eyed Bradley Cooper inevitably is equipped with chiseled body and outstanding look. The hot and sexy actor was nominated as the Sexiest Man Alive by People magazine in 2011.
Barely any man on the planet would not like to have carved body and fascinating look like him. The dashing actor credited with ripped physique undoubtedly resides in the hearts of zillions of beautiful girls. Having started his acting career from TV show, S*x and the City, the heartthrob actor gained great popularity from the blockbuster movie, The Hangover.
Bradley Cooper Workout Routine
Bradley being one of the hottest celebs of Hollywood grooms his body with workouts. He embraces diverse workouts and doesn't give his body any reason to stop being flattered. The stud embraces 3-2-1 workouts, when he has to acquire swift results. 3-2-1 workout technique consist of three reps of ten minutes of cardio workouts, two reps of ten minutes of strength training, and ten minutes of core workouts without any rep.
The exclusive workout is apt to provide total body workout. You need to make sure that the time spent in doing exercise should be consistent, without any break. However, you have option to shrink the time from ten minutes to six, five, or four minutes, or whatever you can perpetually go along with.
Without being partial to sculpt particular body parts, the handsome actor opts for entire body workouts. His choice of workouts includes bench press, squats, jump rope running, alternate high knee jump rope, push-ups, military press, medicine ball, planks etc.
While cardio workouts burn undesired calories from his body and create calorie deficit, strength training amplify the number of lean muscles in his body. His muscular yet lean body with amazingly toned stomach abs is the testimony of grueling workouts practiced by the actor.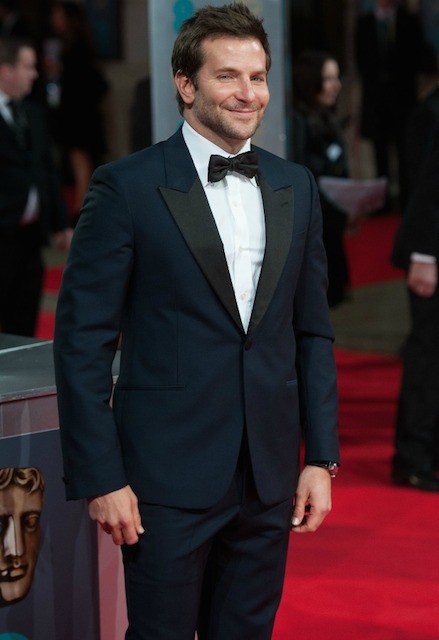 Bradley Cooper Diet Plan
The diet consumed by the hunk is always aligned with his workouts. No matter what happens, the man with spectacular statistics seldom consumes less than 2100 calories in a day. Ideal calorie consumption of both men and women are different. While 1600 calories in a day are vital for women, men require minimum 2100 calories in a day.
Going below the level is just like inviting diseases and problems for your body. His daily diet plan is allocated into five small meals which are mostly composed of fibrous and protein rich foods.
Since muscle-building exercises are in the mainstream of his exercises, he discreetly feeds lean protein to his body. Chicken, meat, turkey, eggs, protein smoothies etc. contribute to the protein nourishment of the hunk. In addition to them, he also consumes supplements of whey protein, which inevitably is meant to create sync between his physical activities and diet.
In addition to that, he refrains from junk, unhealthy, and processed foods. Alcohol, which is assumed to be embraced by celebs in particular, has also been put in the list of forbidden foods by the stunning actor. Among beverages, he steers clear from tea and coffee and prefers green tea to them. The guy succumbing to sweaty exercises hydrates his body with tremendous water.
Healthy Recommendation For Bradley Cooper Fans
Bradley Cooper recommends his fans, instead of imitating someone else's diet program and exercises, figure out what works best for you. You must have heard celebs and fitness trainers bragging about protein supplements for muscle-building.
Not to mention, they are effective but you have to be prudent or rather say, prepared to do your own research before purchasing the protein supplement for you. Their consumption depends a lot upon your fitness objective, because not all of them offer same benefits.
Besides that, don't blindly rely on expensive protein supplements. Very often, pricey protein supplements are assumed to be better, which is a complete myth. That being said, protein supplements can seldom be compared to proteins obtained from natural sources.
Companies usually leave no stone unturned to advertise their supplements. They try to allure you by showing tempting outcomes, which are not always true. However, since these companies don't refrain from adding preservatives having disastrous effect on your body, you shall preferably renounce them. Instead of switching to supplements, prefer making your body resilient, agile, and muscular with workouts and protein rich food items.