5 ft 10 inch, hot and sexy Brandi Glanville is a former model and American TV personality. Best known for her role in the TV show, The Real Housewives, Brandi is credited with enviably curvaceous and slender figure. Even after crossing age of forty, the hottie is all set to make younger girls feel insure with her taut stomach and trimmed waist.
Brandi Glanville is ex-wife of actor, Eddie Cibrian, who ditched Brandi for another woman, singer LeAnn Rimes, and is married to her since 2011. The glam star daunted by defying signs of aging doesn't consider botox, plastic surgery, and artificial ways evil to enhancing her beauty and youthful charm. However, she is not in favor of using too much of them. To her, these techniques do nothing but assist you in meeting your pursuit of bliss and there is nothing wrong in succumbing to them, if they are capable to render you the most desirable beauty.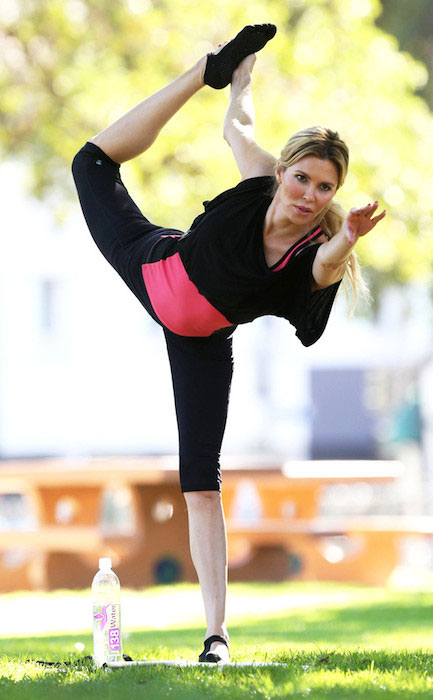 Brandi Glanville Diet Plan
The charming actress certainly watches what she eats. She admits of being more inclined to high carb foods such as pasta, burger, pizza etc. and splurges them whenever she craves for them. However, unlike most of the celebs, Brandi not being bugged by sweet tooth doesn't feel tempted to have desserts in her meals. Since, in the disguise of premature wrinkles, acne, and skin blemishes, your skin has to pay the toll of your temptation for sweet foods, clear and flawless skin of the immaculate beauty testifies her distance from sweet foods.
The kick-ass beauty shares, she used to eat enormous high carb foods like potatoes, meat etc. in her younger days. However, having gotten the influence of high carb foods on blood sugar level, she altered her eating habits and switched to healthier and nutrient packed foods. Besides that, she also began valuing the importance of moderation and enjoying all kinds of foods while maintaining their portion size small.
Brandi Glanville Workout Routine
The bombshell embarked on workouts past the birth of her first child, son Mason. And her purpose inevitably was to shed surplus pounds from her body. To make a beginning, she inculcated Pilates in her exercise regime and since then she sincerely has been abiding by it. Besides that, while being monitored by her personal trainer, she executes diverse exercises with resistance band.
She also practices tremendous boxing moves, which inevitably hone her arms and keep them in great shape. And the TV star being averse to treadmill prefers walking to running on treadmill. Marvelous from head to toe, the mommy of two adores outdoor activities such as cycling, hiking, yoga, taking long strolls along with her dogs, and numerous other agile activities like them. Even before she embraced workouts, she was seldom addicted to sedentary lifestyle, which indeed was evident from her sleek and sylphlike figure.
The perky actress prefers moving her body as much as is possible for her. She prefers stairs to elevators and engages herself in refreshing games, which she plays along with her kids. Like Brandi, we all are equipped with the ways through which we can keep us physically active, all we have to do is, recognize them, and execute them without making room to excuses.
Healthy Recommendation For Brandi Glanville Fans
Here are few recommendations for Brandi Glanville fans seeking to have bikini-embracing figure like their adored star. First of all, stop filling your mind with trash messages such as, my arms are big, or my thighs are big, and so on. Research shows that people who do their workouts while feeding junk messages to their brain scorch far less calories than those feeding great and upgrading messages to their minds.
Since your body works as per the commands of your brain, positive messages make your body feel good and inspire it to shed pounds. Besides that, you can augment the efficiency of your workout by repeatedly saying one word to your mind. For instance, you can persistently pronounce the word 'power', if your motive is to build strength, or you can use the word, 'slender', if you wish to acquire lean body. Doing so will program your brain to focus on the end results and instead of dwelling on the intensity of workouts, your mind and body will get to work to have you get gratifying results.