Celebrity Trainer Gunnar Peterson holds a superior position in the fitness industry. He knows how to make celebrities and athletes fitter. He is aware that which exercise would work for what occasion. Here, we try to find out what workout tips he has for people who wish to try to be fitter this New Year. We also learn what he thinks about getting rid of those terrible love handles that worry most of the women.
Start Now
While talking to the US Magazine about New Year workout tips, the talented trainer said that you should not wait to start your fitness journey. Don't set goals like you will get into shape after the holidays or you will start exercising from the first day of the New Year. If you want to do it, do it now. Don't put it off and make excuses. (We totally agree with this idea!!)
Write It Down
If you really need to get started with a new exercise or diet routine, you should pen it down, believes the fitness guru. You must write down all the things you want to do from now onwards. Don't think that you will squeeze in a workout between meetings because it's not going to happen. (unless you are committed and don't take it lightly)
Be Active
Being active is the key to good health says the Beverly Hills, CA resident. No matter which exercises you do, you should just remember to keep moving. It would let your body work every day. No, you are not expected to run super fast or lift extra heavy weights daily. But you should stick to any type of movements that suit you. It can be anything from a walk in the park or a dance class. (Something is better than nothing!!)
How to Get Rid of Love Handles?
Now, that you have learned about New Year workout tips, it's time for you to move on and learn how the trainer of Kim Kardashian recommends getting rid of love handles. We are sure you'll like his approach in this regard too.
Spot Reduction Never Happens
The first thing you have got to learn is that spot reduction is not a reality, says the trainer of Ciara. You cannot lose weight from a particular body part. It will come naturally from your entire body. You cannot burn away belly fat no matter how many crunches or planks you do. The end result would always be that the area would get stronger but the fat will mostly be there. So you should let go of the idea of spot reduction.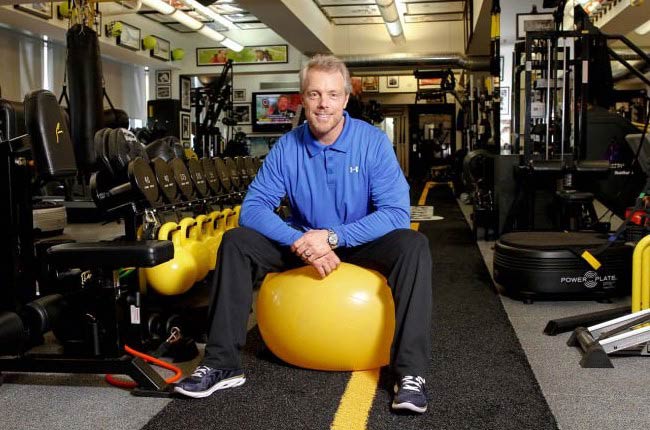 Big Muscle Groups are the Targets
The trainer of Rob Kardashian says that if you wish to blast away the belly fat and increase the calorie burn, your best bet is the big muscle groups. You should not avoid the belly exercises as they will help you develop a stronger core which is always vital. A combination of both can be done by doing multiple exercises. The examples are squat press, lunges with bicep curl or lunges with a lateral curl. You should try following it up with planks to create a well-rounded routine. (Seems doable, doesn't it?)
Work Every Plane of Motion
If you think that your crunches are not giving the results you expect, you should make sure that you hit the muscle groups from all the angles says the trainer of Sasha Grey. It would help you attain stronger, leaner and tighter muscles overall. Over time, it would remove fat from your hips. It can also tighten the area around the love handles. You need to work all three planes of motion, side to side, front to back and rotational. You can try a combo of side planks for side to side, mountain climbers for the front to back plane of motion and wood chops for rotation. (We are going to try this approach for sure, are you?)
Combine Rotation with Resistance
People often try to avoid rotation with resistance because they are afraid of injuries. (It's a fact) But the skilled trainer says that it's better to try them at the gym rather than trying them in daily life and getting injured, reports Shape. Whether you are swinging a baseball bat or picking up your child to put him in the car, all these are a combination of rotation and resistance that may lead to serious injuries if you are not used to the impact of 'rotation with resistance' on your body.
Some of the exercises that combine rotation with resistance are bear crunches, Russian twists and wood chops. They will also help you in blasting away the love handles believes Matthew McConaughey's trainer. Also remember that once you are used to bodyweight resistance, you can up the ante. You should do that by adding external resistance such as weights, resistance bands or cable machines.
Try Variety
If you are one of those people who get bored of things easily, then you should always focus on adding variety to your workouts, believes the American personal trainer. You can do that by using everything from TRX straps to kettlebells, pneumatic resistance to core sticks and medicine balls to water balls. You can also try all forms of resistance in your training. (Sounds cool, isn't it?)
Did you like the Gunnar Peterson workout tips? If so, you can get them regularly by following him on Twitter, Facebook, and Instagram. You can also take a look at his official website.