There are many celebrities who often lose their perfect bodies with time as they are unable to maintain the right workout or diet routine. In such scenarios, they enlist the help of a body transformation specialist.
Here you can learn some fitness stories and secrets from one such magician, Peter Maciver who has helped celebs like Katie Piper, Tulisa Contostavlos, Marvin Humes, Rochelle Humes, Reggie Yates, Lucy Watson and Giovanna Fletcher among others to look stunning.
Body Transformation of Marvin Humes
One of the clients the talented trainer helped recently was Marvin Humes who was known for his shredded torso which he displayed in boyband's hit video Beat Again. Unfortunately, he was losing some of his muscle tone with time. So, Peter Mac helped him.
He said that transforming his body was easy as the focus was on ensuring that he pushes himself and has a protein shake. The workout routine was also changed to get better results. They worked on his body transformation for four months. They developed a good rapport and worked out together in most cases.
The Goal
The goal of the workout was to make Marvin stronger and bigger physically by gaining muscle.
Achievement of the Goal
This goal was achieved by doing a lot of split workouts that included working on each and every muscle in a variety of exercises.
The workout session started with dips (a chest exercise) and pull-ups.
On Mondays, the duo focused on shoulders and did lateral raises and shoulder presses.
On Tuesdays, the focus was on back exercises.
Wednesdays were dedicated to building arm muscles by doing exercises like hammer curls and isolation tricep dips.
Thursdays were rest days.
On Fridays, the focus was on developing chest muscles, and for that, they did exercises like flat bench exercises and incline chest presses.
The English singer was comfortable with his body before this grueling training routine, but he was pretty impressed with the results he got afterward.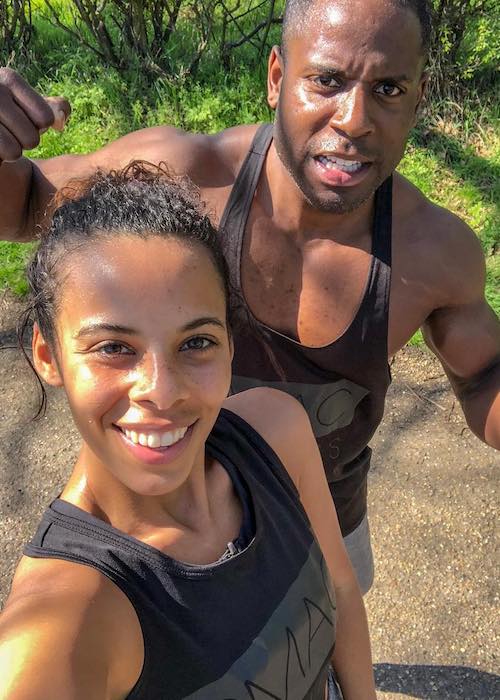 Training Rochelle Humes
Apart from training Humes, PMac also trained his wife Rochelle Humes and helped her with post-baby transformation after she gave birth to their daughters, Alaia-Mai and Valentina Rain. The experience with the beauty was amazing as she knew what she wanted to do but just needed someone she could trust.
The workouts she did were a lot of fun and made her happy. While working on her, the trainer didn't push her to meet a deadline or put any pressure on her. Instead, the focus was to make workouts so amazing that she looked forward to it.
The singer was happy with the results, and she showed them off by demonstrating her body in a skimpy sportswear just six months after welcoming her second daughter who was born in 2017.
Mac also trained the beauty for Marathon training.
The Goal
To get ready for Marathon training, the diva wanted to have better stamina.
Achievement of the Goal
To meet the pre-decided goal, they did a lot of running. Before running, they did a lot of stretching which was mainly focused on lunges. Then they ran for 3 km, 5 km, 10 miles or even 12 miles at times. They also spent a lot of time jogging at the parks near her home.
The gym workout routine involved doing exercises like planks and squats. The TV presenter also did Pilates to boost her body & core strength.
Training Reggie Yates
The Goal
Reggie who is best known for his role as Leo Jones in Doctor Who (2005-Present) wanted a toned body and aimed to be leaner to feel better about himself.
Achievement of the Goal
The said goal was achieved by focusing on body weight training that included doing a lot of running drills and pull-ups. They also did 5 hill sprints about three times on a weekly basis.
The workout routine also included doing HIIT classes on Sundays as they are perfect for weight training. If you want to try HIIT, the trainer recommends doing it in a heated room to burn fat and boost your fitness levels.
After three months of grueling training, Yates noticed that his physical appearance had changed completely. He was so happy with the results that he didn't stop the training after that time.
Training Giovanna Fletcher
The Goal
The British author, blogger, and actress wanted to boost her upper body strength as she desired to participate in a charity trek that was to take place across Oman.
Achievement of the Goal
Giovanna trained for 6 to 7 months and hit it hard for most days of the week. The training was focused on boxing. Dedicated boxing sessions were held twice a week. The duo liked it so much that apart from those two days, each workout session they did included an hour of boxing.
Apart from boxing, the workouts also focused on core twisting, Russian twists, and push-ups. The push-ups didn't allow the blogger to put her knees on the floor which she used to do earlier.
Holiday Season Fitness Secrets
As the holiday season has begun, many people want to keep their fitness levels high and not indulge too much. The fitness guru's advice to such people is that you should keep a record of whatever you are eating during the holiday season and at the end of the day, ask yourself whether you could do better on the next day. When you record everything, you will be motivated to do better next time.
Another worthy tip he shared is that you should go walking a lot. Don't take out a car when you are shopping or visiting family or friends who live nearby. Go shopping for the holiday season with your friends so that you guys can walk and have fun.
Recommended Toning Exercises
The toning exercises preferred by the qualified personal trainer are ab roller, burpees and clean and press.
Sample Workout Routine
Here's a sample workout plan for someone who is physically fit.
You should spend 10-15 minutes in cardio warm up. Then, you need to do a lower body workout that includes doing exercises like leg raises, lunges, squats, and sit-ups among others. The final step is to do push ups and pull ups as they are the most beneficial exercises you can do.
Diet Advice
According to the avid runner, nutrition is a key part of health and fitness because if you don't eat right, you won't be able to give 100 percent in a workout session. You should adopt the good habit of snacking on foods that give you energy like protein. You should also practice portion control and plan your meals.
If you are not sure what kind of foods you need to have then, you can try the "energy boost" that he makes for himself. Just mix a few almonds, banana and blueberries with some dark chocolate and you'll have a healthy yet tasty snack that you can have anytime you want.
You should also make little changes in your diet that make a big difference. For instance, you can swap potato for sweet potato, or you can swap brown rice for white rice as the latter is a fast burning carb. You should also never have carbs at night and keep almonds handy as a snack when you need some protein while working out.
Best Tip for a Beginner
If you are just starting off with a healthy workout and diet regime, then you need to be consistent even when you don't get the results instantly. Just be patient, don't stop and you will see the results soon!
Fitness Motivation
If you need some fitness motivation, then you can listen to some motivational talk in the mornings like Mac. You can also watch Instagram stories of people who got fitness results and motivate yourself to do better too. If you start your mornings feeling motivated, you will have a healthy day! Try it, it works!!
Featured Image by Peter-Mac / Instagram