The most awaited Oscar 2014 finally happened on March 2, and rewarded the celebs for their exclusive talents. Here, we are glancing the list of celebs, who could successfully make it to conquer the most prestigious Oscar award for their fitness. Let's have a quick look at the fitness secrets of these honored celebs that actually aided them in being the winners.
Bar Refaeli – Overall Fittest Body (Female)
Nominated as Overall Fittest Body (Female), Bar Refaeli is Israeli actress credited with eye-catching beauty and sizzling hot figure. The Israeli beauty was voted as the Hottest Women Alive in 2012. The stunner attributes her curvaceous and enviable body to grueling workouts.
The phenomenal beauty doesn't feel enamored by peaceful workouts or low impact workouts such as yoga, Pilates etc. She rather is more inclined to daunting workouts. Her workouts consist of Krav Maga, martial arts of Israel, wrestling, kettle bells, jump ropes, boxing bags, strength training etc. Her buffed arms, shoulder, flat stomach abs, trimmed waist indeed are the testimonies of dogged workouts favored by the ravishing beauty.
Ryan Gosling – Overall Fittest Body (Male)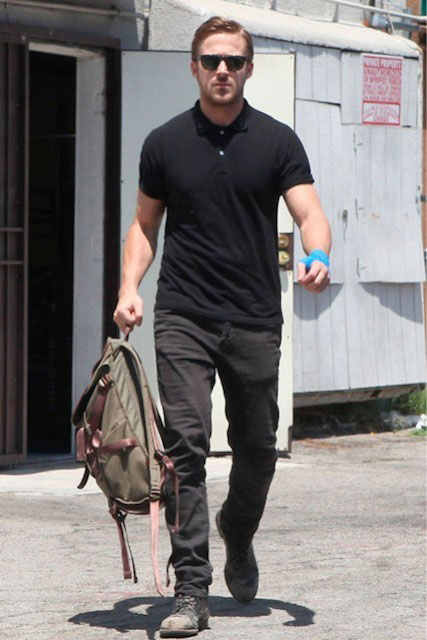 Nominated as Overall Fittest Body (Male), Ryan Gosling is a heartthrob actor equipped with the most sought-after macho body. The Notebook (2004) star counts on workouts and doesn't step away from hitting gym six times in a week for two hours.
His personal trainer, Kui Puk has him do specifically orchestrated workouts, which are mainly targeted to shape up his chest, shoulders, and stomach. Boxing, running on treadmill, push-ups, pull-ups, bench press, interval training etc. are the parts of his intense workout regime. Having allocated his workouts directed on specific parts of body, Ryan doesn't undermine the value of rest periods.
Gwen Stefani – Best Celebrity Abs (Female)
Nominated as Best Celebrity Abs (Female), Gwen Stefani seems to be totally unaffected by her soaring age. Despite crossing age group forty, the singer still owns honed body with enviable abs. After all, the magnificent beauty doesn't make room for slothfulness and adheres to relentless exercises.
Her workouts being an amalgam of strength training and cardio workouts strips off fats from her body and shapes up her muscles in desired way. High intensity weight training followed by low intensity cardio workouts are the secret formula of her svelte body. Apart from that, dancing is adored by Gwen, so she omits no chance of refreshing her body and mind with the thrilling aerobics.
Zac Efron – Best Celebrity Abs (Male)
Nominated as Best Celebrity Abs (Male), Zac Efron is equipped with assassin look and molded physique. 17 Again star has wonderful captivating and magnetic personality which simply doesn't let his fans take their eyes off from their adored actor.
His shaped up body is the testimony of the tough and arduous workouts practiced by him. Behind the scene, 3-2-1 is the secret workout accountable for sculpted physique of Zac. Without being partial to specific body part, the handsome actor has categorized his 3-2-1 workouts into three parts such as lower body workouts, upper body workouts, and back body workouts.
Gwyneth Paltrow – Best Celebrity Legs (Female)
Nominated as Best Celebrity Legs (Female), Gwyneth Paltrow is an American singer, actress and food writer. Being obsessed with workouts, no matter what happens, the fitness freak doesn't overlook her workouts. While swearing by Tracey Anderson method, the bombshell hits gym six days in a week for two hours.
The mommy of two doesn't allow age rule over her body and life. Rigorous workouts practiced by the stunner are actually fighting the battle for her and having her extend her youthful age. The angelic beauty practices elastic band set-ups, strength training, and resistance free exercises to shape up her limbs. She also bows her head to dancing and can perpetually dance for hours.
Ryan Phillippe – Best Celebrity Legs (Male)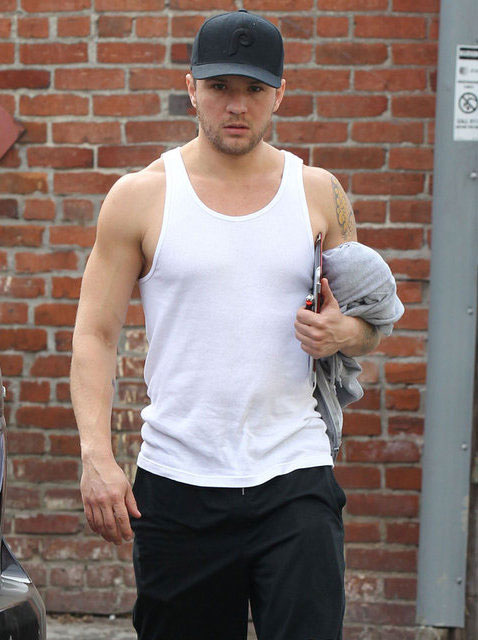 Nominated as Best Celebrity Legs (Male), Ryan Phillippe is an American actor and director. The hot actor with fascinating personality resides in the hearts of zillions of beautiful girls. The stylish actor has an incredible panache which simply makes him charismatic.
The handsome dude has steadily been adhering to his workouts for more than ten years. Multiplicity being the secret formula figured out by the actor, he dedicatedly swears by it and practices heavy weight training paired with cardio workouts. To add ecstasy and challenge in his workouts, he also incorporates plyometrics in his exercises.
Jennifer Lopez – Best Celebrity Bum (Female)
Nominated as Best Celebrity Bum (Female), Jennifer Lopez undoubtedly is credited with bikini hugging figure and perfectly toned bums. Upholding toned bums being more challenging to females than males certainly is an esteemed award for Jennifer. The sizzling singer and actor attributes her shaped up figure to the marvelous workouts designed by the renowned celeb trainer, Gunnar Peterson.
Besides that, the pop star also abides by Tracy Anderson method while she is out for traveling. Her personal trainer has Jennifer trick her muscles by varying the workouts after every ten days. Strength training and cardio workouts, each practiced for thirty minutes in a day are responsible for the sclpted body of Jennifer.
Channing Tatum – Best Celebrity Bum (Male)
Nominated as Best Celebrity Bum (Male), Channing Tatum is the most credible Hollywood actor, who is always prepared to groom his body for daunting roles. His six pack abs, chiseled body, and sculpted body parts are worthy of nothing else but appreciation.
While being monitored by his personal trainer, William J. Harris, the actor practices circuit training five days in a week. Jumping rope, push-ups, military press, and bench press come under one of his samples of circuit training. However, the hunk basically dwells on three kinds of circuits which he keeps rotating after certain intervals. Circuit training indeed is prompt as well as effective means to melt unsolicited calories.
Jennifer Aniston – Best Celebrity Arms (Female)
Nominated as Best Celebrity Arms (Female), Jennifer Aniston is yet another celeb who has discretely put a break on her age. The divine beauty was named as the Sexiest Woman Alive in 2011 by Men's Health magazine. Beautiful and sculpted from head to toe, the iconic beauty seldom allows fat find room in her body. She practices workouts five to six days in a week depending upon her schedule.
Her workouts are perfect blend of high intensity, medium intensity and low intensity workouts. When it comes to fitness, the blonde beauty relies on all the powerful ways of workouts. Right from high intensity cardio workouts to low intensity yoga, none of the workout is alien to her. However, Jennifer is more inclined to yoga to acquire sleek yet elegant figure.
Chris Hemsworth – Best Celebrity Arms (Male)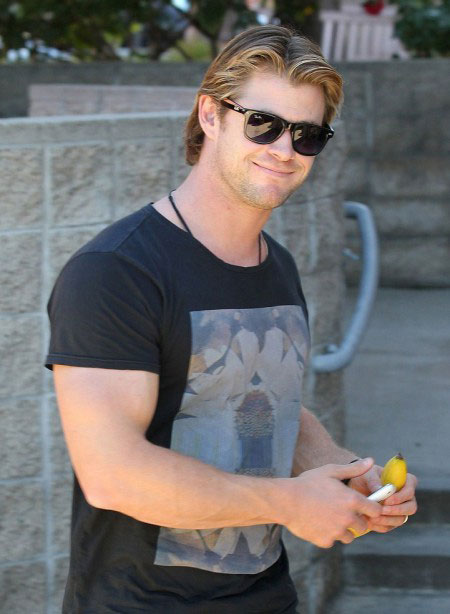 Nominated as Best Celebrity Arms (Male), Chris Hemsworth is an Australian actor, who is popular for his performances in Thor, The Avengers, and numerous other movies. Apart from being illustrious for his attractive personality and killer physique, the actor is also eminent for fetching sudden transformations in his body weight.
You all know gaining weight is not that of a big deal, but the problem comes up when you have to shed weight in limited time frame. Normally, the actor relies on heavy weight lifting and cardio workouts. However, when he has to transform his body swiftly, he spends surplus amount of time on cardio such as running, hiking, swimming etc. to create calorie deficit in his body.